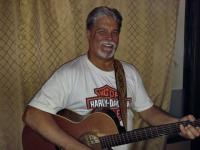 Jack Worthington w/ T Lutz play Friday at Pit N' Pub.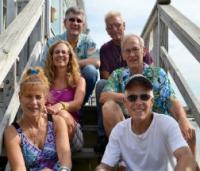 Dance to the music of Thin Ice Friday at BJ's.
Old School gets the party started Sunday at Coconuts Beach Bar & Grill.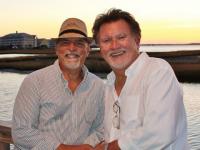 Awesome duo of Reform School will perform Wednesday at BJ's.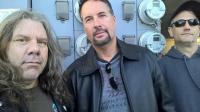 33 RPM makes an encore appearance at Bourbon St. Saturday.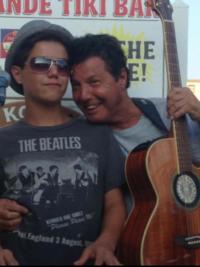 Rick & Lennon La Ricci will play the Skye Bar Saturday.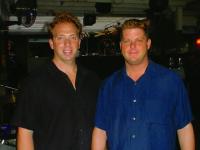 Coconuts Beach Bar & Grill presents Kevin Poole & Joe Mama Saturday.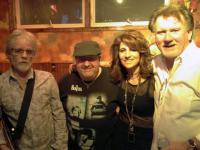 BJ's presents It's About Time Saturday.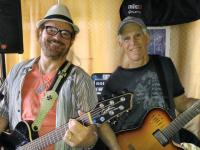 The Baltimore Boyz will play Saturday at Bourbon St. on the Beach.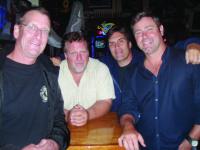 Randy Lee Ashcraft & the Salt Water Cowboys will perform Saturday at Johnny's.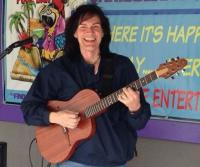 Hear the smooth voice of Dave Sherman Friday at Bourbon St. on the Beach.
Hi, everybody! I'm so excited that it's Springfest weekend; even if it is kinda chilly. Oh well. Just smile anyway and we'll all be bits of walking talking sunshine. How 'bout it? I'm anxious to get to Coconuts for their opening party with Monkee Paw playing. I saw Adam (guitarist) last night at Bourbon St. and he tells me that Ray Perrone will be the man behind the drums, along with Rick on bass/keyboards and Mike on guitar. You're gonna love this band if you haven't already heard them playing at BJ's, etc. Be sure to check the newly updated Who's Where When list for Coconuts Beach Bar & Grill's upcoming entertainment. Remember you can click the right arrow and view successive weeks, too. Cool!
Beside welcoming Coconuts back, I want to welcome musicians Dave Sherman, Jack Whittington and Rick & Lennon La Ricci to the coconuttimes.com family. From their home page box, just click and view their ads with complete listings or check them out in Who's Where When.
Another big welcome back to the Purple Moose - the home of Rock n' Roll on the Boardwalk. Their featured band this Fri.-Sat. is Phoenix Rising. This rockin' band from Baltimore features expert musicians Anton (guitar/voc), Chad (bass/voc), Daren (drums), Jack (guitar/voc) & Ron (keyboards/voc). I guarantee they're gonna rock the house - a fitting beginning to the season. And if you're strolling the Boardwalk during the afternoon, stop in for their famous Bloody Mary and listen to the tunes being played by CK the DJ.
BJ's was great fun last night (Wed.) with Old School featuring Linda Sears on vocals, Taylor Knox, guitar, Erve Cassell, bass, and Ernie Chavis, drums. As usual they played a great mix of old school classic with a few contemporary tunes as well. Songs such as "Very Superstitious, Comfortably Numb," "Hotel California" and "Into the Mystic" continue to impress crowds with their musicality and enthusiastic showmanship. It always spells just plain FUN! And it was fun to see BJ's owner Billy Carder step up to sing Johnny Cash's "Folsom Prison."
What's up for this weekend at BJ's? Two more awesome bands for your listening and dancing pleasure. Friday they have Thin Ice, a great six-piece band that plays an incredible array of all your favorite tunes. The band features not one, not two, not three, but four vocalists: Jay (guitar), Crystal (guitar), Paul (bass) & Jim (keyboards); plus Dave on horns and Wildcat Kelly on drums. We love the Chicago numbers. They are awesome.
Then Saturday come on back for the sounds of It's About Time featuring the vocals of Mike Smith (guitar) & Rita w/ Ray on drums and Ric on bass. Both of these bands are part of the cream of the crop that you can always expect when you visit BJ's. As if that weren't enough, Reform School will be next Wednesday's duo: that's Mike Smith on guitar/vocals & Jay Stinemire on drums/vocals. I've gushed about them quite a lot recently, so I hope you'll all come out to hear them.
Moving on, let's talk about what's happening at Bourbon St. - a LOT! Two of my favorite acts will be performing. First Rick & Lennon La Ricci will return to play for us on Friday. In case you've been under a rock, I'll just tell you that 15-year-old Lennon is incredible on keyboards, joining his veteran musician dad Rick on guitar. Together they put on quite a show. Then Saturday we have an encore performance from 33 RPM (they played last Sat.). Mike on drums, guitar, keyboard and vocals (yeah, he can do it all) is joined by bandmates Rock on manic bass and Larry on shredding guitar. Their repertoire is varied and has proven to be crowd pleasing; so you need to come check them out. Saturday afternoons the party begins with the Baltimore Boyz; Randy & Jay. We had a great time last week as we also partied for Dave Sherman's birthday.
Every Sunday afternoon Just Jay is on board for your entertainment and every Wednesday is Open Mic, preceded this week by Walt Farozic. It was quite a jam last night with such artists as Adam Ask, Michael Smith, Jimmy Rowbottom, Jack Worthington, Dave Sherman, Kenny Roughton, Darin McDowell Francis, owner Barry Reichart, Linda Sears and myself kickin' in with some tunes. So much fun and we do this every Wednesday.
I mentioned Coconuts Beach Bar & Grill earlier but I want to point out that the full daily calendar of music will now be in effect. Again check out the listing, but I see that a group called Sneeky Pete Band is on for Friday. Haven't heard them so let's go check 'em out. Saturday is the return of Kevin Poole & Joe Mama, always a blast. And the first Sunday party will feature the music of the aforementioned Old School. Bob Wilkinson & Joe Smooth continue in their Monday slot. Love these guys. Not only is it great music but a lot of laughs, too. All we need now is some sunshine to go along with all the great music in this wonderful town.
Oh, before I go I want to mention that a trip to Trader Lee's (apparently OC House of Rock has reverted to its original name) Tuesday to hear Lauren Glick & Melissa Alesi resulted in a very pleasant surprise. These two beautiful and talented women graciously played a set of their original compositions. It was a very intimate and personal performance from them both and I, and everyone, was most impressed. These gals harmonize like angels and it's fun to hear Lauren on bass, too. With her band Mood Swingers, she's on keyboards. By the way, they will be playing Sunday, May 15, at Coconuts.
So we have a lot to look forward to, my friends, fun to be had, music to be heard and hugs from all our friends. coconuttimes.com is weekly now, so I'll back to talk to you next week. Til then, party safe and rock on!
«Go back to the previous page.