AN EVENING WITH CHICAGO The Freeman Stage at Bayside
Posted On: 8/4/17
Written By: Gary Crouthamel
Selbyville, Delaware Tuesday, August 1, 2017 Another gorgeous and cloudless night for a concert at The Freeman Stage. As I was walking up to the entrance passing the stage, I noticed three semi trailers (for their equipment) and four tour buses (for the band and roadies). I have never noticed this at any other concert I have been to up there so I was just thinking, this should be good. I was told by management that this was the most people the Freeman Stage had ever had in their 10-year history. The chairs were lined up all the way to the back of the lawn at the concession stand, a set-up I had never seen before. As I looked through and around the crowd, I was just wondering if Gull Creek in Berlin issued free one-day road trip passes. Think about it a minute people. If no one has been to the Freeman Stage this year, let me tell you that they have built a brand new massive stage to accommodate bigger bands now. Without the new stage, ...
» Click here for the full story.
THE WALLFLOWERS - The Freeman Stage at Bayside
Posted On: 7/28/17
Written By: Gary Crouthamel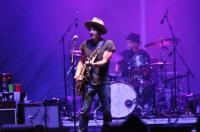 Selbyville, Delaware Wednesday, July 12, 2017 On a hot and humid night in Fenwick Island, Del., Jakob Dylan brought his band "The Wallflowers" in town for an evening concert under the open sky at The Freeman Stage. It's been a long time since I last saw him, actually at the Merriweather Post Pavilion playing with the Counting Crows. And I won't even mention my last concert there. Dylan, always sporting a hat, black T-shirt and blue jeans, played a mixture of originals and covers for their 90-minute set. They opened with "Three Marlenas", from their best selling album Bringing Down the Horse, and played a third of the nights songs from that album. Next was "Everything I Need" and "Sleepwalker". Dylan said to the crowd, "They say it's hot here but I'm from Southern California and I'm chilly," to a laughing crowd. The first cover was the Box Tops...
» Click here for the full story.
FOREIGNER - The 40th Anniversary Tour
Posted On: 7/21/17
Written By: Gary Crouthamel
w/Cheap Trick - Jason Bonham's Led Zeppelin Experience Back to the BB&T Pavilion as Foreigner comes into town on the second stop of their 40th Anniversary Tour along with special guests Cheap Trick and Jason Bonham's Led Zeppelin Experience. Jason Bonham opened the show playing an eight-song set of Led Zeppelin covers such as "Immigrant Song," "Over the Hills and Far Away," "Ramble On" and more as a heartfelt tribute from Jason to his father, Led Zeppelin's original drummer John Bonham. After a short break, Cheap Trick took to the stage with a huge checkerboard backdrop which has been a staple of the band since day one. They opened with "Hello There," "Big Eyes" and "Lookout" before stopping to address the crowd ... guitarist Rick Nielsen saying it's good to be b...
» Click here for the full story.
View All Archives
RSS Feed