2017 WMMR-B-Q Concert w/ Godsmack, Bush, Live, Pretty Reckless, The Struts, Zakk Sabbath and more
Posted On: 5/26/17
Written By: Gary Crouthamel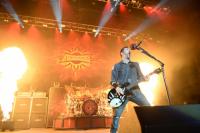 BB&T Center, Camden, NJ • Saturday, May 20 It was back to the BB&T Pavilion to kick off my 2017 concert season with the always fun WMMR-B-Q show, and for the first time in three years it was not raining so there were quite a lot of tailgaters in the parking lots already partying, grilling and playing corn-hole and cranking the music of one of their favorite bands that would be playing through the day. As I got inside it was time for the first band, Dinosaur Pile Up, a three-piece band from England who took the stage at 1:55 pm. Lead singer and guitarist Matt Bigland said, "we are from England and it's a lot better being here!" I've never heard of the band but their 30-minute six-song set was pretty rockin' and I would like to see them again playing a headline set. Next up, Rival Sons, another band I ha...
» Click here for the full story.
STYX - "2016 OC Bikefest"
Posted On: 9/23/16
Written By: Gary Crouthamel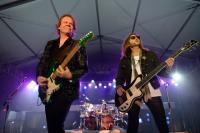 Ocean City Inlet Parking Lot, Ocean City, Md. Friday, September 16, 2016 As Styx rolled into town with their 2016 Tour, and as all the bikers were gassing up their hogs for the long weekend of Rock-N-Roll at the inlet and pretty much everywhere else in town, I was putting air in my bicycle tires, (yes, bicycle and air) so I could pedal my way down the boardwalk to the concert. Damn, it's nice to have some great entertainment right here in our town and especially the inlet and looking out at the amazing Atlantic ocean on a Harvest Moon weekend. I have been to other Bikefests here over the years but this was the most people I have ever seen at any. The entertainment tent was packed, they had video screens hanging outside the tent so the people in the lot could see from all over and the picnic table area on the beach was packed. I'm sure the Styx headlining concert was a huge draw. The only bad thing was that for all those thousand...
» Click here for the full story.
ROCK ALLEGIANCE FESTIVAL 2016
Posted On: 8/26/16
Written By: Gary Crouthamel
ROCK ALLEGIANCE FESTIVAL 2016 The Monster Energy Rock Allegiance Festival returns to Chester, Pa.'s Talon Energy Stadium (formerly PPL Park) just outside Philadelphia, Pa., on September 17 & 18, 2016. With a lineup of more than 35 bands on three stages, headlined by Avenged Sevenfold and Alice In Chains, along with Slayer, Breaking Benjamin, Volbeat, The Offspring, The Cult, Anthrax and many, many more, this should be an event to remember. Single day ticket and general weekend packages are available along with VIP packages also at http://www.RockAllegiance.com In addition to the three main stages, the festival also features a Craft Beer and Gourmet Man Food experience celebrating what makes Philadelphia cuisine famous, unique and delicious. Just a few of the food items that will be available are Braz-B-Q, Chickie & Pete's, Mama's meatballs, Seoulfull Philly, and many more. As a celebration of craft beers, several local breweries will be represented as well...
» Click here for the full story.
View All Archives
RSS Feed