Dreamers
Posted On: 3/17/17
Written By: Melissa Golden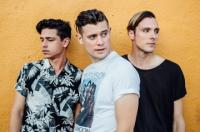 I am super excited to introduce our readers to a brand spanking new indie pop band called Dreamers. The three piece originally formed in Brooklyn but have now made their way out to LA and they have been having one very busy, incredible and important year. They toured all last summer opening for bands such as Great Good Fine OK, The Mowglis and Walk the Moon and have made appearances at several festivals such as Lollapalooza, despite the fact that they had only released one short, four-song EP in 2014, simply titled E.P. Their debut album, This Album Does Not Exist, was released on Aug. 26, 2016, and features their hit single "Sweet Disaster." The single was released earlier in June and has been climbing the alternative charts all year. It peaked at number four on AltNations Top 18, was at number 16 on iTunes Alternative charts and reached number 19 on Billboards Alternative chart. The song has a very catchy beat and grungy ...
» Click here for the full story.
Dead Leaf Echo at Philly's Ortleib's Lounge
Posted On: 2/17/17
Written By: Melissa Golden
Hello Coco fans! Hope everyone has been staying warm with lots of great music! I certainly have been trying to and am finally ready to share one of my last adventures with you all! On December 3rd I headed up to Philly, city that I love, in search of a little dive bar called Ortleib's Lounge. My mission, to check out a shoegaze band, Dead Leaf Echo, fronted by a fellow Stephen Decatur grad! He is officially listed on their facebook page simply as Lg: Guitar, Vox, Keys; however, I know him as Lloyd Galyon (AKA Pancho). Pancho was the goofy kid who sat next to me in Spanish class and kept us all entertained, making us laugh in between congregating verbs and learning how to ask to use the bathroom in Spanish, "Pueblo ir al baño?" (the only way we were allowed to go)! So, since I grew up and became a concert photo journalist and Lloyd Galyon grew up and became a...
» Click here for the full story.
Grouplove - Big Mess Tour 2016
Posted On: 12/16/16
Written By: Melissa Golden
Hello Coco fans! For all the neurotic planning that goes into my adventures, things don't always work out the way I want. I missed out on the last few shows I had talked about but no worries, I finally made it to one and it was certainly worth the wait! November 1st, I finally had the opportunity to officially photograph and review GROUPLOVE at The Fillmore in Philadelphia. They are currently on tour in support of their third album, Big Mess, which just released September 9, 2016. This indie-alt-rock band has come a long way since I first saw them perform at the very first Firefly back in 2012. Everyone there walked away saying "those guys were awesome, they will definitely be ones to watch" and so I have! I went home, promptly purchased their debut album, Never Trust a Happy Song, and became a GROUPLOVE addict. I have been trying to review a show ever since and this time, it finally all came...
» Click here for the full story.
View All Archives
RSS Feed