Taylor, Emilija & mgr. Nikki greet you with a smile.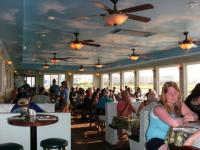 Cool air conditioning and panoramic view.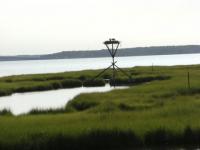 Resident Osprey part of wetlands wildlife.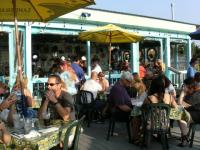 Despite the heat, every table was filled on the outside deck.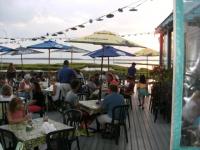 Incredible bay view from the charming deck.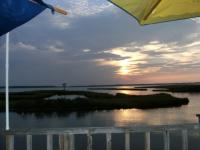 Breathtaking sunsets free of charge.
Harriet, with server Nick, still loves her ice cream sundaes.
– Delicious, Delightful and Always Fun
Oh, golly, did Dew (my gent) and I have fun last Saturday night. We had a fabulous meal at BJ's and danced the night away to Chest Pains, one of our favorite bands. The prior week we had another wonderful meal with a large group of friends bonded by our mutual love for Tranzfusion; this classic rock band has been together for more than thirty years and each show is outstanding!
Ok, I know this is supposed to be a restaurant review and it will be, my friends. BJ's is located at 75th Street and the bay and has consistently offered great food since day one back in 1980. Hours of operation are 11am to 2pm year round and their entire menu is available all day - dinner for lunch or lunch for dinner. They have both indoor and outdoor bay front dining. If you check out their web site (
bjsonthewater.com
) you can take a water tour of BJ's and listen to a bit of Lower Case Blues playing in the background.
However, I must start off with what I love most about BJ's that keeps me coming back all these years at least once a week whenever I'm home in O.C. BJ's offers live music usually three times a week year round that is mostly local, always outstanding and there is never a cover. Owner Billy Carder has always supported our local musicians and they, as well as music lovers like me, so recognize and appreciate Billy's faithful support!
Tuesday night I took my 97-year-young mom, Harriet, for our official restaurant review dinner. We arrived a little before our 6PM reservation and our table wasn't quite ready so one of the servers brought a chair for my Mom while we waited a few minutes. Folks at BJ's are so thoughtful, it's no wonder people of all ages enjoy BJ's. I believe my Mom topped the age chart that evening, and the family next to us had three adorable children including a 4-month-old cutie pie.
We asked to be seated inside with a great view of the bay and that is what we got. The outside deck was packed even with the high 90's temp but we preferred the gorgeous water views from the comfort of a cool indoor space. I just love watching the ducks and other wild life on the bay. I always check to see if the Osprey are in their nest.
Our server that evening was Nick who promptly came over to greet us and who provided wonderful service throughout the night. I've eaten most items on the menu over the years and so decided to order items new to me. I started with Chicken Skins and was most pleased. This is baked potato skins topped with scrumptious large chunk chicken salad and provolone cheese. The order was so huge that I brought half home and am enjoying it for lunch today. Mom so enjoyed the succulent Clams Casino - fresh "top neck" clams topped with garlic butter, seasoned breading, bacon, and melted provolone cheese.
For our main course, Mom ordered her favorite, Lobster Tail with drawn butter; it was the largest tail I've ever seen and was simply melt in your mouth good! I ordered the special fish of the day, Mahi Mahi, and had it prepared Cajun style. It was cooked to perfection and I didn't leave a morsel. We both ordered the house salad and cole slaw for our sides. I must tell you that BJ's makes a Lemon Basil Vinaigrette dressing that is fabulous with both the salad and the fish!
To me, one sign of a really good restaurant is if they serve good decaf coffee. BJ's coffee is wonderful! We both had a cup of decaf and I enjoyed Maddy's famous Peanut Butter Pie (Oreo cookie crust, peanut butter, whipped cream, cream cheese, topped with chocolate fudge). I told Nick to please bring my Mom a small version of BJ's Sunday - it was still huge and she ate it all! Specialty wines and frosty frozen specialties are other after-dinner treats.
Did I mention that the sunset was spectacular? We just had a most pleasant dining event from start to finish. Billy did come over to greet us at the beginning. I asked Nick to see if Billy and Maddy could come over for a quick picture after our meal and was told they had slipped away for a date night. Imagine - they went to the Grace Potter concert and forgot to take me! Oh well - c'est la vie.
Other starters I highly recommend include Pizzette Crab Imperial (garlic and cheese white pizza topped with crab imperial), Crab Dip, Chicken Fingers, and Onion Rings. Dew usually gets at least one item from the Raw Bar which included mussels, shrimp, clams and oysters.
I adore all the salads at BJ's and regularly rotate between the Crab Meat Chop Chop Salad (romaine, blue cheese, bacon, lots of crab, ranch dressing and onion straws on top), Salmon Salad (hickory and molasses char-grilled salmon over a field of greens with fruit garnish), and 8oz. NY Strip Steak Caesar salad which also included the blue cheese crumbles and straw onions.
Dew usually gets the French Onion Soup and I love the Crab Soup. The soup of the day is usually Cream of Roasted Red Pepper topped with lump crab - it's oh so yummy! Quite often when we come at night for music, I'll order the bowl of soup 'n house salad for just $7.99. Wow - what a great deal!
For dinner I recommend the stuffed flounder which is the Wednesday night special off season. The Crab Imperial is another favorite of mine and Dew loves the Shrimp Imperial. As for sandwiches, I rarely eat bread but lately I've gotten the pulled pork bar-b-que without the roll with lettuce, tomato, slaw and pickle. Dew loves the Fried Oyster and the BLT sandwiches.
I should also mention that Happy Hour at BJ's takes place Monday through Friday from 4-7 p.m. when food and drink specials abound; and a second Happy Hour Sunday through Thursday from 10pm-2am. There are also lunch specials and a daily duck feeding (1pm) year round. Off season provides dinner specials and great afternoon inside deck parties with entertainment on Wednesdays. The Halloween Party with Billy's band, Teenage Rust is such fun and BJ's makes the best stuffing in OC to go with the turkey feast for their Christmas Party.
Hats off to BJ's on the Water! It's a fun and wonderful place to go for down home good cooking, friendly service, fabulous view and atmosphere, reasonable prices and great entertainment. Dust N' Bones play at 9pm both Friday and Saturday this weekend; Bettenroo starts at 8pm Thursday the fourth. The phone number is 410-524-7575. Hope to see you there soon.
«Go back to the previous page.