Meet the Band - Articles
Randy Lee Ashcraft & The Saltwater Cowboys
Posted On: 8/2/19
Written By: Vincent Paez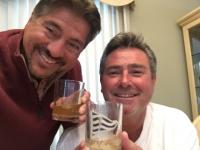 It's 1984 and US Army Special Forces Sergeant Ashcraft is hiding behind a wall observing suspicious activity behind enemy lines in some foreign country. His mission is to observe the enemies and report on their activity before another unit enters to attack. It is a typical mission for the Green Berets. He completes his mission, and, after he returns to Ft. Bragg in North Carolina, he settles down, picks up his guitar and plays an old country song to relax. His four-year service term is up soon, so he reports into his re-enlistment officer, who tells him that, while he is a great soldier, he should really follow his dream of being a country singer and songwriter."Son, if you don't get out there and try to be a musician, you'll regret it for the rest of your life. And if you decide it's not for you, then call me and we'll get you back in the Army," the officer said.With that, Randy Lee Ashcraft left the US Army with his guitar in hand and signed up to study music at Salisbury College. Th...
» Click here for the full story.
VINCENT PAEZ
Posted On: 7/26/19
Written By: Vincent Paez
A few weeks ago, a friend was reading one of my columns on this Coconut Times website. He asked me while laughing, "Hey Vincent, you're a local musician, so why don't you interview yourself? Ha ha!" I was surprised by the question and joined him with a chuckle. "Heh-heh, I never thought of that. But don't you think that would be a little egotistical and arrogant?" I asked. He replied laughing, "Well, you can just hide your real personality and make it a humble story about yourself instead." Nice guy, my friend, huh? And so, in the interest of artistic expression with no vanity intended, I interviewed myself. I hope you enjoy the resulting split-personality experience between Vincent (the interviewer) and Vince (the interviewee). Hang on for a crazy ride on the psychosis train:I caught up with Vince at Coconuts on a warm summer evening right after he finished playing a gig as the guitarist for Old School. He had just finished packing up his gear and helping Erve Cassell, the bass player...
» Click here for the full story.
DAVE SHERMAN
Posted On: 7/5/19
Written By: Vincent Paez
Picture a sailor setting out to sea. He just got his haircut military-style and boarded a submarine in Ballast Point, San Diego, California, and is prepared to be underwater for months. Little did that submariner know, he would become one of the top booked performers in all of Ocean City, Md. That submariner is Dave Sherman, who has been entertaining crowds in our resort town for twenty years. He's come a long way from his days in the Navy, judging from his long well-groomed hair, giving him that Neil Young look. Dave is a gracious person who invited me to his lovely home just before dinnertime for this interview. We shared a bottle of red wine as we talked.Vincent: "Dave, you're a staple here in Ocean City. You've been doing this for so long, and everyone knows you." Dave: "I think I've done more than 3,400 shows – not counting the ones where I got rained out."Vincent: "Wow! How did you get your start here in OC?" Dave: "I'm originally from Baltimore. I had played in teen center bands...
» Click here for the full story.
View All Archives
RSS Feed