Meet the Band - Articles
DAVE SHERMAN
Posted On: 7/5/19
Written By: Vincent Paez
Picture a sailor setting out to sea. He just got his haircut military-style and boarded a submarine in Ballast Point, San Diego, California, and is prepared to be underwater for months. Little did that submariner know, he would become one of the top booked performers in all of Ocean City, Md. That submariner is Dave Sherman, who has been entertaining crowds in our resort town for twenty years. He's come a long way from his days in the Navy, judging from his long well-groomed hair, giving him that Neil Young look. Dave is a gracious person who invited me to his lovely home just before dinnertime for this interview. We shared a bottle of red wine as we talked.Vincent: "Dave, you're a staple here in Ocean City. You've been doing this for so long, and everyone knows you." Dave: "I think I've done more than 3,400 shows – not counting the ones where I got rained out."Vincent: "Wow! How did you get your start here in OC?" Dave: "I'm originally from Baltimore. I had played in teen center bands...
» Click here for the full story.
33 RPM
Posted On: 6/28/19
Written By: Vincent Paez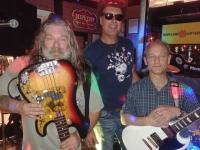 Three guys walk into a bar. A jock, a geek, and a stoner. They are the band. No, this is not the beginning of a joke. It's what happens every time 33 RPM plays around town. Back in high school, Mike Beavan, lead vocalist and drummer, was the jock, Larry Biegel, lead guitarist, was the geek (who also lettered in three sports, for the record), and Rock Rollain, bassist, was the stoner. They are from Howard County, Md, and have been playing in Ocean City for about four years. Mike designs and builds luxury pools, and back in 2013, Larry was his customer. Upon noticing musical equipment in Larry's home, Mike started discussing putting a band together with Larry. Rock was later found at a cancer benefit called Woodstock Rock, playing for another band. The result was 33 RPM, referring to the old LP records that played on a turntable at 33 1/3 revolutions per minute (RPM). If you knew that already, then you most likely are from the era of the songs that 33 RPM plays. The band had ...
» Click here for the full story.
JACK WORTHINGTON
Posted On: 6/21/19
Written By: Vincent Paez
Adversity. Some people let it strike them down forever. Others face it head-on and overcome it. It is with great pride that I tell you about such a person, who has overcome great adversity in his life. Jack Worthington grew up in Montgomery County, Maryland, near Gaithersburg. He started playing guitar much later in life, compared to other musicians. He took a classical guitar course in college and fell in love with the instrument. He learned quickly, started to play solo gigs, and then put together a band, called Riptide, which played originals and covers. Things were going well for Jack and Riptide. Then, adversity knocked on the door in 2002, when Jack suffered an untimely stroke. It left him with slurred speech and a fairly crippled right hand. He spent the next years overcoming this affliction with tenacity. He focused on singing and pronouncing lyrics. To compensate for his right-hand problems, he designed a special guitar pick with an extension, so that he can grip it tightly. T...
» Click here for the full story.
View All Archives
RSS Feed