BJ's on the Water
Posted On: 7/29/16
Written By: Tish Michel
– Delicious, Delightful and Always Fun Oh, golly, did Dew (my gent) and I have fun last Saturday night. We had a fabulous meal at BJ's and danced the night away to Chest Pains, one of our favorite bands. The prior week we had another wonderful meal with a large group of friends bonded by our mutual love for Tranzfusion; this classic rock band has been together for more than thirty years and each show is outstanding! Ok, I know this is supposed to be a restaurant review and it will be, my friends. BJ's is located at 75th Street and the bay and has consistently offered great food since day one back in 1980. Hours of operation are 11am to 2pm year round and their entire menu is available all day - dinner for lunch or lunch for dinner. They have both indoor and outdoor bay front dining. If you check out their web site (bjsonthewater.com) you can take a water tour of BJ's and listen to a bit of Lower Case Blues playing in the bac...
» Click here for the full story.
Longboard Cafe
Posted On: 7/15/16
Written By: Barbara Borys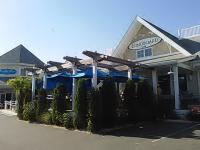 Longboard Café, the most recent eatery established by local restaurateur Rick Vach, offers coastal cuisine at its finest. Conveniently located midtown in the 67th Street Town Center, Longboard Cafe's full menu includes seasonal specials as well as a wide variety of specialty libations, craft beers and wines. Their popular "241526" happy hour is just as it says...two drinks for the price of one and is available to thirsty patrons seven days a week from 5 p.m. to 6 p.m. My personal favorite summer specialty drink is the refreshing 'Just Peachy' margarita, as delightful to look at as it is to drink A friend and I recently dined at Longboard Cafe. Although there were people waiting to be seated outside, we were easily accommodated inside despite arriving a half hour prior to our reservation. I started off with a classic margarita. A delicious libation, it was not to...
» Click here for the full story.
BOURBON ST. ON THE BEACH
Posted On: 7/1/16
Written By: Barbara Borys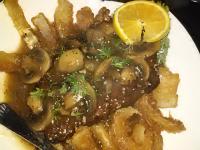 If you are looking for variety, quality, atmosphere and entertainment at the beach with the flavor and flair of New Orleans, Bourbon Street on the Beach is the place for you. The Mardi Gras decor, the casual ambiance with first class service and presentation and the assortment of foods you will find at Bourbon Street is one of kind in Ocean City and will keep you coming back. Proprietors Barry and Gretchen Reichart offer an extensive menu which includes appetizers, sandwiches and wraps, soups and salads, entrées and desserts. There is something to please everyone's tastebuds and price range, including choices for the small fry in your party. Appetizers include a range of choices from Crab & Spinach dip, Buffalo Chicken dip, Crab stuffed Mushrooms, steamed Clams, Scallops in Bacon, Oysters on the half shell and Oysters Rockefeller. Exclusive to Bourbon St. on the Beach are the Crawfish Pie (Crawfish tails, peppers, onions, tomato &amp...
» Click here for the full story.
Archives
View All Archives
|
Click to add RSS Feed