TRIBUTE TO JOE "SMOOTH" JACINTO
Posted On: 6/2/23
Written By: Brenda Golden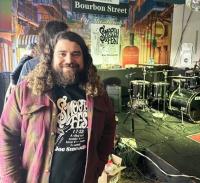 This week I want to finally publish the article for which I have been compiling information for a few weeks now; and so I am dedicating this column to Joe.  Many of us have read the heartfelt tributes to Joe "Smooth" Jacinto on facebook that probably only scratch the surface of the life and times of this dearly departed (May 2, 2023) talented artist.  To capture a more indepth look into his life, I decided to reach out to a few of his fellow musicians.  It's only fitting, however, that I should begin with the person who knew him best, his son Daniel Edward Jacinto III.Joseph Edward Jacinto II, born on April 7, 1950, was raised in Sandwich, Mass., by parents Joseph Edward Jacinto Sr. and Irene Marshall Jacinto.  Daniel, who was born to Joe and his wife Wendy on June 21, 1987, still remembers his childhood address: Plymouth 1 Oxford Rd., East Sandwich, Mass.  I told Daniel about a picture that Kevin Poole shared of Joe in his first band, The Excels, at the age of 15.  In 1965 The Excels ...
» Click here for the full story.
MEMORIAL DAY WEEKEND!
Posted On: 5/26/23
Written By: Brenda Golden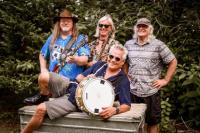 Hey, hey, hey! What's cookin'?  Lots of hot music this Memorial Day Weekend, right?  I started early last night, Thursday, with a visit to Coconuts for the first-of-the season performance of One Night Stand.  Although it was pretty chilly with that wind off the ocean, the music was hot from Mark on guitar, Eddie on bass and Frank on drums.  They are playing today at the Caribbean Pool Bar. Next stop was Fast Eddie's where Identity Crisis was rocking the house.  Charlie on guitar/vocals adds to his musicality with his charismatic and friendly personality.  He loves coming out into the crowd and even getting up on a chair (pictures next week).  Keith, on bass, also has great vocals as does Jay on lead guitar.  Keeping the beat on drums is friendly Ray who also sings a few.  Last stop was Beach Barrels to hear The Chest Pains.  There has been a personnel change with this band: Ted Galinas is now the bass player; Jeff Davis is just too busy with other bands, mostly Full Circle.  Then there...
» Click here for the full story.
CRUISIN OC!
Posted On: 5/19/23
Written By: Brenda Golden
Can you hear them?  Part of the Spring sounds of Ocean City: it's Cruisers Weekend.  Unlike H2O cars, these cars are really something to see and their owners are so proud of them that they would never risk an accident just to burn a little rubber.  Guess this is sounding like I'm on a soapbox and I guess I am a little.  Maybe it's because I was a youngster when many of these cars were new on the road and I just love them.  As much as I'm sure my dad wanted a sporty Chevy, though, being a family man we had a Chevy station wagon with the wing-back fenders.  Great memories going to the drive-in theater in my pajamas in the back of that cool car.  I hope you're all enjoying this weekend.Last weekend, Mother's Day actually, I had the opportunity to visit two of our newer venues: Saltwater 75 and Pier 23.  While nothing will ever replace our beloved BJ's on the Water, I suppose we just have to look at this as a new construction and new place to dine and enjoy good music.  Outside the huge di...
» Click here for the full story.
View All Archives
|
Click to add RSS Feed