FAREWELL TO SUMMER
Posted On: 10/22/21
Written By: Brenda Golden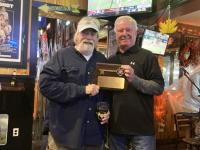 COCO NIGHTS 102221So how ya doin'? For me, mind and body have been, and are still, overwhelmed with the ongoing home repairs project; but I did manage to have some fun time last week. I was thrilled to be on hand when Mike Beatty, aka Batman, received the honor of a lifetime for his incredible 40 years of service to the Town of Ocean City as our "Nighttime Mayor". He was given that moniker many years ago, and was again afforded that respect from current Mayor Rick Meehan who referred to him as such before reading an official Proclamation from the Town of Ocean City and presenting him with the Key to the City.  Over the years, many of you have been to a Batman party where we have danced to all our favorite music as played by this intuitive DJ who has always seemed to have his finger on the pulse of what we want to hear. It all started at Bayside Pub, now Buxy's Salty Dog Saloon, where the 40th Anniversary Celebration was held. Young Mike Beatty was allowed to set up in a corner and spin...
» Click here for the full story.
LOVIN' INDIAN SUMMER
Posted On: 10/15/21
Written By: Brenda Golden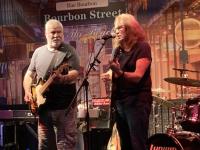 Hi, y'all. I'm lovin' this 'Indian Summer,' aren't you? On our visits to Coconuts last Sunday and Wednesday, we bemoaned the fact that there's only one week left there before closing. Couldn't they stay open 'til November? Wishful thinking. You never know what Mother Nature is going to bring us so I guess we have to bow to her power, so to speak. It was great fun hearing Lauren Glick, Steve Kuhn & Wildcat Kelly play for us Sunday; her last performance there for the season. (I also really enjoyed her performance at Bourbon St. with Dave last Thursday.) This is the time for many locals to hit this hotspot, avoiding the summer crowds. However, I noticed a lot of older folks (no kids) who choose to take their vacations during this second season. That was quite in evidence on Wednesday when I returned to Coconuts to hear the Dunehounds again. They were every bit as good as I remembered (and wrote about) last week. There was one glaring omition: bassman Kasey often lends his voice to the...
» Click here for the full story.
IS IT REALLY FALL?
Posted On: 10/8/21
Written By: Brenda Golden
It was a red-letter day last Sunday, October 3rd, for Elizabeth Rappaport Marker. First, it was her birthday. Secondly, it was her three-year wedding anniversary with David Marker. But probably more importantly on this particular day, Elizabeth was the big winner at the annual Tipsy Turtle Contest Party at Coconuts Beach Bar & Grill. For those of you who don't know what that is, let me explain. Each Tuesday during the summer, Coconuts invites their guests to enter a drawing by ordering a Tipsy Turtle, their signature cocktail. Now, guests come from near and far every week at the Castle in the Sand Hotel. Elizabeth is from Ridgefield, Connecticut. Each weekly drawing winner is invited back for the final drawing and given free accommodation to boot. What a deal! So Elizabeth already had a great birthday and anniversary gift just being able to return to the Castle in the Sand's Coconuts for the party. The grand prize is a vacation at the Castle's sister resort, Green Turtle Cay Resort...
» Click here for the full story.
View All Archives
RSS Feed