Coco Nights
Posted On: 2/16/18
Written By: Brenda Golden
Hi, friends. Miss me? I've missed 'talking' to you so let's chat! This is the first official issue of 2018, the 33nd season of Coconut Times. I hope more and more of you are finding that my online publication is much more convenient than finding a paper, having ink smeared on your fingers, papers piling up in your house, and wasting more trees. You can prop your tablet up while enjoying your breakfast, or brunch in my case, and catch up on the music news around Ocean City. Because I did not have a column last week, I posted on facebook the lineup of Full Circle for last Friday's performance at BJ's. For those of you who weren't there, let me tell you, you missed a treat. Now don't get me wrong; Full Circle's normal lineup of Jeff, Michelle, Barry, Kathy and Dave are the best around. Out of necessity, however, two members could not be present, so alternates were found to go on with the show. Drummer Dean Haemel (Ch...
» Click here for the full story.
Coco Nights
Posted On: 12/29/17
Written By: Brenda Golden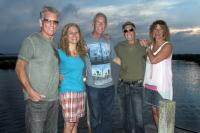 Here we are at the end of 2017 and I'm feeling excitement and hope for 2018. I know it's been a rough year for many of us so we're looking forward to a new beginning, right? After a whirlwind of Christmas parties (I hope you had a wonderful Christmas), we'll be welcoming the new year with one more party to end the holiday season on New Year's Eve. As I'm writing this on the last day of 2017, my plan for the night is to be with the people I love. Of course, that is all of my musician friends but time and logistics dictate that I can only go to a few places. I would like to start at the OC Fishing Company to hear Lauren Glick & David Tarlecki. Next I want to see my friends Michael Smith & Rita Conestabile as Pearl playing at Bourbon St. on the Beach. And I plan to finish the night with my family of friends to hear Randy Lee Ashcraft & The Salt Water Cowboys at Johnny's Pizza Pub. Being with t...
» Click here for the full story.
Coco Nights
Posted On: 12/8/17
Written By: Brenda Golden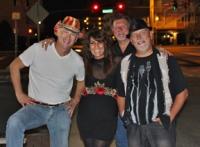 What's happening out there, my friends? A lot since we last talked. Well, two major events for me. First, that Old School band reunion I advertised and promoted for Sunday, Nov. 19 at BJ's was a total ruse, unbeknownst to me. I still cannot believe that so many people kept such a top secret from me for so long. When I walked through the door at BJ's that day, I was completely blind-sided by the crowd of well-wishers there to celebrate my birthday early (it's really Feb. 5). I don't think it sunk in until I saw my two daughters and grandkids among my many friends. It was really more of a recognition of the many years I have promoted entertainment and tourism in Ocean City. I started in this business around 1991 or '92 working in the art department of the Maryland Coast Dispatch. Journalism is serious business there but I campaigned to write a column about our incredible musical community. I finally got the green light and my first a...
» Click here for the full story.
View All Archives
RSS Feed