CELEBRATING MUSIC
Posted On: 5/20/22
Written By: Brenda Golden
Hi, all. Are you enjoying the beautiful classic cars roaring up and down Coastal Highway? Sure wish I still had my 1969 Candy-apple red Ford Mustang; I'd be tooling the drag myself. That's what we called it in Virginia Beach. Those were the days. But you know what? These days are pretty great too, even though I'm not getting around as well as I use to. I made sure I was on hand last Saturday to join the folks, both staff and loyal patrons, at The World Famous Purple Moose to celebrate 50 years of featuring the best rock 'n roll right on our famous Boardwalk. We also gathered to pay tribute to Papa Moose, Gary Walker, who passed into that ultimate rock venue in the hereafter. Yes, we still miss him; so it was a little bittersweet. Long-time head bartender Bobby Taylor is now the proud owner; but he's too young to carry off the 'Papa' moniker - just call him Bobby. We can depend on him to continue bringing us some of the finest rock bands in the region; and the parties are classic, too, ...
» Click here for the full story.
OC'S FAB LIVE MUSIC
Posted On: 5/13/22
Written By: Brenda Golden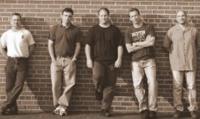 Rain, rain, go away! Hi out there my little ducklings. Oh, you say you're not really liking this weather? Me either. But I did get out last night to hear the Jimmy Charles Band at Bourbon Street and it was a blast. I love this guy. His choice of covers always gets the audience up on their feet dancing and his originals are so likable too. His latest, which is scheduled to drop on May 20th, is titled "It's a Maryland Thing You Wouldn't Understand." With catchy lyrics referencing many iconic Ocean City businesses such as Thrasher's French Fries, this song is slated to become a state treasure. Already it is being played each sunset at Fager's Island following the "1812 Overture." "Never Had a Bad Day" is so upbeat and infectious and "Grow Up Too Fast" will bring a tear to your eye. There are so many more great songs in his catalog of music. It's so cool that he comes back to home base when he can; yep, he's a Stephen Decatur H.S. graduate. When he does, he plays for us as much as he can: ...
» Click here for the full story.
PARTY TIME
Posted On: 5/6/22
Written By: Brenda Golden
It's Springfest weekend which also heralds the opening of our outdoor venues such as Coconuts Beach Bar & Grill. I was there yesterday (Thursday) for opening day and had such a good time meeting some new friends, seeing old friends and Coconuts crew, and hearing the music of Lime Green. And if any of you are wondering if because of the similarity of names, are Coconut Times and Coconuts connected,  the answer is no. I'm very happy to represent them in promoting their awesome venue and events but we are separate entities. That said, it has always been and remains one of my favorite places to be. Angeline, Terry, John & Billy of Lime Green Band always deliver a show filled with a variety of rock, pop and R&B tunes that is guaranteed to please audiences of all ages. And I must add that Angeline has a most fabulous voice with an octave range that can handle songs from such wide ranging artists as Pat Benatar to Amy Winehouse. Power, range, tone: she has it all. Be sure to catch...
» Click here for the full story.
View All Archives
RSS Feed