MUSIC & SPRING HAS SPRUNG!
Posted On: 3/24/23
Written By: Brenda Golden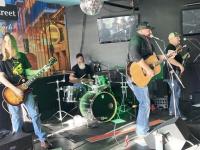 Hi y'all. I have some pictures to share with you from St. Patrick's Day fun (we got two weekends out of it, didn't we).  Of course, there have been many already posted on facebook from many of you but mine are different. I  have also enjoyed lots of good music lately, and I would like to share some of that with you.  I'm going to start with last night, Wednesday, with a pop-up live rehearsal concert from Jimmy Charles and his band in preparation for their performance at the Maryland Day Festival in Baltimore on Saturday.  On stage with Jimmy at Bourbon Street were locals Mike Rogers (bass), Brian McKenna (drums), and Gavin Hades (lead guitar).  After the first song, Jimmy announced that Gavin (16) will be playing with him at all his major Maryland shows.  How exciting for Gavin; and considering that 10,000 people are expected at Saturday's show, which they will headline at 7pm, that's a lot of exposure for this gifted guitarist who has already impressed major audiences and music celebs...
» Click here for the full story.
MUSIC FUN ROCKS ON
Posted On: 2/24/23
Written By: Brenda Golden
Hi, all.  It's suppose to be winter but we haven't seen a single snowflake. Don't get me wrong, I'm not complaining. I'm most grateful I do not live up north where a massive storm is underway. Normally some bad snow days would keep us from hearing music in and around Ocean City; but this year the fun hasn't stopped and I'm lovin' it.Lots of fun was had around my birthday (Feb. 5) beginning with a gathering of so many good friends at Fast Eddie's with music by Dust n' Bones. Dean, Mark, Aaron and Kurt always do a rockin' good job of entertaining the crowd and keeping them on the dance floor - so much fun. The next day a few friends got together to celebrate at my dear friend Sue's house where several musician friends came to play and sing together. Thank you Missy & Erve Cassell, Michael Smith and wife Patricia and Vincent Paez. I got to sing with them for my birthday and it was so much fun.Super Bowl Sunday I went to the tailgate party at Coins to hear Teenage Rust. Billy, Maddy, C...
» Click here for the full story.
"SMOOTHFEST" FOR JOE JACINTO
Posted On: 1/13/23
Written By:
Greetings one and all.  I've been enjoying my winter hiatus from writing Coco Nights but a very worthy event took place last Saturday that I feel compelled to share with those of you who were not there.  So many fellow musicians, fans and friends of Joe "Smooth" Jacinto turned out in droves for the SmoothFest benefit held at Bourbon Street on the Beach - it was an inspiring day of music and fellowship.  The continuous live music began at noon with a performance by Harry O who partnered with Joe many times over the years.  Following was the talented duo of Valerie & Margot.  Next up was Roast John with members Otto Grundman on guitar, Nick French on keyboard, Logan Rodriguez on drums, and filling in for bassist Jamaar Oney was Ryan Jared.  What a talented group of musicians; I enjoyed them immensely.  So many wonderful musicians followed such as: Opposite Directions (Darin Engh & Bob Wilkinson) who played again later with Nate Clendenen; No Byscuyts with whom Joe has played for ...
» Click here for the full story.
View All Archives
|
Click to add RSS Feed