LOVIN' OUR GREAT BANDS!
Posted On: 11/11/22
Written By: Brenda Golden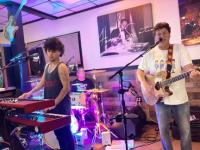 Hey, hey!  I ended last week's column saying I was signing off for a while ... at least until I had something to say.  Didn't take long, did it?  After hearing Lennon La Ricci last week at Coins, I'm bubbling over with the enthusiasm I caught hearing that performance and just have to share it.  The excitement that Lennon & The Leftovers generates is simply infectious and contagious ... I don't mean as in virus; but his performances should be viral.  This young man should be all over the internet and it may not be long before he his.  Right now you can go to YouTube and find several of his songs featured, including his original "Birds On A Wire."  There should be much more; coincidentally, I saw proud dad Ricky filming a song as I was writing my notes.  Speaking of Ricky, we have enjoyed his music for so many years and I have to say that he has a noticeably new joie di viv in his performances.  For instance, when he sang, "What Is Hip?" by Tower of Power he was explosive.  Ricky sin...
» Click here for the full story.
HALLOWEEN IN OCEAN CITY
Posted On: 11/4/22
Written By: Brenda Golden
What a fabulous Halloween weekend we had here in Ocean City.  Parties galore and so many cool, cute and scary costumes.  I only got to a few parties but I certainly had a good time.  Many people were already in costume on Friday night; some ambitious souls liked wearing something different each night.  I was pretty predictable on both nights starting at Fast Eddie's and ending at The Purple Moose.  You all know I love the music; who else sits right beside a speaker!  The Mercury Agenda was on tap Friday night and they always entertain and impress me.  Then at The Purple Moose JParis played and they were awesome - as usual.  Check out the new lighting system there - pretty cool!Saturday night was a blast at Fast Eddie's with music by the incredible Lennon La Ricci & The Leftovers.  I always marvel at the talent of this young man who we first saw come onto the scene when he was only 8 years old.  He's an absolute wonder on the keyboard and now he's just as proficient on guitar.  Amaz...
» Click here for the full story.
IT'S HALLOWEEN!!
Posted On: 10/28/22
Written By: Brenda Golden
Are you ready for a Spooktacular weekend?  I know you are because Ocean City loves a good party and Halloween weekend is one of the best of the year.  As usual, most every venue in town will be staging a big party with costume contest prizes and lots of very entertaining music.  I'm going to start my weekend with a visit to Fast Eddie's to hear The Mercury Agenda (you can hear them Saturday at Crawl Street Tavern.)  I'm guessing some enthusiastic folks will be wearing costumes tonight so that will be fun to see.  But probably the big party of the weekend there will be Saturday with music by Lennon & The Leftovers.  I can't wait to see how the musicians will dress up; they're always so creative.  I love the year when Ricky's wife Pam dressed as a Scarecrow.  I didn't even recognize her.Case in point: Full Circle has chosen a theme every year and believe me the five of them go all out.  I won't be at Seacrets to see them but I'm sure some pictures will find their way to me and I'm ex...
» Click here for the full story.
View All Archives
|
Click to add RSS Feed