LAUREN GLICK CD RELEASE PARTY
Posted On: 11/10/23
Written By: Brenda Golden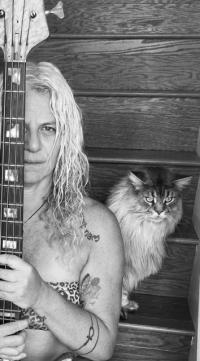 The date is fast approaching for the CD release party for Lauren Glick's latest collection of great songs in Maybe I'll Run.  House of Sauce in Fenwick, Del., is the place to be on Thursday, November 16, from 7-9pm.  That's right, friends and fans, Glick's next CD is dropping just in time for the holidays; but you can be the first to get your copy at this exciting night of music and fun including giveaway prizes.  (Reservations are recommended.)The lyrics on the title track are indicative of where Lauren's journey has brought her to in this point in her life.  I sat down to talk with the artist recently, being curious to know how she manages to juggle the many facets of her daily life: careers and motherhood. Yes, that's multiple careers because Glick also teaches piano and yoga. "That's what "Maybe I'll Run" is all about," she told me.  "It's often a feeling of living two lives at once, thinking maybe I should be a stay-at-home mom to raise my kids; but maybe I should go for it!"  ...
» Click here for the full story.
FALL FUN
Posted On: 10/27/23
Written By: Brenda Golden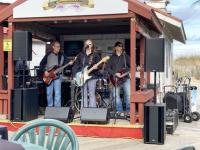 Hi, y'all.  I've been goofing off all day today; it's 4:30 and I'm just sitting down to 'talk' with you.  I plan to keep it brief because I'm exciting to be going to the Globe in Berlin to hear my pals in Teenage Rust play for what may be the last of their fall tour.  It's always such a good time going to hear them for the favorite tunes they play for us and the many friends who join us for the fun - really, it's like a BJ's reunion every time.So ... last weekend was a blast being at the last big hurrah for Coconuts Beach Bar & Grill.  Don't we wish we could have had this great weather?  It was freezing!  But I broke out my winter cape and hat and was pretty toasty.  Let me tell you what was way hot - Lime Green Band.  That's right ... after a summer off while guitarist Terry recuperated from a dangerous aneurysm, the band was back in full force and sound great.  I have to say again that Angeline is one of the best vocalists in the area.  People are always asking who's my favorite ...
» Click here for the full story.
MUSIC MUSIC!
Posted On: 10/20/23
Written By: Brenda Golden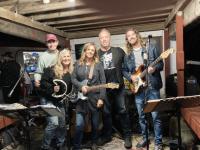 Hey, folks, hope this finds you all well and enjoying life.  It's the last hurrah of the summer for Coconuts Beach Bar & Grill this weekend and we're all hoping Mother Nature will be kind and keep the rain away.  Of course, it's also Sunfest weekend with tons of great entertainment there and I'm thinking of all those, too, who look forward to this event each year.It was an eventful week for me starting last Friday with Full Circle at Coconuts.  I'm just totally blown away every time I hear this group perform.  The musicality and vocals are second to none; plus, they're the only group I can think of that adds new material constantly.  Chalk that up to the creative and collaborative spirits of lead vocalists Michelle Schachter and Kathy Denk.  The 'soul sisters,' as they refer to themselves, hear a song, know they want to perform it and then get it done.  It certainly helps that their bandmates, Jeff Davis on bass, Joe Mama on drums and now Sean Loomis on guitar have the instrumental...
» Click here for the full story.
View All Archives
|
Click to add RSS Feed