BIKE WEEK
Posted On: 9/17/21
Written By: Brenda Golden
Confession! I've been having too much fun hearing great music to sit down and 'talk' to you; and what I've seen and heard is a mere fraction of the amount of talent that has been presented on this exciting Bikefest week. Even though I have not visited the huge downtown stage where friends tell me the music has been awesome, I have had a fabulous time. For me it started on Thursday when I visited Bourbon St. on the Beach to hear Chris Myers. What a great voice and winning smile. I'm going to try to do most of my talking with accompanying pictures to this column so I don't write so much and I can get back out there for more music. So take a look at Chris w/ his drummer who impressed us with his ability to blow up balloons while playing. The main event of the weekend at Bourbon St. was the appearance of Columbia recording artists Roughhouse. This glam metal band was founded as Teeze in 1983; the name change was made in 1988. Thanks to Bourbon St. owner Barry Reichart, who has known them s...
» Click here for the full story.
LET THE GOOD TIMES ROLL!
Posted On: 9/10/21
Written By: Brenda Golden
Here we go! It's that time of year that we locals absolutely love - second season. We use to refer to it more often as the off season; but with so much still to enjoy such as Bikefest, Sunfest, Octoberfest, Winterfest and most of our venues still open for music, it has become a very popular time of year; so 'off' just doesn't cut it. Yes, we still get many visitors who love it as much as we do, but that's okay; we'll share. Check out ococean.com and you'll see what I mean.  Last Saturday I had a blast with my friend Lori as we partied 'til the wee hours. Yep, we closed the Purple Moose! And that's saying something as the bands play 'til 2 am. Since the shut-down, so many of us can't make it even 'til midnight, let alone 2 am, right? Not me - I'm a night owl. And I've always partied and danced at night clubs - well, can't dance right now, but chair dancing is okay. I remember late nights at Rogue's Gallery in Virginia Beach (my old stomping ground) and then off to the after-hours club w...
» Click here for the full story.
LABOR DAY IS HERE!
Posted On: 9/3/21
Written By: Brenda Golden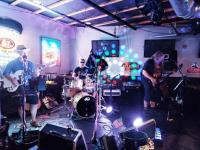 Hi, guys, how ya doin'? Ready for the big Labor Day Weekend show? It's the last hurrah for many of our visitors but the beginning of the second season for locals and we love it! You know how last week I said I planned to make up for  zero outings? Well, I sure did and I'm exhausted - in a good way. My Friday was epic as I heard three musical acts - two of them at Bourbon St. They have been featuring two separate acts there each day this summer: the early show on the deck overlooking Northside Park and an indoor show as well. We heard the music of Kevin Poole as we entered and made our way to the dining area for a delicious dinner; then relocated to the bar area for Tranzfusion. I just love this band as I've said so many times. I was so pumped up at the end of their performance that I headed downtown to the Purple Moose where Bad w/ Names was rockin' the house. What a night!That was enough to soothe my parched spirit until Sunday when I again went to Bourbon Street on the Beach for a sp...
» Click here for the full story.
View All Archives
RSS Feed