GRAND FUNK RAILROAD at FREEMAN
Posted On: 6/30/23
Written By: Gary Crouthamel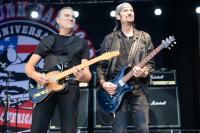 Grand Funk Railroad 50th Anniversary "We're an American Band Tour" 2023 Freeman Arts Pavilion  •  Saturday, June 24, 2023On a very hot and humid evening, Grand Funk Railroad pulled into the Freeman Arts Pavilion on their 50th Anniversary "We're an American Band Tour 2023".  I have to say as I walked up to the box office to pick up my credentials, I don't think I had ever seen a line of people that stretched that far down the street to get into the venue.  They told me that it was a sold-out show with 3600 people, the most the venue has ever sold.There was no opening act so Grand Funk Railroad took the stage at 8:00 PM with original members Don Brewer on drums, Mel Schacher on Bass, and newest members frontman Max Carl, who has been with the band since 2000 and previously played with .38 Special, lead guitarist Bruce Kulick who previously played with KISS for 12 years, and Tim Cashion on keyboards. They opened with "Rock & Roll Soul", "Footstompin' Music", and "Shinin' On."  They us...
» Click here for the full story.
STYX at FREEMAN STAGE
Posted On: 6/9/23
Written By: Gary Crouthamel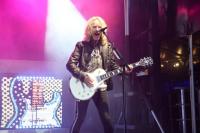 STYX Freeman Arts Pavilion Selbyville, Delaware Saturday, June 3, 2023It was a very chilly and windy night when Styx rolled into town on their Crash of the Crown Tour.  Back  when tickets went on sale, this show sold out in five minutes, and you could see it in the throngs of concertgoers heading to the entrance gates at the Freeman Arts Pavilion, my first time back here since 2021.  The all new added box office and entrance gates made for a much easier entrance than the venue's old configuration.  As I made my way into the pit to get ready to shoot, the stage was already set up with a banner draped across the entire back of the stage with the STYX logo on it.  The drum kit was placed in the back center of the stage with a rotating keyboard to the left, and stairs at both ends of the catwalk that ran the entire length of the stage.At 8:00 pm, the house lights went out as one by one the band members made their way to the stage:  Tommy Shaw, lead guitars and vocals; James "JY" Young, lea...
» Click here for the full story.
COLLECTIVE SOUL AT OC'S SPRINGFEST
Posted On: 5/12/23
Written By: Gary Crouthamel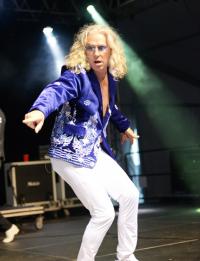 COLLECTIVE SOUL SPRINGFEST 2023 Friday, May 5th Ocean City, Md.    On a chilly early May evening as thousands of people were strolling through our 32nd Springfest at the Inlet, Collective Soul rolled into town for a stop on their summer tour in support of their latest album, Vibrating, released on August 12, 2022.  At 7pm the house lights went out and the band hit the stage with lead vocalist and guitarist Ed Roland front and center sporting all white slacks and a blue sequined shirt. The band opened the show with "Cut the Cord" and "Heavy", with the sell-out crowd already on their feet and we were off and running. After the next song "Right as Rain", Roland said, "Well, here we are Maryland. What a beautiful place you have here and a lot of beautiful people as well and not a bad view at all looking out at the ocean as a backdrop." He then addressed the crowd by saying, "we just woke up."  We all had a good laugh; then Roland looked down and pointed at me saying,  "It's true, we really...
» Click here for the full story.
View All Archives
|
Click to add RSS Feed