SANTANA and THE DOOBIE BROTHERS
Posted On: 8/30/19
Written By: Gary Crouthamel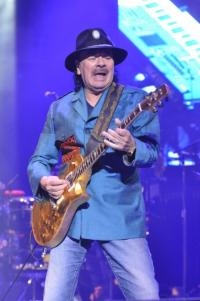 SANTANA The Doobie Brothers BB&T Pavilion, Camden, NJ Saturday, August 24th, 2019Santana brought his 2019 "Supernatural Now Tour" into the BB&T Pavilion with special guests The Doobie Brothers.The Doobie Brothers, who took the stage at 7:10, featured co-founders Tom Johnston and Patrick Simmons with John McFee (who joined in 1978), plus a five-piece backing band. With their 13-song, 75-minute set, they opened with "Rockin' Down the Highway", "Take Me in Your Arms (Rock Me a Little While",  "Spirit" and "Ukiah".  After a band intro from singer and guitarist Tom Johnston, the set was loaded with hits that included "Clear as the Driven Snow" and "Eyes of Silver" that segued into "Takin' it to the Streets", with bass player John Cowan taking on vocal duties.  This received a rousing applause from the crowd that was just starting to get into the sing-a-long mode. After their next song, "Maxine", they chose a trio of hits to close out their first set: "Jesus Is Just Alright", "Long ...
» Click here for the full story.
ALICE COOPER and HALESTORM
Posted On: 8/23/19
Written By: Gary Crouthamel
ALICE COOPER Halestorm BB&T Pavilion, Camden, NJ Friday, August 16th 2019Alice Cooper brought his 2019 "Ol' Black Eyes Is Back Tour" along with special guests Halestorm.Halestorm took the stage at 8pm and the Grammy Award-winning band got the crowd going with their in-your-face rock and roll playing a handful of tracks from their recent album "Viscious" plus plenty of fan favorites in their one hour long, 11-song set. The stage was full of smoke with an impressive light show and the sound was loud. With lead singer and vocalist Lzzy Hale, Arejay Hale on drums, Joe Hottinger on guitar and Josh Smith on bass, they opened with "Do Not Disturb", "Love Bites (So Do I )", and "Familiar Taste of Poison", before taking a break with Lzzy asking the crowd, "How many of you are seeing us for the first time?" Quite a few hands were raised and she said, "Well, I hope you enjoy the show and to our die-hard fans, thanks for your support, we wouldn't be here without you." After the next song, "Bla...
» Click here for the full story.
STEVE MILLER / MARTY STUART
Posted On: 8/16/19
Written By: Gary Crouthamel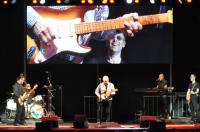 THE STEVE MILLER BAND     Marty Stuart and his Fabulous Superlatives The Freeman Stage Tuesday, July 30th, 2019  On a hot and humid July evening, Steve Miller brought his 2019 summer tour to The Freeman Stage at Bayside with special guest Marty Stuart and his Fabulous Superlatives.  Marty Stuart and his band took the stage at 6:30 and played a 75-minute set that consisted of a few of his own recordings; but most of the night's songs were from other country artists such as "The Whiskey Ain't Workin'" by Travis Tritt, "Six White Horses" by Johnny Cash, "Pretty Boy Floyd" by Woodie Guthrie, "Ring Of Fire" by Merle Kilgore, plus a couple by Kenny Vaughan, and a few others.  After the intermission, The Steve Miller Band took the stage at 8:30 and with a huge video screen behind the band they opened with "The Stake", "Jungle Love", "Abracadabra" and "Living in the USA" before stopping and telling the sold-out crowd "welcome to the backyard party", as anyone who's been to The Freeman Stage kn...
» Click here for the full story.
View All Archives
RSS Feed