ZZ TOP
Posted On: 8/5/22
Written By: Gary Crouthamel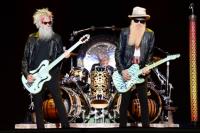 ZZ TOP RAW WHISKEY TOUR 2022 Delaware State Fair Wednesday, July 27, 2022    Back to the Delaware State Fair and not for the midway games, food and rides, but for my All-Time favorite band, ZZ Top.  The band brought their "Raw Whiskey Tour" to the Delaware State Fair.  The tour is named after their just-released (Friday, July 22nd) new album RAW which consists of newly recorded classic tracks from the original lineup of ZZ Top.    The band hit the stage at 8:30 and Billy Gibbons with his shades, hat and beard, was joined by drummer Frank Beard (the one without the beard), and new bass member Elwood Francis, who replaced Dusty Hill who passed away last summer.  Francis, who was the band's former guitar tech, fell perfectly into place, beard and all. There was no reference of Hill at all through the night.  Reportedly, it was Hill's wish that the band continue with Francis as his replacement.  The band's sold-out 90-minute set drew heavily from the 1983 Eliminator album with a bunch of o...
» Click here for the full story.
FOREIGNER COMES TO TOWN
Posted On: 8/27/21
Written By: Gary Crouthamel, photo journalist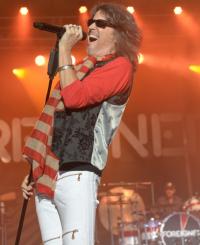 Freeman Arts Pavilion Selbyville, Del. • Saturday, July 21, 2021     Even though rain had been predicted for Saturday, Mother Nature instead provided a beautiful night  when I went back to the Freeman Arts Pavilion. After a long hiatus in our town, Foreigner made their way back bringing "The Greatest Hits Of Foreigner Tour 2021" to the Freeman stage. The last time they were in town was to play at our "Springfest 2013"; not sure where all that time went. As the sun was setting at 8pm, the band - lead vocalist Kelly Hansen, bassist Jeff Pilson, keyboardist Michael Bluestein, rhythm and lead guitarist Bruce Watson, drummer Chris Frazier, newest member Luis Maldonado on rhythm guitars and bass, and Mick Jones on lead and rhythm guitars - hit the stage opening with "Double Vision" and "Head Games."  Hansen stepped out to say to the crowd, "Hello Delaware, it's good to be here," while the roadies rolled a piano out on the stage. Pilson took his place at the keys and Maldonado switched from ...
» Click here for the full story.
REO SPEEDWAGON
Posted On: 8/6/21
Written By: Gary Crouthamel, photo journalist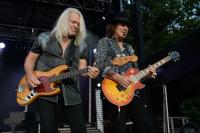 Tuesday, July 27, 2021 Freeman Arts Pavilion, Selbyville, Delaware    On a hot and humid yet perfect night under the stars, REO Speedwagon rolled into the new Freeman Arts Pavilion in Selbyville, Delaware, to play for a sold-out crowd with a 16-song, one-and-a-half-hour show. At 8:30 Kevin Cronin on lead vocals, guitar and piano, Neal Doughty on keyboards, Bruce Hall on bass, Dave Amato on guitars and Bryan Hitt on drums hit the stage and opened with "Music Man", off of 1972's R.E.O./T.W.O and "Keep Pushin", off of 1976's R.E.O. Cronin then addressed the crowd saying, "Hello Selbyville, Delaware! It's been a long time but it's great to be playing in front of a live audience and seeing all your smiling faces." He went on to say, "On this year's tour we are celebrating the 41st anniversary of our "Hi Infidelity" album!" With that said they launched into "Don't Let Him Go", "Someone Tonight", "Take It on the Run", and "Tough Guys" all from that album. Next up it was "That Ain't Love" and ...
» Click here for the full story.
View All Archives
|
Click to add RSS Feed