FOREIGNER COMES TO TOWN
Posted On: 8/27/21
Written By: Gary Crouthamel, photo journalist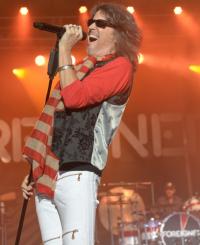 Freeman Arts Pavilion Selbyville, Del. • Saturday, July 21, 2021     Even though rain had been predicted for Saturday, Mother Nature instead provided a beautiful night  when I went back to the Freeman Arts Pavilion. After a long hiatus in our town, Foreigner made their way back bringing "The Greatest Hits Of Foreigner Tour 2021" to the Freeman stage. The last time they were in town was to play at our "Springfest 2013"; not sure where all that time went. As the sun was setting at 8pm, the band - lead vocalist Kelly Hansen, bassist Jeff Pilson, keyboardist Michael Bluestein, rhythm and lead guitarist Bruce Watson, drummer Chris Frazier, newest member Luis Maldonado on rhythm guitars and bass, and Mick Jones on lead and rhythm guitars - hit the stage opening with "Double Vision" and "Head Games."  Hansen stepped out to say to the crowd, "Hello Delaware, it's good to be here," while the roadies rolled a piano out on the stage. Pilson took his place at the keys and Maldonado switched from ...
» Click here for the full story.
REO SPEEDWAGON
Posted On: 8/6/21
Written By: Gary Crouthamel, photo journalist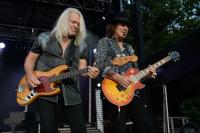 Tuesday, July 27, 2021 Freeman Arts Pavilion, Selbyville, Delaware    On a hot and humid yet perfect night under the stars, REO Speedwagon rolled into the new Freeman Arts Pavilion in Selbyville, Delaware, to play for a sold-out crowd with a 16-song, one-and-a-half-hour show. At 8:30 Kevin Cronin on lead vocals, guitar and piano, Neal Doughty on keyboards, Bruce Hall on bass, Dave Amato on guitars and Bryan Hitt on drums hit the stage and opened with "Music Man", off of 1972's R.E.O./T.W.O and "Keep Pushin", off of 1976's R.E.O. Cronin then addressed the crowd saying, "Hello Selbyville, Delaware! It's been a long time but it's great to be playing in front of a live audience and seeing all your smiling faces." He went on to say, "On this year's tour we are celebrating the 41st anniversary of our "Hi Infidelity" album!" With that said they launched into "Don't Let Him Go", "Someone Tonight", "Take It on the Run", and "Tough Guys" all from that album. Next up it was "That Ain't Love" and ...
» Click here for the full story.
STONE TEMPLE PILOTS
Posted On: 9/27/19
Written By: Gary Crouthamel
"2019 OC Bikefest" Ocean City Inlet, Ocean City, Md. Saturday, September 14, 2019As the 2019 OC Bikefest rolled into town on a picture-perfect weather weekend and the bikers were fueling up their bikes, I decided to join them at one of our local gas stations; not for fuel but for air for mine. I grabbed the air-pump and filled up my Trek bicycle and headed on down the boardwalk to the show.As every local knows, this is set up in our downtown inlet parking lot which stages our Springfest in May and Sunfest the week after Bikefest. With all the food vendors, merchandise tents, beer gardens, and all the live outdoor music on the outdoor stage as well as the indoor stage, this was just a spectacular weekend. When I walked through the main gate, I noticed this place was packed, the atmosphere was right and people were lined up at every booth that was available. I knew this was going to be a great night of rock n' roll.The band took the stage at 6:30 pm with Dan DeLeo on guitar, Robert DeLeo...
» Click here for the full story.
View All Archives
RSS Feed