STONE TEMPLE PILOTS
Posted On: 9/27/19
Written By: Gary Crouthamel
"2019 OC Bikefest" Ocean City Inlet, Ocean City, Md. Saturday, September 14, 2019As the 2019 OC Bikefest rolled into town on a picture-perfect weather weekend and the bikers were fueling up their bikes, I decided to join them at one of our local gas stations; not for fuel but for air for mine. I grabbed the air-pump and filled up my Trek bicycle and headed on down the boardwalk to the show.As every local knows, this is set up in our downtown inlet parking lot which stages our Springfest in May and Sunfest the week after Bikefest. With all the food vendors, merchandise tents, beer gardens, and all the live outdoor music on the outdoor stage as well as the indoor stage, this was just a spectacular weekend. When I walked through the main gate, I noticed this place was packed, the atmosphere was right and people were lined up at every booth that was available. I knew this was going to be a great night of rock n' roll.The band took the stage at 6:30 pm with Dan DeLeo on guitar, Robert DeLeo...
» Click here for the full story.
SANTANA and THE DOOBIE BROTHERS
Posted On: 8/30/19
Written By: Gary Crouthamel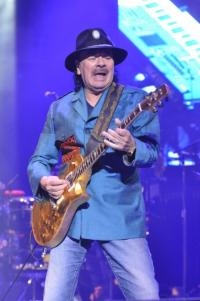 SANTANA The Doobie Brothers BB&T Pavilion, Camden, NJ Saturday, August 24th, 2019Santana brought his 2019 "Supernatural Now Tour" into the BB&T Pavilion with special guests The Doobie Brothers.The Doobie Brothers, who took the stage at 7:10, featured co-founders Tom Johnston and Patrick Simmons with John McFee (who joined in 1978), plus a five-piece backing band. With their 13-song, 75-minute set, they opened with "Rockin' Down the Highway", "Take Me in Your Arms (Rock Me a Little While",  "Spirit" and "Ukiah".  After a band intro from singer and guitarist Tom Johnston, the set was loaded with hits that included "Clear as the Driven Snow" and "Eyes of Silver" that segued into "Takin' it to the Streets", with bass player John Cowan taking on vocal duties.  This received a rousing applause from the crowd that was just starting to get into the sing-a-long mode. After their next song, "Maxine", they chose a trio of hits to close out their first set: "Jesus Is Just Alright", "Long ...
» Click here for the full story.
ALICE COOPER and HALESTORM
Posted On: 8/23/19
Written By: Gary Crouthamel
ALICE COOPER Halestorm BB&T Pavilion, Camden, NJ Friday, August 16th 2019Alice Cooper brought his 2019 "Ol' Black Eyes Is Back Tour" along with special guests Halestorm.Halestorm took the stage at 8pm and the Grammy Award-winning band got the crowd going with their in-your-face rock and roll playing a handful of tracks from their recent album "Viscious" plus plenty of fan favorites in their one hour long, 11-song set. The stage was full of smoke with an impressive light show and the sound was loud. With lead singer and vocalist Lzzy Hale, Arejay Hale on drums, Joe Hottinger on guitar and Josh Smith on bass, they opened with "Do Not Disturb", "Love Bites (So Do I )", and "Familiar Taste of Poison", before taking a break with Lzzy asking the crowd, "How many of you are seeing us for the first time?" Quite a few hands were raised and she said, "Well, I hope you enjoy the show and to our die-hard fans, thanks for your support, we wouldn't be here without you." After the next song, "Bla...
» Click here for the full story.
View All Archives
RSS Feed