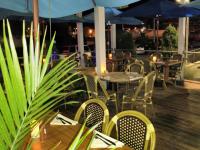 Here is a view of the restaurant from the outside deck comfortable seating.
Longboard Café hostess Cheryl gives a big farewell hug to boss Rick on her last night.

The wonderful staff of Longboard Café: Morgan, Ruth, Dora, Heather, Katie, Kelly, Jake & Blair.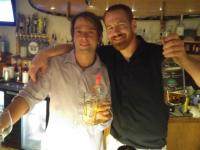 Stop in Longboard Café and let bartenders Lee & Sean mix you up a refreshing cocktail.
My Mother and I recently had the most scrumptious dinner and delightful evening at Longboard Café. Have you given this fairly new venue a try? We highly recommend it and please read why! Longboard Café is located in the 67th Street Town Center on the bay side of Coastal Highway. Owner Rick Vach has chosen a surfer themed decor for his restaurant that has an upper level (perfect for private parties), a fully stocked bar with excellent bartenders, and both indoor and outdoor seating.
It was a beautiful evening and the sun was providing a one-of-a-kind decline for the evening. We were tempted to eat outside on the wooden deck, but chose to dine inside as Paul Cullen (former bassist for Bad Company) was providing a rare performance with Joe Mama that night. All summer long Joe Mama has had a guest musician perform with him Sunday evenings and by the time they started, there was standing room only for the rest of the evening. Many of our top musicians were there to see Paul play with Joe. At the table next to us were Michelle Schachter and Kathy Denk of Full Circle dining with their dear hubbies. We were later joined by Brenda Golden, Lauren Glick and Steve Annis. I tell you - the place was hopping!
Now let me tell you about the fantastic food. Our wonderful server, Katie, brought over a chilled bottle of water and told us about the specials of the day. I usually start off with the Fried Green Tomatoes with Lump Crab and a delicious Creole Mustard sauce that makes you feel like you're in New Orleans. My mouth watered for this all day, but they ran out, so I was forced to try something new and oh, I'm glad I did. I ordered the Grilled Lamb Chop Lollypops cooked to perfection, rubbed with rosemary and garlic and topped with sweet cilantro-pesto. These three huge premium New Zealand lollypop chops were larger than all day suckers and were as tasty and tender as any I've ever had.
My Mom started off with a glass of house Chardonnay and Three Jumbo Garlic Shrimp served in a Madiera lime broth with a baguette. Other appealing appetizers include Crab Quesadilla, Ahi Nachos (black and white sesame encrusted tuna on won-tons with seaweed salad, wasabi cream, sriracha aoli), Scallops & Lobster Tail and Mussels.
Dinner entrées for land lovers included Sirloin "Baseball" Filet (8 oz. center cut sirloin in red wine glace with roasted forest mushrooms), Chicken Ricky (boneless breast, swiss cheese, Virginia ham, spinach, panko crust, lemon-dijon béchamel), Beef Medallions with exotic mushrooms and bacon brandy cream sauce. For those wanting the best of both worlds, there is Surf, Turf n Surf, which includes the Baseball filet mentioned above with a crab cake and shrimp.
The seafood selections were so tempting and included Wild Caught Salmon (teriyaki sriracha lacquer, field greens, avocado, roasted corn, grape tomatoes, balsamic drizzle), Seafood Pasta (shrimp, crab, scallops served over fettucini), and a daily Chef's Risotto creation. Mom chose the crab cake dinner which included jumbo lump crab with a roasted red pepper cream sauce. Oh my goodness, was the crab cake delicious!
I love that the Longboard Café offers a wonderful selection of fresh fish daily in addition to the Wild Salmon. The other choices that night were Tuna, Rockfish, Swordfish, Grouper and Red Snapper. The fish can be prepared in your choice of four selections: Tropical (saffron-orange aoli with mango salsa), Mediterranean (tomatoes, artichoke hearts, capers, lemon, wine & garlic pan sauce), Stuffed with jumbo lump crab tequila imperial), and Just Fish Please, which is char broiled or oven roasted with herb season, butter and fresh lemon. I chose the Snapper Mediterranean style and it was simply fabulous!
All entrées are served with a vegetable and starch of the day. Mom and I both ordered double veggies since we were enjoying the fresh-out-of-the-oven bread and were planning on dessert after dinner. The vegetable that night was creamed spinach with garlic and we both just loved it!
By the way, Brenda Golden also ordered the spinach. She also ordered the Warm Chips with Quesa which were melt-in-your mouth delicious! Steve Annis ordered the Baja Fish Tacos made of beer-battered fresh cod, shredded cabbage, pico de galla, Mexican white sauce, salsa roja and lime wedge. Did I mention that Steve's son, George, works in the kitchen at Longboard and prepared his dad's dinner? Steve gave both thumbs up to the Tacos.
As for dessert, the owner's sister, Martha, makes all the selections fresh each day. Mom ordered the cheese cake and I had the oh-so-fudgy brownie with all kinds of delectable goodies hidden inside and served warm. Lauren ordered the Heath Bar. All three desserts were fabulous and I'm sure they were also calorie free (don't you just wish).
Well, that's it, my friends. The entire evening was such a delight that we can't wait to return and hope you choose to give Longboard Café a try. I understand that they will have a fall menu coming out soon with lots of wonderful selections and daily specials. See ya there!
«Go back to the previous page.