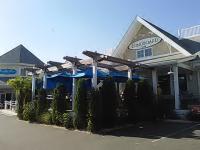 Enjoy the cuisine and friendly and efficient service whether dining al fresco or indoors at Longboard Café.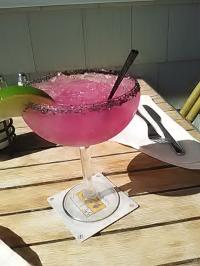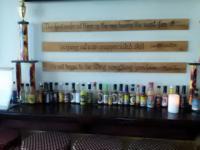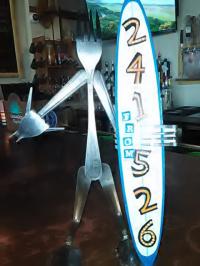 Longboard Café, the most recent eatery established by local restaurateur Rick Vach, offers coastal cuisine at its finest.
Conveniently located midtown in the 67th Street Town Center, Longboard Cafe's full menu includes seasonal specials as well as a wide variety of specialty libations, craft beers and wines. Their popular "241526" happy hour is just as it says...two drinks for the price of one and is available to thirsty patrons seven days a week from 5 p.m. to 6 p.m. My personal favorite summer specialty drink is the refreshing 'Just Peachy' margarita, as delightful to look at as it is to drink
A friend and I recently dined at Longboard Cafe. Although there were people waiting to be seated outside, we were easily accommodated inside despite arriving a half hour prior to our reservation.
I started off with a classic margarita. A delicious libation, it was not too sweet and not too salty. We decided to whet our appetites with an appetizer and settled on the Asparagus Addiction, one of the many Starters on the menu. A light beer tempura treat, it is served with their signature sweet and hot "Addiction Sauce". The lightly battered flash fried fresh asparagus was just enough to satisfy us before ordering our dinners.
Before ordering, I took a moment to speak with Head Chef Andre Griben whose personal favorite dinner entrée is the Pork Osso Bucco. "Order what you like," Griben said. "You can't go wrong with anything on the menu."
I decided to try the stuffed Mahi Mahi for my dinner. Served with steamed fingerling potatoes and carrots, the Mahi Mahi was stuffed with lump crab tequila "imperial" that can best be described as a delicate melt-in-your-mouth crab imperial. I was not disappointed and would have to say that the crab imperial was among the best that I have ever had.
My friend selected Mediterranean style fish, choosing Rockfish from a list of four options. His perfectly cooked rockfish was served in tomatoes, artichoke hearts, capers, lemon, wine and garlic pan sauce. He was equally satisfied with his selection which he described as clean, light and perfect for summer dining.
Although our hunger was satisfied, we had to complete our meal with one of the homemade desserts made by owner Vach's sister Martha Redding. Our options included the Fatal Brownie, Piña Colada or Mixed Berry Bread Pudding, and Heath Gooey Bars, we decided on Key Lime Cheesecake. Too good to describe, you'll have to go try it for yourself. You should know, however, that although the Fatal Brownies and Gooey Bars are always available, bread puddings and cheesecakes vary from week to week.
The Longboard's menu includes Starters, Appetizers, Burgers, Tacos, Salads and Sandwiches & Wraps (served only for lunch), as well as dinner entrées. They also hare a Sunday Brunch fare that includes Eggs Benedict, Summer Breakfast Tacos, Belgian Waffles and Eggs Oscar, Steak & Eggs and Eggs in Purgatory….eggs over hash of red potatoes, tomatoes, onion, Italian sausage, artichoke hearts, capers and parmesan. For patrons who like to heat up their food, they have a unique Hot Sauce bar with a range of hot sauces unlike any I have seen anywhere.
Longboard Cafe has live music on Tuesdays, Wednesdays and Sundays. Local musician Chris Button is featured on Tuesday nights, and Joe Smooth & John Remy on Wednesday nights. Sundays feature local musician Joe Mama & Friends.
The atmosphere is casual, coastal and family friendly with a children's menu. The staff is friendly and the service is superb. Open year round, the winter menu includes nightly specials and discounted fare. Their popular "Throwback Thursdays" features classic food from the '50s and '60s. They also have a fall & winter 'Comfort Food Night' offering a choice of 3 entrées all priced under $12. Chef Andre says they are typical winter favorites such as pot roast, meatloaf and chicken & dumplings.
The Longboard Café takes reservations although reservations are not necessary. Patrons can wander through the specialty shops throughout the Town Center while waiting for their tables. Delivery service is available through Beach Bites who will even deliver your food to you on the beach.
I guarantee you will rave about the food at Longboard Café and whether you dine al fresco, inside or in the loft (that is perfect for large groups), you'll be talking about your experience just as I am here. Bon appétit!
«Go back to the previous page.