John, Kristina, and Devin are the friendly staff at OC Wasabi Express on 16th Street, where fresh fish is available by the pound or a la carte.
Check out all of the groceries available for purchase at OC Wasabi Express. You can make your own delicious entrees at home.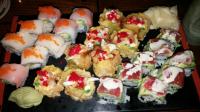 Here is a sample of OC Wasabi's Specialty Rolls. The one in the middle is my favorite—M&M Roll topped with crabmeat.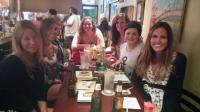 This lovely group of local ladies celebrated a special birthday at OC Wasabi on 33rd Street.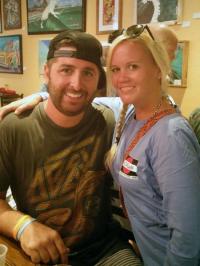 Derek (Riptide) and Katie (M.R. Ducks) are a picture perfect couple in front of the local art gallery at OC Wasabi on 33rd Street.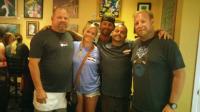 Bartenders Danny, Hab, and Chip are one of many reasons OC Wasabi is timelessly popular with locals like Katie and Derek.
One of the most jaw-dropping, fun-filled weekends of the year in Ocean City is happening this weekend—the OC Air Show. The event is headquartered on 16th Street, which makes this the perfect weekend to check out the completely new OC Wasabi Express in the Layton's Plaza on 16th Street.

The new restaurant specializes in Japanese lunch selections, such as the Lemon Roll and the Hawaiian Poke—marinated tuna over a bed of rice. "Regular customers keep coming back for the Shrimp Summer Roll," says chef, owner, and entrepreneur, Kenny Diu. "This crowd pleaser is comprised of shrimp with mint, vegetable, rice noodles, and peanut sauce, wrapped in rice paper. "

In addition to appetizers and entrees from the Sushi Bar, OC Wasabi Express serves Vietnamese Sandwiches, which are quickly earning accolades from locals and tourists alike. Ham, Chicken, Vegetable, or Combination Banh Mi are each a must try.
You can also purchase Sushi Nigiri a la carte, and fresh fish by the pound. Tuna and Salmon were available this week. One feature that really impresses me about OC Wasabi Express is the amount of Japanese and Vietnamese groceries for sale. You can grocery shop at the restaurant, and purchase everything you need to make your own delicious entrees at home. It's a one-stop shop. Juices and soy drinks are available, and the restaurant shares space with Juice Shack.

You'll notice many similarities between OC Wasabi Express and the original OC Wasabi restaurant on 33rd Street. I've always loved the original restaurant because it features a local artists gallery. The Express location also showcases local artwork, including tall tabletops by Plak That Printing Company, which feature photography from local artists like Nick Tribuno and many others. SOJA was streaming through the speaker system, similar to the reggae music often played in the barroom of the original OC Wasabi.

Similar menu items are also sold at both locations, including Specialty Rolls like Dragon and Rainbow Rolls. The Chuck Webb roll, named after one of Kenny's best friends and longtime Seacrets bartender, consists of crabstick, cream cheese, cucumber, and smoked salmon topped with eel. The Baked Phatty Jay, also named after Kenny's good friend, is made of crabstick, asparagus, white tuna, and special spicy sauce topped with crunchies and eel sauce. Cucumber, eel, crabstick, two pieces of tuna, salmon, and avocado comprise the Crazy Rockin' Roll.

The signature tall tabletops and bar stools at the original restaurant also provide seating at OC Wasabi Express. A window table offers prime people watching while you eat. Carryout menus are available, or you can order straight from the board at the counter. Most customers take their lunch to go, but you are welcome to stay and enjoy the ambiance. Parking is available in the Layton's Plaza lot in the back, and the restaurant is easily accessible by foot, bike, and bus.

After we visited OC Wasabi Express this week, we headed a few blocks north to the 33rd Street location. Bartender Hab was muddling fresh mojitos. He greeted us and treated us to the M&M Roll topped with crabmeat, the Hab Roll, and the Chef Specialty Roll of the Day. Bartender Danny insisted that we try the Rockfish Ponzu appetizer, which is arguably the best dish on the menu. It is also available at OC Wasabi Express.

The original restaurant was buzzing with the news that Coconut Times is now exclusively a web magazine. The consensus is that web-based formats are how most of us receive our entertainment news, and Brenda will save thousands of trees by going paperless. Thank you, OC Wasabi staff and customers, for your support.
«Go back to the previous page.