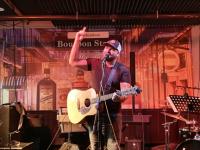 Jimmy Charles singing his hit "It's A Maryland Thing - You Wouldn't Understand" at Bourbon Street. Hear him Friday at Fast Eddie's.
Lennon & The Leftovers gave an electrifying performance at Bourbon St.; hear them tonight at Coins.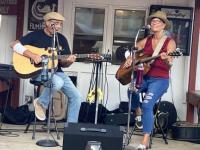 The Bilenki Duo play a fabulous variety of music with fantastic harmonies and expert guitars.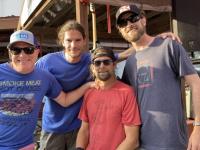 Hear the most entertaining Dunehounds Tuesday, Sept 6, at Coconuts Beach Bar & Grill.
Enjoy the music of Reform School tonight at The Angler; Saturday at Pier 23.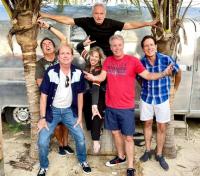 The Klassix put on a terrific show at Fager's Island last Monday.
What a whirlwind! I've had another fantastic week of excellent music every day and I'm exhausted. Well, not so much so that I'm staying in; planning to see Jimmy Charles tonight at Fast Eddie's.  Since I have mentioned Jimmy's name first, let's start there.  His new video to his incredible song "It's A Maryland Thing - You Wouldn't Understand" came out this week.  You can view it on YouTube or go to Jimmy's website or facebook to hook up.  Jimmy stopped by Bourbon Street Wednesday for a surprise performance of his song during the benefit for Dana Marie Jackson and was headed to Ocean 13 to perform there.  He's such a busy guy but always takes time for his fans for a chat and a picture.  With his amazing catalogue of original music, his dedication to worthy causes and a winning smile that just says he's your new best friend, Jimmy Charles is definitely putting his stamp on the music world.  Oh, and did I mention (I did last week, in fact) that he was honored as Entertainer of the Year at the recent ISSA awards in Nashville? Yep, this guy is going places.  Right now he's setting up at the OC Convention Center for a performance for OC Jeep Week.

Okay, so let's talk about the benefit for Dana Marie that I mentioned.  It was a great turnout of supporters and local musicians to raise money to help Dana with her mounting medical expenses after a car accident.  The day began with a performance by Lauren Glick & Steve Kuhn.  Nobody can belt out a song like Lauren - so powerful she reaches down into your musical soul and grabs a huge cheer after every song.  Be sure to check out her new CD LUSH that is snowballing in the music world with her latest nod being in the Radio Indie Alliance Top 10 at #1 for her song "It Don't Add Up."  Too cool!  Next up was Full Circle.  Talk about power: this group is a powerhouse of talent with Michelle Schachter on vocals/harmonica/guitar, Kathy Denk on vocals/lead guitar, Jeff Davis on bass and Joe Mama on drums.  They play a wide range of musical genres and feature amazing harmonies from the two ladies.  Love them!  Monkee Paw struck up the next two hours of music with their own renditions of popular songs, including a few of my favorite Elvis songs.  Adam Ask on lead guitar & Mike Givens on rhythm guitar each sing and create wonderful harmonies together.  While they played Lennon & The Leftovers set up on the stage to entertain us for another hour.  I found them exceedingly entertaining, perhaps because in that hour they played so many of my favorites.  As most of you know, Lennon La Ricci is a master on the keyboard; in fact, so much so that he now plays bass guitar and lead guitar on those keys.  It's absolutely amazing!   For example, we heard Hendrix's "Voo Doo Child" that sounded so much like an actual guitar but I think Lennon played even more notes; his fingers just fly over the keyboard.  We heard music from the Rolling Stones, ZZ Top and more; ending with an explosive rendition of The Beatles' "Nineteen Hundred and Eighty-Five"!  A lot of credit should also go to drummer Michael Valenti who sings some backup but more importantly provides the heartbeat of rhythm with expertise and flair.  But the real heart of this trio is dad Ricky La Ricci on vocals and guitar who just emanates joy with his love of music and pride in his uber-talented son.  The whole performance was absolutely electrifying.  Get out to Coins tonight and hear what I'm talking about, people.

The final act of the night was Reform School featuring Michael Smith on keyboards/vocals/guitar, Jay Stinemire on vocals/drums and Eddie Saah on bass.  This trio performs every Wednesday night at Bourbon St. and also hosts the Open Mic session following their hour.  Fans like me thoroughly enjoy their choice of songs and their flawless performances.  Michael is multi-talented and I would wager you'd never be able to stump him with a song request.  I'm so proud that I can say we were once partners in a duo; memories I will treasure forever.  I must single out Jay because he's one of the best singers I've ever heard.  Hear them tonight at The Angler and tomorrow, Saturday afternoon, at Pier 23 in West OC.

So ... on to everything I heard this week.  I don't think I have space to cover it all in detail but I'll try to hit the high spots.  At the urging of my friend Tish, I met her at Windmill Creek Winery Saturday to hear the Bilenki Duo.  What a revelation!  I should have listened to Tish much sooner because I really really like this duo; so much so that I heard them again Tuesday at Coconuts Beach Bar & Grill.  George & Pat Bilenki have been playing together for many years, achieving a sound in harmonies that usually only comes from siblings.  Both are skilled guitarists and their musical selections touch on several decades from Woodstock and beyond. In fact, I mention Woodstock because they began their show at Windmill Creek with a nod to the 53rd anniversary of Woodstock playing Crosby, Stills, Nash & Young's rendition of "Woodstock" written by Joni Mitchell after the event that she was unable to attend and consequently offered the song to her friends.  A great bit of musical history.  I love it still and it's still so relevant.  I really enjoy the music the Bilenki's play and I also love their son Adam who is a talented musician in his own right.

This leads me to jump forward to last night, Thursday, for the last concert at Sunset Park featuring The Dunehounds.  Adam is the drummer and also outstanding vocalist.  Uncanny how he sings Pink Floyd so well while covering the drum part so expertly.  You might also catch him playing solo as he plays guitar as well.  The Dunehounds spiritual leader is guitarist Sean Loomis who has the most pleasing sound to his voice.  He's like a warm blanket next to a roaring fire that just brings comfort to your soul.  Troy Mawyer provides excellent guitar as well; he and Sean trade off lead parts and often dual harmonies on guitar - love it!  Rounding out the group is multi-talented Kasey Briggs on bass and also some backup vocals.  Kasey recently ventured into solo gigs playing guitar and singing.  Isn't it so cool how much awesome talent we have in our town?

Gosh, I've really been gabbing, haven't I.  I must also mention how much I enjoyed The Klassix at Fager's Island on Monday at their weekly deck party.  If you've been reading my past columns you will know that Klassix guitarist Dane Williams has been playing with Lauren Glick as a duo and in her band playing at Coconuts to really elevate her shows (hear them again at Coconuts Sunday 9/4).  The Klassix play so many genres of music and do it expertly.  I would like to say so much more but time and space are running out and I really must also mention the incredible Surreal I saw on Saturday at The Purple Moose.  Awesome as always.  And also how much I enjoyed Side Project at Fast Eddie's last Sunday.  Be sure to catch a performance of this amazing group.  Singer Mike Trader has an incredible voice,  Jeremy on guitar just exudes happiness, probably because he's playing alongside his talented young son Gavin on lead guitar.  And Brian on drums is dynamic and spot on with every beat.  Mike Rogers did a great job sitting in on bass, too.  Love these guys!

This just in: a message from Billy Carder telling me that his band, Teenage Rust, will perform on Labor Day Monday, Sept. 5, at Coins at 4 pm.  Be there!  It's always a blast.

I love 'talking' to you all but I really must sign off.  I'll let the pictures tell more of the stories on Fun Fotos.  Check 'em out.  Have a great week and remember to always party safe, my friends.
«Go back to the previous page.