Surreal will play at the Purple Moose Friday & Saturday.
The Girlfriends return to BJ's on the Water Saturday, June 22.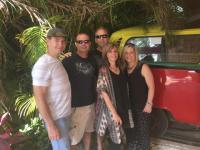 Full Circle will play Thursday June 27 at Coconuts; and every Monday at Seacrets.
Lennon La Ricci and the Leftovers will perform Wednesday at BJ's on the Water.
Last Saturday we met Deviation By Design at Bourbon St.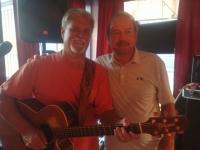 Jack Worthington & Mickey play every other Tuesday at Bourbon St.
Okay, I'm guilty! I wrote on June 4 that I would 'talk' to you more often and then I slacked again. I could cite a list of excuses but I've only myself to blame, of course. Many times I've composed a beginning only to get lost in answering emails and facebook until the motivation was swallowed up by distraction and the call to hurry out to hear great music. That, of course, is my motivation for this whole thing called coconuttimes.com. Granted, in my first days working for the paper, the impetus was more on leisure reading with such articles as Delmarva Treasures, Murder Mystery, Best Bites, Barhopping and Remembering World War II. Remember those? I enjoyed all that myself; but after becoming publisher/owner I began veering towards the musical lane where I created Sonic Notes (a column about music first penned by Marco Hiemenz), Coco Nights, my own column, and Meet The Band. I'm happy to say that Meet The Band has been resurrected by my friend and fellow music lover Vincent Paez (he plays guitar with Old School and performs solo the first Sunday of the month at Bourbon St.). Another musically oriented column that was implemented by me is Concert Reviews from photo journalist Gary Crouthamel who continues to attend and bring us along on his adventures in the big arena venues for concerts from rock legends. Check out his latest about the WMMR BBQ Concert featuring seven heavy rocker bands. His pictures are phenomenal. I also had Melissa Golden, who prefers up-and-coming artists (she wrote about New Politics, X Ambassadors, Halsey, Borns, Cage the Elephant, and Andrew McMahon in the Wilderness before they became famous), writing about her concert adventures which included the inaugural Firefly Festival and for several more years culminating in seeing Paul McCartney. Being a huge Beatles fan, that was my favorite. A full-time job has limited her road trips but she was thrilled to recently see Florence and the Machine at Merriweather Post Pavillion. You can find her awesome pictures on our Instagram page. Check it out.

And then there was "Just Sayin'!" written by Linda Sears (Old School songstress) about beauty tips and sage observations that we all loved. I'm hoping that Linda will begin that column again - she says she has many ideas, one of which is profiling women in power in Ocean City. Come on, Linda, we want to read all about it. She's been very busy in the role of doting grandmother to Carter, however, so we can forgive her - for a while. I mustn't forget about Ports of Call written by Sean Rox. He continues to submit the occasional article (see February's issue) but certainly fatherhood (to Moorea) has curtailed his and Cassandra's travels. I know, however, that now that Moorea has taken her first cruise, her mom and dad will take her on many more.

My goodness, my mind wandered to how it all evolved to this place in which I now find myself between the 'what was' and 'what may become' as coconuttimes.com continues to change and grow. As always, the focal point has been and still is the Fun Fotos section (formerly Scrapbook) that everyone loves. Despite my two paintful hips (still no surgery date set), I love to post pictures of all your smiling faces as you enjoy all the fun that Ocean City has to offer. I've also welcomed submissions from several friends - Larry Testerman, Frank DelPiano, Terry Sullivan Dinsmore and Terry Kuta - who help me out when I just can't get to all the places I would like to visit. Many thanks to them.

After that huge recap digression, I've had many bands on my list to talk to you about but now find that I really should end this. Surveys have shown that people like to look at pictures and read short blogs so that's why I vowed to write less more often. I'm still going to aim for that goal. So, without describing why I love them, I'll just say that over the last weeks I have really enjoyed the music of Reform School (Michael Smith & Jay Stinemire), Pearl (Michael Smith & Rita Conestabile), the Lauren Glick Band, Vertigo Red, Beyond Empty, Square One (the last three featured at the Purple Moose), Tranzfusion, Full Circle, Chest Pains, Randy Lee Ashcraft and the Salt Water Cowboys, Monkee Paw, Lennon La Ricci and the Leftovers, Bird Dog & The Road Kings, Old School, 33 RPM, The Girlfriends, Bettenroo (and their band Luna Sea), Film At Eleven, Thin Ice, The Billie Carlins Band (dates at South Gate Grill), Identity Crisis; as well as other acts such as Jack Worthington, Chris Button, Dave Sherman, Vincent, Rusty Foulke, Kevin Poole and Joe Mama. I know there were others so it is risky to name just these. The latest on the scene is Deviation By Design who I heard at Bourbon St. on Saturday. Fronted by amazing vocalist Brian Thomas, the band features Jerry on guitar, Craig on bass and Paul on drums. I really enjoyed their music which featured creative arrangements of well-known tunes; very entertaining. They ended the night with (one of my favorites) "Purple Rain" which was outstanding. Hope to hear them again soon.

Speaking of Joe Mama - Percussionist to the Stars! - most of you now know that he is the new drummer for Full Circle, as of the first of the year. We will still see him sitting in occasionally with Monkee Paw, and of course, he continues to have dates with Chris Button and Kevin Poole.

In other news, keyboardist Don Wimbrow who has played for many years with The Klassix has announced that he is retiring, his last date with them to be July 22. He will, however, continue to play with Old School and other groups in the area as he joins the ranks of an Ocean City local. We're happy to have you, Don.

Another call I received was from Dave Pal, the John Lennon character of Beatlemania Again who played at Fager's Island for several years. Dave called to tell me that his new group is called Beatle Legacy. If you go to beatlegacy.com you will see pictures and copy about the group dedicated to the music of The Beatles. He wrote that "The response to Beatlegacy - Beatlemania and Beyond/The Ultimate Experience - has been beyond our expectations; audiences are really loving the new approach to keeping the music of the Beatles alive, from the pre-fame songs, Beatlemania, Psychedelic later songs, and the solo years. Dane, Tom, and myself" he continued, "just had to keep going in spite of the hand we were dealt. Of course the music and our friendships are such a bonus. And we have an amazing drummer who has become another great friend, and it helps make the magic on stage and off." They will be performing in July at Fager's Island and, as always, I will be there.

I should really sign off now; and I really will try to write more often and keep it shorter. Thanks for 'listening' and supporting coconuttimes.com through our many years (since 1985) serving the great Ocean City area and its amazing collection of super talented musicians. I LOVE OCEAN CITY!! ROCK ON!

«Go back to the previous page.