Catch a Jim Long show before he returns to Florida.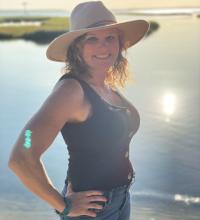 Hear Sarah Robins w/ Zach play at Blu Crabhouse Friday; check Who's Where When for more.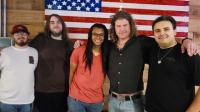 The Mercury Agenda will perform Friday at Coconuts Beach Bar & Grill.
Tranzfusion will play at 4p on Saturday at Wine on the Beach; next Friday at Harpoon Hanna's.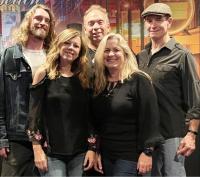 Full Circle will perform Tuesday at Coconuts Beach Bar & Grill.
Hi out there my friends.  It felt a little like old times last weekend as I made it out to hear live music three days in a row. Yeah, I really did it!  Saturday afternoon I made my way to Coins where I finally got a hug from Jim Long who was holding court with a huge crowd of his loyal followers.  Seems to me he has exponentially increased his fan base by playing at many different venues rather than being locked into exclusive Seacrets shows that he did for many years.  Since the passing of both band partners, Gene Watson on bass and Mark Fitzgerald on guitar, Long has established summer shows at Beach Barrels on Thursdays, Seaside Grill on Fridays, Coins on Saturdays and Paradise Grill on Sundays.  As I write this I'm listening to Jim's originals on You Tube; I think we forget that in addition to his charisma as an entertainer, he is also a superb songwriter.  Party tunes such as "Perfect Life," "Another Caribbean Thing" and "So Right Tonight" were staples of his live shows.  An accomplished drummer, Long's stripped-down shows still include playing on conga and singing.  But it's his rapport with his audiences that sets him apart.  His fans love him and he is truly grateful for their support.  It's not too late to catch a show before he returns to home base on the gulf of Florida.  

After partying Jim Long style, I headed back to West OC to visit Pier 23 where Endless Ember was performing from the large stage there.  If you have not visited Pier 23 yet, I recommend that you do so; it's a very different type of venue.  Picnic tables dot the sandy area; but you can also sit inside at the bar or venture upstairs to the open-sky deck with a fantastic view of the harbor; and the food is terrific.  On this occasion Sarah Robins was accompanied by Neil Helgeson on guitar and back-up vocals.  In addition to Neil, Ms. Robins has a 'stable' of talented partners with whom she collaborates: Chris Sajadi, Rick Gunter, Matt Robins, Zach Simms and Lauren Glick.  Sarah has a wonderfully complex vocal style: a combination of sweet softness and gritty power.  That voice lends itself to an incredibly diverse selection of songs from many genres.  I heard some country, such as Lady Antebellum's version of "Hey Bartender" and Shania Twain's "I Feel Like A Woman," and then some rock from artists such as Melissa Etheridge, Bon Jovi, Miley Cyrus and Alanis Morisette.  "Crazy" by Gnarls Barkley is a challenging one to sing and she did it great.  Sarah also plays flute on some tunes which she also plays in Lauren Glick's recording band.  You can hear them play at the Maryland Folk Festival in Salisbury on September 24th at noon.  Check out Sarah's busy performance schedule right here in coconuttimes.com on Who's Where When.

Sunday I trekked up to Bourbon Street on the Beach where Rusty Foulke was playing on the deck that overlooks beautiful Northside Park.  What can I say about Rusty that I haven't said before.  Even in the heat, his voice soared into the high notes and his guitar playing is second to none.  He was playing his original song, "Magdalena" as I made my way up the steps to my table.  That song still holds the distinction of being the only song to be on a Boston album not written by the band.  Of course, Rusty played with them for several years 'way back when.'  In addition to being a consummate musician, Rusty is also very friendly and has many interesting tales to tell.  He will be back on the first weekend of every month (maybe not in winter; he's from mid Penn.).

As I entered the welcome coolness indoors, long-time favorite First Class was playing to a full house.  Danny Dolan (sax/vocals) and Sadik (drums/vocals) was joined by Willie on guitar, on loan from New Censation.  Remember them?  They, along with First Class, were regulars at the Ocean Club/Clarion.  Danny is another of those performers who has such charisma as he relates to his audience, many of whom have been fans, like me, for more than 20 years.  I still get a thrill chill when he plays "Europa" for me on that magical sax.  I have also long enjoyed the velvety sounds of Sadik's wonderful vocals.  It's always a pleasure to hear this group perform.

On my way back south, I decided to stop in at Fast Eddie's where I knew the Rockoholics would be rockin' it up - and they were!  If you're a fan of some heavy metal and pure rock, this is the band for you.  Chuck (bass/vocals), Tommy (drums) and Ken (guitar/vocals) pull out all the stops to entertain their appreciative audiences.  Check 'em out.

Oh my goodness, I'm really enjoying being 'back on the horse' and writing to you all.  I finished the holiday weekend back at Coins to hear Teenage Rust & The Fabulous Rustettes.  I've said it before and I'll say it again:  it's like a family reunion when we all get together to party with this group of accomplished musicians.  Crystal on keyboards/vocals, hubby Paul on bass/vocals, Maddy on vocals and undeniable dancing queen, Billy on guitar/vocals, Tommy on drums and Howard on lead guitar.  I saw so many familiar faces who frequented BJ's and wanted to talk to everyone but couldn't manage that.  But I did get up to sing a song with them as did our former mayor Jim Mathias.  It's always a party when these folks play for us. We get to have fun with them again on Sunday, Oct. 8, 2pm, at M.R. Ducks.  Woohoo! A Ducks deck party!

Time for me to wrap this up and check out what I want to do this weekend; always so many good choices.  Remember to always party safe (that means don't drink and drive), always lead with love and be kind to one another.  Peace out!
«Go back to the previous page.