The always amazing rock band Surreal will play Friday & Saturday nights at The Purple Moose.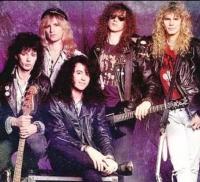 An '80s picture of Roughhouse in full glam metal regalia who entertained us Friday at Bourbon St. on the Beach.
Bourbon St. owner Barry & Debbie with Roughhouse after the show.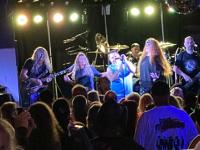 Surreal at the Purple Moose singing "Girls, Girls, Girls" w/ Christylee dancing onstage.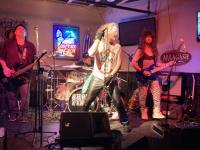 Shots Fired playing at Bourbon St.; hear them Sunday at The Purple Moose.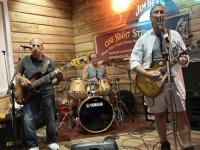 One Night Stand - Eddie, Frank & Mark - playing at Fast Eddie's.
Lennon La Ricci & The Leftovers will appear at Fast Eddie's Saturday.
Chris Myers performed an upbeat show at Bourbon Street on the Beach.
Confession! I've been having too much fun hearing great music to sit down and 'talk' to you; and what I've seen and heard is a mere fraction of the amount of talent that has been presented on this exciting Bikefest week. Even though I have not visited the huge downtown stage where friends tell me the music has been awesome, I have had a fabulous time. For me it started on Thursday when I visited Bourbon St. on the Beach to hear Chris Myers. What a great voice and winning smile. I'm going to try to do most of my talking with accompanying pictures to this column so I don't write so much and I can get back out there for more music. So take a look at Chris w/ his drummer who impressed us with his ability to blow up balloons while playing. The main event of the weekend at Bourbon St. was the appearance of Columbia recording artists Roughhouse. This glam metal band was founded as Teeze in 1983; the name change was made in 1988. Thanks to Bourbon St. owner Barry Reichart, who has known them since he was a kid aspiring to join the rock world as he later did and even opened for Roughhouse with his band Holy Hannah, they accepted his invitation to travel from Pennsylvania to play for us. It was too crowded to get a decent picture of them so check out the web posts for lots of great shots. And I know Barry got some really good photos so you can check his facebook. They definitely had the house rockin' and were definitely loud - my ear drums are still vibrating! LOL! Of course a trip to the Purple Moose right after could be contributing to that.

Yep, I had to see one of my very favorite bands, Surreal. As always, they were spectacular! But I need to back up a little here. After hearing Chris Myers on Thursday, I went to the Purple Moose to hear High Voltage, a very impressive AC/DC tribute band. Many locals were there that night and those pictures will appear next Friday; but I gotta tell ya, the excitement in the air at this legendary venue was palpable as so many faithful Bike Week visitors look forward to coming here each year to hear the best rock bands - most notably Surreal who is usually featured this weekend. You have another chance to hear them tonight, Saturday, so don't miss these incredible musicians, instrumentally and vocally. They know how to fire up a crowd, believe me!! Oh, and here's some news: our local band, Shots Fired, will take the Purple Moose stage on Sunday night. I have been enjoying their music all summer at Bourbon St. and a few times at Crawl Street Tavern. I know they're excited to have this gig so let's all go and support them. I also want to mention that last weekend at the Purple Moose I was slammed! Yes, SLAMM played and they were great. I highly recommend them if you get the chance to hear them. Most impressive were their mash-ups of popular songs - ingenious!

Coconuts Beach Bar & Grill has also been offering some outstanding bands for this exciting week. I began there last Monday to hear one of my favorite duos, Bob Wilkinson & Joe Smooth; or as they sometimes call themselves the Bobby Joe Orchestra. It's always a treat as they not only play our favorite musical offerings but also entertain us with Bobby's crazy one-liners and Joe's impeccable straight man delivery. So much fun, you'll probably catch me there again this Monday. So sorry I missed Monkee Paw there yesterday; glad to read that they will perform at Sunfest this year. Congratulations Adam & Mike for a well-deserved slot in that line-up. Today Coconuts features the Lime Green Band with beautiful vocalist Angelina. On Sunday another locals' favorite, Chest Pains, will perform. Haven't seen them in quite a while so I'm gonna try to get there. The rest of the week is awesome as well with Full Circle on Tuesday, Marcella on Wednesday and Kevin Poole & Joe Mama on Thursday. I love this town. My only regret is I can't get to see and hear everyone I want to hear.

Last Friday after hearing Shots Fired, I finally got to the new Fast Eddie's where One Night Stand was playing our favorite classic rock tunes. This is another great venue to hear OC live music. Aren't we grateful to have so many choices. The amazing Lennon La Ricci & The Leftovers are playing there tonight - Saturday. Go check out it out.

Okay, so I've tried to curb my loquaciousness (check out that big word for talkative) and haven't really succeeded but that's it for now. Gotta find and post all those pictures I promised. Get out there and have some fun and always party safe!


«Go back to the previous page.