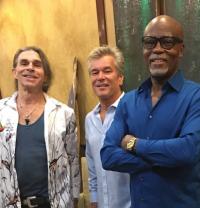 Roy, Danny & Sadik of First Class will perform Saturday night at Bourbon Street on the Beach.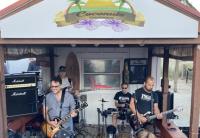 The Chest Pains playing at Coconuts Beach Bar & Grill were awesome.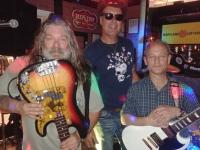 Party with 33 RPM Saturday at Coconuts Beach Bar & Grill.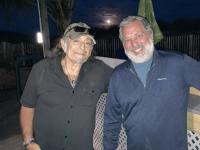 As the moon rose over the Atlantic, Joe Smooth & Bobby Wilkinson said goodbye to another fabulous season at Coconuts Beach Bar & Grill.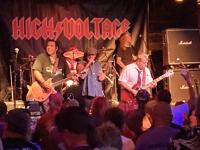 AC/DC fans enjoyed a raucous night of music from High Voltage at The Purple Moose.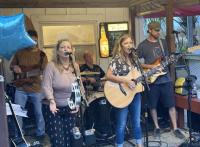 Full Circle's Jeff, Michelle, Joe & Kathy were joined by Sean Loomis for a wonderful performance at Coconuts Beach Bar & Grill.
Old School OC will get you in the party mood Saturday at 2 pm at Harborside in West OC.
Hi, all. Here we are at the end of September when in the past we would have been enjoying Sunfest weekend; however, it was moved forward a week into October partly because of the pop-up H2O cars taking over the town. Many precautions have been implemented this year to help curb the chaos we saw last year. At the time of this writing, it seems as though some of these actions may have deterred these visitors as I'm hearing that traffic is not bad yet (Friday evening). It's pretty bad when our local officials are warning us to stay out of town this weekend. This is certainly not fair to our Ocean City business owners; but it may be advantageous to venues west of OC. For instance, many of our friends are heading to the OP Yacht Club to hear Great Train Robbery tonight and Tranzfusion Saturday night - both bands always good and the dock-side outdoor atmosphere is beautiful. Another beautiful outdoor setting in Berlin (Worcester Hwy.) is Windmill Creek Winery, a truly hidden gem with live music tonight featuring Margot & Co. Do you remember Margot? Fabulous voice, sunny smile, use to sing with the Love Pigs. I understand her son, who is all grown up now, has been playing with her. So cool! Tomorrow evening Windmill Creek will feature Still Rockin' Band. Start times are 5 pm. If you go on their website - windmillcreekvineyard.com - you'll see a picture of Margot and her handsome son. Wow!

I'm looking forward to seeing my friends in Old School who will be playing tomorrow (Saturday) at 2 pm at Harborside on the commercial harbor in West OC. I haven't heard the whole band in months. Linda, Vincent & Erve have been playing at places like the Golden Sands and Scotty's but without drummer Ernie. It's gonna be a party at Harborside and I can't wait. Lovely Linda always brings such an upbeat enthusiastic spirit to her performances and that perpetual smile on Vincent's face is just so inviting that you want to have fun along with them - and we do. The new Shaka pool bar (on Rt. 50, old Alamo) has been having great music too, so you might want to explore that possibility for live music as well.

Living in West OC means it's just a quick trip over the Rt. 50 bridge to zip onto Talbot St. and head to the Purple Moose (between Talbot & Caroline streets on the Boardwalk) where this weekend's featured band is Bad With Names. I've always enjoyed their music so that's where you'll probably see me late night. Yes, that's late night. The Purple Moose is the only venue in town that keeps the party going 'til 2 am. Oooohweee! I've been having a blast there all summer long. Sure do hate to see it winding down.

Now I'm not saying you shouldn't hit our fabulous venues in town because their music is not to be missed: such as, The Rockaholics at Coconuts today - like now -, 33 RPM on Saturday and Colossal Fossil Sauce Sunday. And yes, there's more: go to Who's Where When for the complete lineup. This past Monday was bittersweet as it was the last performance of the season from Bobby Wilkinson and Joe Smooth. Bob always ends his shows in honor of dearly departed musician Michael Tracy White by singing "Fly Me To The Moon". It was especially poignant this night because the moon was rising over the dunes and it was just beautiful. Check out the photo that doesn't do it justice but you know how that goes. I'm hoping to make it up to Bourbon St. - where the music has been off the charts - to hear Joe Smooth play in No Byscuyts on Sunday evening. Love this band. Also the mighty Tranzfusion will be there tonight and Danny Dolan in First Class on Saturday night. Another great lineup from this restaurant/bar that not only has fantastic food but the owner is the resident rock star: Chef Barry Reichart!

Hope you enjoy all the pictures and have a wonderful week, my friends. Remember to always party safe!
«Go back to the previous page.