Wavvy Gravy - Gavin Wawrzeniak, Brennan Kaiser, Matthew Puente & Max Myer - are up and coming musicians who are keeping classic rock alive and well; here at Mulligans.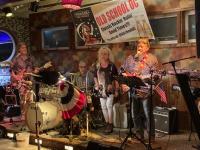 Old School - Erve Cassell, Ernie Chavis, Linda Sears & Vincent Paez - performing for the first time in more than a year at Atlantic Beach House.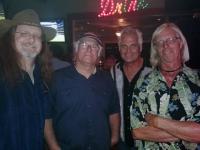 Tranzfusion - Al Cook, Bob Davis, Bobby Malaby & Hank Koenig - rocked the deck at M.R. Ducks - Great day!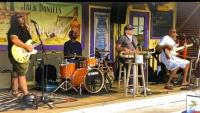 No Byscuyts - Fil Rhythm, Keith Brooks, Joe Smooth & Elwood Bishop - will play Sunday at Bourbon Street on the Beach.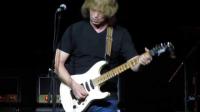 World renowned guitarist Rusty Foulke will perform Friday & Saturday nights at Bourbon St. on the Beach.
After a visit to Mulligans in West Ocean City last week, I came away feeling energized and reassured that the future of classic rock is secure in the hands of the next generation of musicians. Four young men in the band Wavvy Gravy rocked out on so many favorite tunes from such artists as The Doors, Jimi Hendrix, Cream, ZZ Top, Ted Nugent and Cream, to name just a few. Here's the lineup: Brennan Kaiser, drums; Max Myer, bass; Matthew Puente, guitar; and Gavin Wawrzeniak, guitar. Two of these young men are recent high school graduates and the other two will be seniors at Bennett H.S. so you can understand why I was blown away by the fact that they were playing the greatest music of all time; my opinion, of course. The band was formed during their time at AMP Studios in Salisbury, The Academy of Music Performance where students are encouraged to expand their musical talents outside the classroom and onto the performance stage. I was obviously most impressed. All four shared vocal duties but I noticed that bass player Max was most often featured. With two guitars they were able to handle songs that feature strong rhythm and lead parts and they played them to perfection; again, so impressive in these young artists. Make it a point to go hear them when they return. I know we're going to hear a lot from Wavvy Gravy in the future. This week's musical offering at Mulligans will be No Breaks playing Saturday at 7 pm.

Sunday I was in absolute Heaven with the long-awaited return of Tranzfusion to the M.R. Ducks deck. Don't know why but they seem to sound their very best at this outdoor location. The crowd was certainly on fire for them as were the band members themselves; so happy to be playing for their fans again. My companions, who hadn't heard them before, were blown away at multi-talented Bob Davis, as well they should be. Bob builds his own little "fort" with his banks of three keyboards, plays bass guitar on tunes where bass man Al Cook joins Hank Koenig on guitar, and he plays a mean harmonica too. Add to that his compelling and spot-on vocals and you'll see why he impressed my friends so much. Now that's not to say that the other members are not equally as impressive because they certainly are - and all four take turns on vocals according to which artist's songs they sing the best. Bobby Malaby drives the band from behind the drums and puts on a great show as well. I just can't say enough about these four amazing musicians/performers who play classic rock so perfectly. I've always referred to their music as classic album rock because they are so dedicated to the integrity of each and every song; so much so that you can close your eyes and feel like you're listening to the album. Truly amazing!

Okay, gush gush ... let me move on to Wednesday night and the performance of Old School at the new Atlantic Beach House. These musicians have not played together since March of 2020 but they sounded better than ever and were so happy to be out making music together again. If you were there you probably noticed that their old drummer, Ernie Chavis, has returned joining Erve Cassell on bass and Vincent Paez on guitar. Of course the driving force of this group is song bird Linda Sears. This little powerhouse of a singer has been performing in bands since her teens in the Baltimore area and she is sheer perfection. Her infectious smiles and ever-ready energy just light up the room as she draws the audience into their circle of musical happiness. In fact, everyone in this group just radiates happiness to be playing for us; and you can't go wrong with that. They're scheduled to play there again on Saturday,  June 26.

Looking ahead - it's going to be a big weekend at Bourbon Street on the Beach with Rusty Foulke coming to town to play for the first time in the new 126th St. location. I've written about Rusty (former member of Boston and Hybrid Ice) many times praising not only his guitar prowess but his incredible vocals as well. You must make it a point to hear him either tonight or Saturday night when the Bourbon St. crew will also be staging a Grand Opening Celebration. Check out the Who's Where When list to get the full lineup; they have music on the deck as well as inside. I'm excited to hear No Byscuyts playing at this venue for the first time on Sunday at 6 pm. Most excellent sax man Joe Smooth is joined by Elwood Bishop on bass, Keith Brooks on drums, and relative newcomer on guitar Fil Rhythm. Fil has brought a new energy and new material to the group that excels on blues tunes sung by the man with the velvety voice, Elwood. When you peruse the Who's Where When list, you'll see Joe & Fil playing at Coconuts Beach Bar & Grill as Smooth Rhythm on Wednesday, June 9th.

There's a bigger picture for the music scene in our wonderful town but that's it from me for now. Enjoy the music and getting together with our friends again. Party safe!
«Go back to the previous page.