The Lauren Glick Band - Dave, Lauren & Kelly - had the crowd dancing at Coconuts!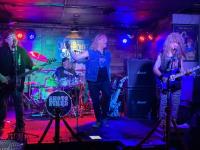 Shots Fired had the crowd fired up at the Crawl Street Tavern.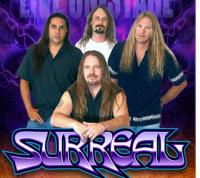 Surreal brings the house down every time they play at The Purple Moose, Friday & Saturday.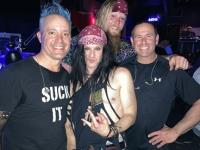 The Purple Moose featured More More More and they were just that - rockin' band.
The Rockoholics put on a rockin' great show at Coconuts Beach Bar & Grill.
I'm back! Yay! And do I have some news for you! It's so great that everything is opening back up and that includes our old stomping ground that was BJ's. We were all devastated when Billy & Maddy gave us the news that they had decided to retire and sell; but they sure deserve to enjoy their lives. Now they'll have time to be able to play in Teenage Rust at various venues; they just played Springfest to everyone's delight. Can't wait to hear where they'll be next. There was such an outpouring of love to these two special people. Not only did they serve fabulous food and music at BJ's, but they did so much for the community as well with various charities. They will continue to be missed but the memories will never die.

So here's the news: now named the Atlantic Beach House, the restaurant is open for business and I just got the call that Linda Sears and her band Old School will begin playing on Wednesdays again starting June 2nd and some Saturdays as well. Yes, they are going to have live music! Hooray!! I'll have more to tell you after this weekend; but isn't that great news.

I had such a big week I nearly wore myself out. Last Friday a visit to Coconuts to hear The Loomatix presented a nice surprise - Dave Wimbrow joined the group on keyboards. Wow, that opened the musical doors to not only expand the band's repertoire but also allow Dave to share vocal duties with Sean Loomis on guitar - and they blend beautifully on harmonies. May I say here that it still astounds me that Sean rocks his electric guitar when he came to OC as a bluegrass player. What a fabulous musician and singer - so happy to have him here. The rhythm section, of course, is Jeff Davis on bass and Joe Mama on drums. If you're thinking, well, this is three-fifths of Full Circle, you would be right. Michelle Schachter and Kathy Denk will still perform with them but they have been doing a lot of duo gigs. Call it one of the silver linings of the pandemic - our local musicians have had time to shake things up a bit and learn new material. It was such a pleasure listening to this band.

Saturday was huge! I started at Coins where the iconic Jim Long has taken up residence every Saturday at 2pm. It was so good to see him and so many of his fans and friends; it's been too long. He even put a mic in my hand and I sang a few songs. Such fun! Then I went back to Coconuts to hear The Rockoholics featuring Kenny Wright on guitar. If you like your rock a little harder, this is the group for you. Loved the selections and the vocals from Joel were awesome. Speaking of awesome vocals - later that night I went to Crawl Street Tavern to hear Shots Fired featuring Brian Thomas on vocals and Danny Shivers on guitar. Love this band. And love that we have another fun venue for live music. I finished the night at the Purple Moose where yet another great singer was strutting his stuff across the stage with More More More!  They were most entertaining; hope they come back. And then it felt good to have the Lauren Glick Band resurrect the Sunday party at Coconuts. What a good time. Tonight and tomorrow night it's the return of Surreal. Can't wait to hear this awesome band.

Time to wrap this up but here are a few noteworthy acts coming up at Coconuts: Poole & The Gang on Saturday; Heather Vidal on both Tuesday and Thursday; and Marcella Peters w/ Sean O'Brien on guitar on Wednesday. Mulligans in West OC will feature Full Disclosure Saturday and Wavvy Gravy next Friday. Yep, they have music right down the street from my house - too cool. And check out Reform School Sunday at the Crabcake Factory on 54 at 3pm. Reform School - Michael Smith & Jay Stinemire - will be back at the new Bourbon St. on the Beach every Wednesday for Open Mic Night. I was just there to hear Randy Lee & Mickey last night (they are back on Thursdays). You're gonna love the new place.

That's it for now, my friends. Thank God we can enjoy music again. Rock on and party safe!
«Go back to the previous page.