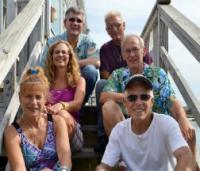 Thin Ice will perform Friday at BJ's.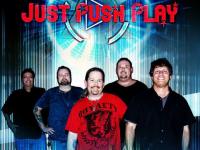 The Purple Moose presents Just Push Play Friday & Saturday.
Have fun with The Girlfriends Saturday at BJ's.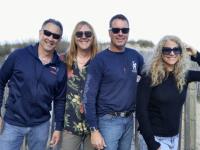 It's Sunday Funday at Coconuts w/ The Lauren Glick Band.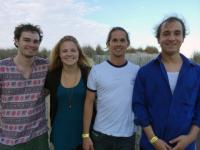 Groove with Funk Shue Friday at Coconuts.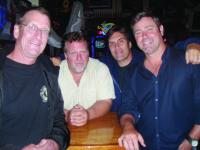 The Salt Water Cowboys & Friends will play Saturday at Johnny's Pizza Pub.
Hi, everyone. I'm trying hard not to think about all the obnoxious and sometimes violent behavior of last weekend here in Ocean City; nor the horrific act of terror in Las Vegas. I have shed my tears and continue to pray for all involved but here is not the place for tears. Here is where I try to bolster our spirits talking about one of the greatest gifts from God - MUSIC!! Think about it - as precise as mathematics; a universal bridge between all colors, creeds and nationalities. Music is the great common denominator. And (one more reason for tears), music has lost another giant in the realm of musical storytelling - Tom Petty. I place a healing balm on my sorrowed heart for all these losses with the truth that God is good and He has a place for us all in Heaven. We must carry on and celebrate the lives and talents that have been given us. So let's do just that.
Happy birthday to our friend Lauren Glick, just such a one who brings us joy with her music. Just ask Janet who breaks out her toy guitar to play air guitar whenever Lauren performs. It's a hoot and it makes us all laugh. Lauren will be singing and playing for us again on Sunday at Coconuts with bandmates David, Ted & Mike. Her band will play next Sunday and for the closing party on Oct. 22 as well. Also this weekend we can party with Funk Shue on Friday and Over Time on Saturday, two very entertaining bands. Kevin Poole & Joe Mama will continue to play the Thursday slot on the 13th and Bettenroo will play the final Thursday on the 20th. I'm sure gonna miss my days in the sun at Coconuts Beach Bar & Grill.
We've had a good time at BJ's, too, where The Girlfriends played last Saturday, again on Wednesday and once more on this Saturday. They have certainly amassed a growing fan base due to their incredible talents, both instrumental and vocal. If you haven't heard them yet, come on out to BJ's on Saturday and see what I'm talking about. Kim, Jill & Robin will astound and entertain you. This Wednesday past we had a great time at BJ's with the music of Old School and celebrated guitarist Taylor Knox's birthday (28). I remember when he was 17, in Berklee School of Music, playing open mics w/ Chris Button; can't ask for a better mentor than Chris, right? They jammed together at Bourbon St. later on Wednesday at that Open Mic and it was incredible. Taylor can play lick for lick along with Chris now; and even did some silly compositions on the fly. Lots of fun! Anyway, as usual Linda Sears sounded terrific and her presence was incandescent. She just radiates an ephorial light from her soul when she sings. Which reminds me of the light on my sister Amy's face when she sang "The Trolley Song" in the Ocean Pines Players production of "Sentimental Journey" last week. These memories both speak to my earlier reference of music being a gift from God. One can actually see that gift, as well as hear it, when the soul shines through in song. Boy, I'm really waxing sentimental aren't I; but it's sincere and I hope you feel it too. So stop in BJ's Friday night for Thin Ice, Saturday for The Girlfriends and Wednesday for Monkee Paw.
The Purple Moose continues to be a rock n' roll haven, presenting excellent bands every weekend. There are only a few weekends left in October to dance the night away at the Purple Moose. This weekend it's Just Push Play for your listening and dancing pleasure. Did you know that the Purple Moose is also famous for their Bloody Marys? Plus a long list of specialty cocktails. Located right on the Boardwalk, it's conveniently one block from the bus stop with street and municipal parking as well. If you've never been to the Purple Moose, you must come party before the season is over.
I'm signing off now looking forward to seeing you all and hearing some wonderful music over the next week. Enjoy this 'Indian Summer' and always party safe.
«Go back to the previous page.