Film at Eleven will perform Saturday & Sunday nights at BJ's on the Water.
The Lauren Glick will play Sunday at Coconuts Beach Bar & Grill.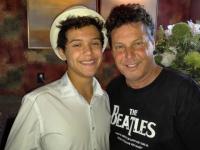 Lennon La Ricci & the Leftovers will play Sunday at the Rio Grande Tiki Bar.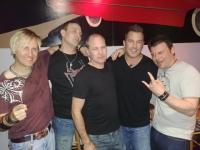 Alter Ego will perform Saturday at the Purple Moose.
Somebody kick me - please! I've been having a tough time escaping from the winter doldrums to begin writing Coco Nights again. Or maybe it's that I've been in a personal tailspin since taking the plunge to get hip surgery, only to be told that I have to lose weight first. Yep, that depressed me; but then through the intervention of a few good friends, I pulled myself out of it and got down to business. Thank you to Laura for introducing me to the Losers Club ... not what you think. This group of lovely people led by Ruby are proud to call themselves Losers because they've all lost weight and continue to do so. I'm down 15 pounds now, and, happily, my doctor has told me I can scale back on my insulin intake. Good news! He says that will help in weight loss, too. So I'm encouraged now, but still bummed that I have to navigate on these worn out hips. But that won't stop me, as many who have seen me still out on the scene can tell you .. a little slower but still in the game.
And what a game it's been - and continues to be in wonderful Ocean City. I have so much to talk about with all the great acts that I have enjoyed over the last few months. One of the best surprises was seeing the gals of Bettenroo, Anne Davey and Lori Jacobs, play with their full band called Luna Sea. Adding the lead guitar of Kathy Nace-Jones amps up this group as she and Lori often trade off lead riffs to the delight of the audience. Patty DiModuguo is the powerful drummer, the glue that binds all the sounds together. Awesome vocals, including great harmonies, are still heard from Anne & Lori - just an amazing group of talented musicians; and yes, you figured it out - all female. I heard them at BJ's; but next time they perform in OC will be June 24th at Coconuts Beach Bar & Grill. Glad to say that Bettenroo duo of Anne & Lori are returning to play every Thursday during the summer at BJ's. Keep checking the Who's Where When and catch these gals - amazing!
Speaking of amazing gals, Lauren Glick continues to wow audiences wherever she plays. You can hear her full band this Sunday at Coconuts and again next Sunday. You can also hear Lauren, who sings and plays bass and keyboards, perform with her partner Dave Tarlecki at Coconuts and many other places such as Micky Fins, Loca Madre, The Angler, and more. This mega-talented gal has a voice that seemingly knows no bounds; as all her fans say, AWESOME!
Another local performer who is often referred to as awesome is Lennon La Ricci. I've been watching this young man evolve since he was eight or nine and his proficiency on the keyboard is astounding to behold. Lennon continues to evolve and mature (he's 17 now) as he now plays guitar, harmonica and bass, and, of course, sings many of the songs performed by his band, The Leftovers. His dad, Ricky La Ricci, who is a long-time OC performer, has nurtured his son and his talents and decided it was time for him to take center stage as the headliner of the band; thus Ricky is now part of the Leftovers. Their music selection spans decades of favorites with lots of great dance tunes and just the amazing experience of watching this young man realize his dreams. Be sure to check their ad on this site to see their performance schedule this month (June schedule will publish next week). They will return to BJ's this coming Wednesday.
One of the latest bands on the scene, Identity Crisis, have been solidifying their place in the OC pantheon of players. We heard them Wednesday at BJ's and had a great time dancing to their music - well, I chair-danced. Charlie (guitar/vocals), Jay (guitar/vocals), Ray (drums) & Keith (bass) demonstrate a wealth of talent as they present a program of music that's guaranteed to keep you on the dance floor. They will be back on Wednesday, June 20.
It's so good to have the Purple Moose in full swing again. I've enjoyed several great bands this spring including last week's new Square-1 featuring the excellent vocals of Ron Mohr, formerly of Phoenix Rising (you'll see a picture of them in Fun Fotos). Ray Algeo plays bass/guitar/vocals, Don Thomas is on drums/vocals and Eddie Depacia plays lead guitar. I'm going to get the low-down on these guys for next time they play, as I understand they came from different bands to form this group, which seems to imply that they are back at Square-1 - clever. This weekend the Purple Moose will feature Alter Ego Friday & Saturday, The Lava Game on Sunday & Monday and continuous music by CK the DJ at 2pm on the weekend and DJ Mockingbird Tuesday & Wednesday nights (9pm). Thursday Tribute Nights will begin June 21 with the return of those rockin' ladies of Judas Priestess and their tribute show to the Heavy Metal Gods, Judas Priest. What a show they put on - don't miss it.
Okay, it's Saturday and I'm back at my desk to wrap this up - I'm late publishing but at least I've broken my writers' block. I had a great time last night seeing the incomparable Tranzfusion at Castaways Tiki Bar. It's like seeing a concert of all my favorite bands as these guys play classics to perfection. Then I headed up to Bourbon St. to hear Dave Sherman who impressed me, as always, with his guitar and vocal skills. "Eye in the Sky" is always a favorite. Dave is an expert at looping so he sounds like two or three players. Great job, Dave. While I'm mentioning Bourbon St., let me tell you that Randy Lee Ashcraft & Jimmy Rowbottom will perform every Friday there for happy hour, 4-7pm. And catch Chris Button & Joe Mama there tonight (Sat.)
I closed the night (and the club) at the Purple Moose where Alter Ego was playing. This is the group I wrote about last year who has the huge digital screen as a backdrop for the band that flashes images of flames and more as the band heats up the music. Jamie is the charismatic singer who keeps the crowd amped up. You'll hear Jim on guitar, Anthony on drums, Chazz on bass and, John on guitar. Fans may remember John from his days playing with Whitehouse Effect that was a favorite band here. Check out the new picture of the band I got last night. You can hear them again tonight at the world famous Purple Moose.
It's time to stop chatting and get ready for tonight's adventures. Film at Eleven will be at BJ's on the Water tonight and for a special holiday Sunday appearance as well. This big band is super talented and in such demand that we only get them here once or twice a year, so don't miss your chance to hear them.
Thanks to everyone for your support and consideration while I tackle this health challenge; and thanks for supporting live music and reading coconuttimes.com PARTY SAFE!


«Go back to the previous page.