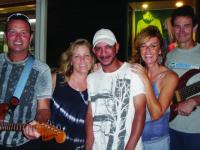 Friday will be another great night of music at BJ's with Full Circle.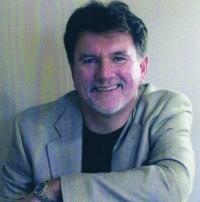 Enjoy the music of Michael Smith Friday at Key West.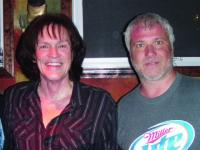 Dave Sherman & Chris Button heat up Thursdays at Bourbon St. on the Beach.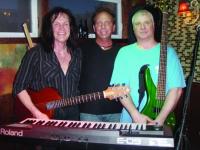 Let's party with 2 Guyz & a Mama Wednesday at BJ's.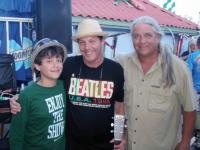 Lennon & the Leftovers will perform Saturday at Bourbon St. on the Beach.
The Chest Pains present the best of the '80s Saturday at BJ's.
Hey, y'all. How ya doin'? Warm breeze today ... the plants and me are lovin' it. I know you are too. Yep, we are about to be treated to dazzling color popping up everywhere. And what's the color for Saturday? You guessed it – GREEN!
It's arguably the biggest party weekend of the year as the town and all its visitors turn out for the annual St. Patrick's Day Parade. Pray for sunshine but rest assured that every venue in town will be offering great music and delicious corned beef & cabbage, and more, of course. I'm thinking I'll head up to Bourbon St. after the parade to hear the Baltimore Boyz and celebrate with lots of friends there. If you want to come later you'll be rewarded with another performance from Lennon & The Leftovers featuring Lennon on keyboard, dad Ricky on guitar and Chuck on drums. One of these days Lennon will enjoy comments not focused on his age; but at 15 it's hard not to mention it along with the fact that he is so incredibly good on that keyboard and sings and plays harmonica, too. He performed Justin Bieber's "Love Yourself" (written by Ed Sheeran) for the first time playing guitar at Bourbon St.'s Wednesday Open Mic; good to see him stretching his abilities. I guarantee you'll love the show.
So from Bourbon St. I'm going to hurry to BJ's to catch the OC Pipes & Drums scheduled for 3 pm. This group will be super busy all day as they add to the St. Patrick's Day spirit all over town: Seacrets, Smitty McGee's, Shenanigans and more. They were awesome last Saturday at Leaky Pete's. Check out the pictures in Fun Fotos.
You know I'll be back at BJ's by 9 pm to hear one of my favorite bands, the Chest Pains. Jeff, Joe Mama, Byron & Chris offer up the best in '80s alternative with some contemporary tunes added for good measure. And you know I'll be there Friday night, too, to hear the incomparable Full Circle. I never tire of hearing them, not just for their incredible talent, but also because they always surprise me with something new. I've never heard a band stay as current as this group. Don't worry, they'll still play all your favorite dance tunes. I'm listening to Adele's "Let It Burn" as I write and it reminds me of how well Michelle sings it, as she does everything. Alongside her is Kathy who is Ocean City's badass rock chick playing lead guitar and singing like an angel. This band's talent has no boundaries as Dave also plays guitar and keyboard with outstanding vocals giving us spectacular harmonies. Holding up the bottom is Jeff on bass and Barry on drums. Most of you have heard them and love them but if you haven't, come hear for yourself.
Wednesdays are always fun at BJ's with the early Deckless Deck Party. This past week we enjoyed the one-man show from Sir Rod as impersonated by Tommy Edward. Not only does he pull off multi costume changes and sing just like Sir Rod, but he also plays sax and mandolin live, and performs to tracks on which all instruments are recorded by him. What a talented dude. Catch his whole band at Springfest. This coming Wednesday we welcome one of the last performances of the off season from 2 Guyz & a Mama (they'll get busy with their summer schedules). I've really been enjoying Dave Sherman & Chris Button and their dueling guitars at Bourbon St. on Thursdays; but with this group they add the Mama in the person of Joe Mama on drums. Another one of my favorites.
That list has been growing as I've heard so much good music this season. Monkee Paw with Adam, Mike & Rick have impressed me with Adam's guitar playing, Mike on acoustics and the harmonious blending of their voices. Bass man Rick surprised us with some great keyboard playing last time out. Be sure to catch them when they return March 30.
I've also been super impressed with 3 RPM as heard last week at Bourbon St. Mike on drums, guitar, keyboard & vocals; Rock on bass and Larry on guitar. What a show. Also impressive is It's About Time with Michael Smith on guitar, Rita on vocals, Ray on drums and Ric on bass. Randy Lee Ashcraft has added Darren McDowell Francis on guitar, harmonica, vocals and mandolin. The group, Salt Water Cowboys, was already overflowing with talent from Randy Lee, incredible guitarist Jimmy Rowbottom, bassist Leo Carlins drummer Kenny Roughton. You can hear them Saturday at Barn 34.
I'm jumping around but I don't want to forget to tell you that Tor & Coastal Storm will be playing at Bourbon St. on Sat., March 19. They have a new gal singer who many of you will remember playing as New Dawn at Galaxy 66. Yes, Dawn Ovando has joined Coastal Storm and I hear is taking fans by storm. I can attest that she has a great voice and sparkling personality to match. Should be a good vocal partner for Tor with Phil on drums and Harry on guitar. Check our Who's Where When for future dates.
I also heard that our local boys of Lower Case Blues will be the opening act for Blues Traveler (July 30) at this year's Delaware State Fair, July 20-30. Sounds like a good year with performances by Little Big Town, Jack Owen, Alabama, the Thunderbirds, George Thorogood & The Destroyers, X Ambassadors and more.
Hooray! The Purple Moose is back in action with perennial favorites Fuzzbox Piranha kicking off the season Friday & Saturday nights. There's a new DJ in town, too. DJ "The Show" will take the stage Sat. at 1 and keep the party going until 9. So if you're looking for a place to party after the parade, this is a good bet, right on the boardwalk. The Moose will continue with live music on the weekends through April. Check our listing for the lineup - just hit the 'next' arrow to see future weeks.
Michael Smith is gathering some players to not only celebrate St. Patrick's Day but also to pay tribute to our recently departed Tim Landers. Tim was a constant in the music world, not only here and in Baltimore but up and down the east coast and in Nashville where he had been spending winters. He had only retired from teaching in Bel Air the last few years and I know he was so proud of his generations of students, some of whom became professional musicians. His partners, John Heinz (fiddle) & Mike Piccirilli (keyboard), will join Michael and others as we celebrate the life of this incredibly knowledgeable, talented and wonderful man. So many of us are going to miss him even more when he's not around this summer but I'm happy that he's made that "Rainbow Connection." Join us at Whiskers in Ocean Pines beginning at 4 pm. Hope to see you there.
Enjoy the parade, my friends, and remember to always party safe!
«Go back to the previous page.