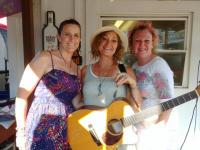 Girlz Rule, Kristie, Heather & Lynley, made sublime music Tuesday at Coconuts.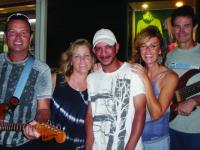 BJ's on the Water presents Full Circle Friday.
The Purple presents Alter Ego Friday & Saturday.
Rusty Foulke will perform Friday & Saturday at Bourbon St. on the Beach.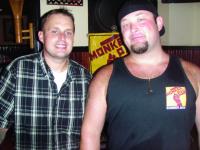 The Monkee Paw duo will play Friday at High Stakes.
Kevin Poole performs with his band Poole & The Gang Saturday at Coconuts.
Hear the smooth sounds of Dave Sherman Friday & Saturday at Bourbon St.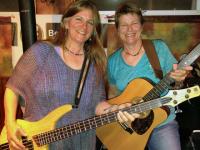 Bettenroo will perform Sunday at Coconuts; Thursday at the Freeman Stage.
Reform School will play Friday at Southgate Grill.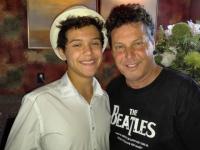 Lennon La Ricci & The Leftovers will perform Friday at the Bethany Boathouse.
Hot, hot, hot!!! The music has been just as hot as the weather this past week. I spent a lot of my weekend at The Purple Moose, beginning Thursday with Judas Priestess. Miitia (vocals), Gyda (bass), JoSette (guitar), Rena (guitar) & Hillary (drums) always deliver their A game and this night was no exception. I had the pleasure of meeting Rena's husband, famous guitarist John Petrucci, who came with Rena this time. Widely considered the best guitarist in the world, John presents a very friendly and humble presence in person. I see on his website that he is to be part of the annual Guitar Universe, Summer Shred Intensive, along with other guitar gods on August 7-11 at the Glen Cove Mansion in Glen Cove, NY. As reported on his website, "Petrucci is best known as the guitarist, producer, lyricist and founding member of the two-time Grammy nominated progressive metal band Dream Theater as well as the guitarist and founding member of the acclaimed Liquid Tension Experiment. As a solo artist John is a long standing veteran of Joe Satriani's G3 tours along with Steve Val, Eric Johnson, Paul Gilbert, Steve Morse and Steve Lukather." Read more about him on his website,
johnpetrucci.com
. You'll learn about his many accolades and his involvement in tech gear; he represents Majesty 2017 Monarchy Series guitars. It was a pleasure to meet this star from the rarefied world of top guitarists.
Friday and Saturday nights at the Purple Moose were a blast with Surreal. I was there both nights this time; Saturday even more packed than Friday. As I said last week, this band continues to play the hits we all love, constantly reviving their set lists to keep it fresh. I had no idea that drummer Rene's wife Leslie could sing, let alone belt out the Journey tune "Separate Ways" the way she did. It was awesome; never heard it done better. Cudos to you Leslie. The band's friend Tommy Osteen visited them for the weekend and sat in on drums for some songs. Now living in Nashville and free-lancing, Tommy is originally from Laurel, Md. You may remember him from Mannequin. Then our own Susan Witchy got up and sang some Judas Priest and did a bang up job as usual. And Scottie LeClaire of Loud Love played with the band as well. He tells me they have a few dates at Castaways coming up. Big news from Surreal is this: Singer Walt Downey is being inducted into the Maryland Entertaiment Hall of Fame in a ceremony slated for December 10th. Congratulations, Walt! I've bragged about your voice for years in this column and I'm so glad you are receiving this recognition. Our dearly departed Mary Lou McGee of the Untouchables was included in the roster a few years ago.
Alter Ego will take the Purple Moose stage this weekend and the Thursday tribute band will be Aces In Chains playing Alice In Chains for you.
I actually made it to Coconuts early on Tuesday to hear the magnificent voices of Girlz Rule. It is their only date here this summer and I didn't want to miss it, so I braved the heat and found it wasn't too bad on the beautiful patio of Coconuts/Castle in the Sand that usually has a nice breeze. Anyway, the girlz were awesome. I had already enjoyed the beautiful (inside and out) Heather Vidal on Sunday; sadly missing her usual partner Dave (Copper Sky) due to illness. Heather tells me that it is a treat for them to get together as well as they only can a few times a year; their home bases are widely separated. Heather is from Pennsylvania, Kristie Bobal is from Nashville, and Lynley Tolls is from Pensacola, Fla. Each of these amazing singers stays busy performing in other projects. Lynley plays steel drums, congas and bass guitar and is in the well-known trop rock band, The CalypsoNuts, the longest continuous act playing for the National Parrothead Meeting of the Minds convention in Key West. Girlz Rule happily told the audience they will be playing on the main stage for the event this year. Exciting for them; best of luck, ladies. To sum up how lovely these voices sound together, I am going to quote local drummer Tommy Lutz who said, "their buttery harmonies turn me to jelly." Me too.
Another group I thoroughly enjoyed last weekend was Kevin's Poole & The Gang at M.R. Ducks. We were all having such a great time listening to the music of these awesome players until a huge dark cloud sped swiftly in our direction and lightning soon spread across the horizon. The guys scrambled to pack up their equipment but didn't quite make it. They huddled beneath a large tarp hoping it would quickly pass but the deluge and heavy winds continued for a good while; so, bottom line, they all were soaked. Exciting end to a great show, guys. Let's hope for better weather when you play again on Saturday at Coconuts. The Swell Fellas return on Friday. If you read my column a few weeks ago, you'll know that they are well worth a visit to Coconuts. Sunday that wonderful duo who play every Thursday at BJ's will be appearing at Coconuts. Will they bring their band? I'm thinking maybe they will so let's go see.
I really enjoyed the music of Billie Carlins Band last Sunday at Adolfo's, where they are most weeks. This Sunday, however, they will play at Bourbon St. Check 'em out if you haven't already.
Speaking of Bourbon St., we had a great time there for the Wednesday Open Mic hosted by my partner Michael Smith. Lots of fun musicians turned out both locals and visitors who returned to jam with us such as Jason Kendall from Pittsburgh and his lovely wife Jackie. Jason is most impressive playing sax, guitar and keyboards, too, that we got to hear last night. Bourbon St. will be rocking this weekend with the return of Rusty Foulke. If you haven't heard him yet, what on earth are you waiting for. This man plays guitar, both 12-string acoustic and electric, as well as anyone on the planet and his voice is beyond compare. His vocal range is just amazing; and he's such a friendly and humble guy, too. Don't forget - Friday and Saturday nights.
And, as usual, I loved hearing Tranzfusion a few times over the weekend, both at BJ's and at Coins. And I love hearing Randy Lee Ashcraft & the Salt Water Cowboys. Lots of players turned up for their Open Jam at Johnny's.
BJ's will also be rockin' out this weekend with two of the area's top bands: Full Circle on Friday and the Chest Pains on Saturday. The Girlfriends return on Wednesday. You don't want to miss them either.
There's more I could say but it's getting lengthy now and so I'll just say check out the Who's Where When list and enjoy all the fabulous music Ocean City has to offer. Party safe!