Tranzfusion returns to BJ's on Friday w/ classic album rock.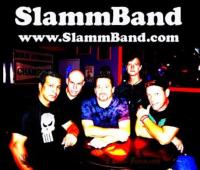 The Purple Moose will rock Friday & Saturday with Slamm.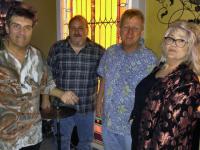 The Billie Carlins Band will perform Saturday at Adolfo's.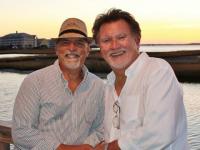 Reform School will perform Friday at Bourbon St. on the Beach.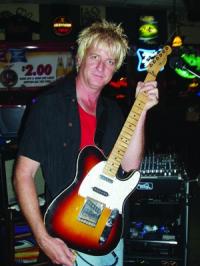 BJ's presents Sir Rod's one-man show Wednesday.
Randy Lee Ashcraft & the Salt Water Cowboys will perform Saturday at Bourbon St.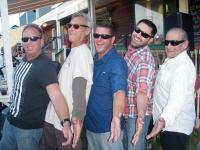 Kevin Poole w/ Poole & The Gang will play Friday at Fager's Island.
Leonnon La Ricci & the Leftovers will play Friday at Bethany Boathouse; Sunday at Coconuts.
Judas Priestess returns to the Purple Moose Wednesday.
Joe Mama performs w/ Smooth & Remy Sunday at the Lobster Shanty.
Jack Worthington will play w/ T Lutz on Sunday at Southgate Grill.
As I write this week, everyone's minds are on Hurricane Irma. As if Harvey was not enough, now the devastating path of destruction in the wake of Hurricane Irma is threatening us again. We're all praying that Florida and the Keys particularly will be spared the full wrath of what we've seen so far. Many of our friends are in Florida and have evacuated or had to hunker down for whatever reason. We hear that gas is not readily available but gas trucks are being given police escorts. It seems that the Florida government is doing all in its power to aid its citizens. The latest reports project landfall in Miami on Sunday morning and maybe a decline in intensity as the storm travels northward. What that means to our area is still anybody's guess. Then we have to watch out for Hurricane Jose. But let's hope and pray for the best scenarios and in the meantime do all we can to aid others. It seems somehow frivolous to talk about partying when so many are in peril; but as the adage goes, "live for today for tomorrow may never come." Geez, even that sounds pessimistically ominous, but you know what I mean. Music is the great common denominator, both inspirational and healing. So let's go hear some music.
Our good friends of Tranzfusion will play tonight (Friday) at BJ's. In case you didn't read my column a few weeks ago, let me remind you that the fella you see on bass is the replacement for Tom Malaby, who has bowed out of the band due to work travel demands. Al Cook has been filling in for Tom for a few years now, so he is the perfect fit for Tom's job; and he is doing fantastic. Al has a great voice and sings several tunes; such as, "Cover of the Rolling Stone." Tom tells me he hopes to appear from time to time playing second guitar to Hank's lead. Since I'm mentioning names, let me also say how talented Bob Davis on keyboards is and Bobby Malaby on drums. It's really cool how each member of the group has their own distinctive vocal sound which lends to covering all the great classics they play. I continue to marvel at their boundless talent every time I hear them.
Sir Rod will make an appearance at BJ's on Wednesday in his one-man showcase of the music of Rod Stewart. Many of us heard him at Fager's Island with the entire band for their last tribute show of the season. Tommy Edward as Sir Rod is a powerhouse of vocal and stage presence energy and he brings it all to his solo performance: costume changes, playing sax and mandolin, dancing and interracting with the audience. Looking forward to seeing him again.
Reform School will play at Bourbon St. on the Beach this Friday. Michael Smith (who I'm proud to say is my partner as well) sings and plays guitar and keyboards while Jay Stinemire handles percussion and vocals. I have to praise Jay for his incredible voice. His range allows him to sing just about anything from Ed Sheeran to Frankie Valle. You'll love their show. Saturday night brings Randy Lee Ashcraft & the Salt Water Cowboys to Bourbon St. If you haven't heard Randy Lee, where on Earth have you been. I first heard him playing on the deck at M.R. Ducks right after his return from Nashville (early '90s) where he honed his song-writing skills and came very close to making 'the big time.' If you want to sample his music, go to Pandora and just enter Randy Lee Ashcraft and enjoy. Randy Lee's songs are authentic, from-the-heart music that defy categorizing. He might have a country feel on some, being a country boy from outside Salisbury; and some have called it 'trop rock' as the tunes talk about deck parties and fun on the beach - "Hot and Sudsy." Many of his songs were written in the aftermath of love taken a wrong turn or finding love again. Bottom line is there's no reason to peg him into a genre as his songs speak to us from his big heart - a heart of gold. Randy Lee has long been partnered with guitarist Jimmy Rowbottom who also has a fantastic voice and impressive guitar skills. I will mention again that he has recorded a CD of classic (the real classics) tunes called "I've Got Your Bach." I listen frequently and can tell you that the guitar work is exquisite. Ask for it and Randy's CDs when you see them.
Billie Carlins, whose husband Leo plays bass with Randy Lee, has had a change in dates at Adolfo's this weekend. Take note that she and her band, Leo, Greg, Howard & Mickey, will be playing on Saturday instead of Sunday. Billie and her band perform music that is distinctly different from the norm. Several songs are her originals and many are brought back from the great songwriters of the '30s and '40s and she makes them shine new again. With her sultry low voice and friendly stage presence, Billie is a treasure to behold and we hope a CD of her music will be available soon.
There's another songstress in our midst who I often refer to as the leader of the 'fun band' in OC; that's Linda Sears of Old School. I heard them play again this past Wednesday at BJ's, where they play the first Wednesday of each month. Linda has been singing all her life and was in several big bands in the Baltimore area. After a hiatus raising her son, and after spending more time in Ocean City, she was 'bitten by the bug' again. Randy Lee Ashcraft had her sing a few songs with him and he encouraged her to start a band of her own. So once again she entered the limelight. Linda has a powerful voice with quite the range and perfect pitch. I've never heard her sing a wrong note. Add to that her incredible energy and vivacious stage presence and you have a star - or a Princess as she was called in childhood. I'm encouraging her to write more stories about her childhood, by the way. She showed me her writing chops when writing a column for this mag: Beauty Tips and Just Sayin'. I love to hear her stories of life on top of her mountain in West Virginia; so help me persuade her to write again. Thanks!
The Purple Moose was a rockin' fantasy again last weekend with Vertigo Red and Face Down, both boasting extremely talented front vocalists. Briana w/ Vertigo Red just knocks your socks off with her powerful voice and energetic presence. With bandmates Ken (vocals/guitar), Glenn (bass), Deno (guitar/vocals) & Meyer (drums), this band presents a wealth of musical experience and expertise. Look for them next time at the Purple Moose. Likewise, Face Down, from Calvert Co., has a strong lineup of talent w/ Karl being the front man vocalist. I'm told this group is the house band at the Club Level in Fed Ex Field, playing for the Redskins home games. Nice gig, huh? Drummer Jack, bass man Jeff and Richard on guitar did a fantastic job of entertaining the crowd and keeping the energy level up even on Monday at the tail end of the holiday weekend. I will definitely keep them on my radar. SLAMM will be performing on the big stage this Friday and Saturday. Looks like the Purple Moose is beginning to scale back (sadly) with no more live Sunday nights. Monday nights will be covered by VJ Mazi. Check into the Moose this Wednesday for the return of Judas Priestess. Yes, you read right ... not Thursday, the usual tribute night, but Wednesday. This will be their last performance of the year, so you don't want to miss these amazing women of heavy metal. The last Thursday tribute night will feature High Voltage paying tribute to the music of AC/DC. It's always happening at the Purple Moose, on the Boards.
Holy cow, Batman, how I do go on. I just realized I've been very gabby. So, as usual, check your "Who's Where When" and get out and enjoy live music in the greatest little beach town on the planet, Ocean City. Party safe!
«Go back to the previous page.