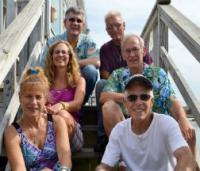 Thin Ice will perform Friday at BJ's.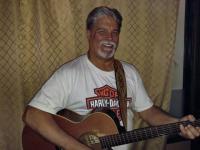 Jack Worthington will play Friday at Bourbon St.
The Purple Moose presents Total Distraction Friday & Saturday.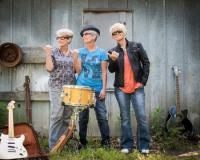 Have fun with The Girlfriends Saturday at BJ's.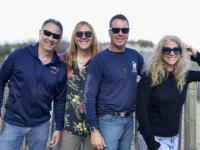 It's Sunday Funday at Coconuts w/ The Lauren Glick Band.
Party with Old School Wednesday at BJ's.
Kevin Poole & Joe Mama will perform Saturday at Coconuts.
Sunfest was one for the history books as the weather was perfect all weekend. Wow! As a fisherman, hubby Ronnie would always call it Windfest which meant that the boats could not go out. Not this year, Ronnie; you would have loved it. The music was perfect, too. I didn't hear as much as I would have liked, but there are a few picture in Fun Fotos submitted by others that I'm sharing with you. I made it to the outdoor stage in time to hear Randy Lee Ashcraft & The Salt Water Cowboys. Always a crowd favorite, we were a bit disappointed that sound system issues caused them to lose precious time to perform. We love to hear Randy Lee sing his original songs which you can hear on several platforms such as Pandora.
From there I scurried into the entertainment tent where another local group would be playing. Teenage Rust founder (and BJ's on the Water owner) Billy Carder told me that they were thrilled to be on the big stage as an opening act for headliners Big Bad Voodoo Daddy. I told him it would be the first leg or their Fall Tour. We will hear Teenage Rust & The Fabulous Rustettes again for their Halloween party, I think for a cancer benefit, and, of course, the Christmas party. Anyway, the band did a fabulous job of presenting their rockin' repertoire to an appreciative audience. The lineup from the left (check out the photos in Fun Fotos) was Crystal (keyboard), Paul (bass), Joe Smooth (sax), T. Lutz (drums), Madlyn (tambourine/vocals), Billy (guitar) and Howard (lead guitar). There's a wealth of talent from this group with songs being sung by Crystal, Paul, Joe & Billy. I certainly look forward to hearing them again.
Since I've referred to BJ's, let's begin there to talk about what's happening this weekend. One of our newest groups in the area will perform Friday - that's Identity Crisis, featuring Jay, Charlie, Ray and Keith. With their fine instrumentals and superb vocals and harmonies, this band presented themselves as a very pleasant surprise and I am happy they found each other. Also important, their song selections are popular and tailored to the dancing crowd at BJ's.
Saturday brings another group fairly new to BJ's. The Girlfriends played last Wednesday and we all agreed that since their first appearance this summer, they have become one of our favorites. Now, the group is far from new; they first performed at BJ's for the original deck parties actually out on the bayside deck in the mid '80s. After many years apart, they met up at a reunion about six years ago and decided to give it another go. We're sure glad they did. Jill absolutely blew us away on a drum solo to a Santana tune; and Kim is as good on guitar as anyone around. Robin is also notably good on bass and connects with the audience with her bouncy enthusiasm. All three ladies sing and their harmonies are superb. Come out and hear this talented trio Saturday at BJ's. You'll be glad you did.
And don't forget to join us for Wednesday's deckless deck party continuing into the Fall with another of our favorites, Old School. Songbird Linda and her crew - Erve, Ernie & Jay - always put on a great show with favorite rock classics performed with energetic enthusiasm and pitch-perfect vocals. It's always a great time at BJ's.
The Tipsy Turtle party at Coconuts Beach Bar & Grill was a blast as usual. This annual event serves as an end-of-summer party and finding the winner of the summer's weekly Tipsy Turtle contest. If you've never participated, make it a point to do so next year. You could win a Bahamas vacation as did this year's winner, Tracy Hudson of Dagsboro. Congratulations, Tracy! She'll be going to Castle in the Sand's sister resort of Green Turtle Cay which I hear is an amazingly beautiful little island in the Bahamas. Thanks to owner Adam Showell for providing this opportunity to his appreciative patrons. The Lauren Glick Band will return this Sunday to play for yet another Sunday Funday at the "Best Beach Bar on the Planet ... and everywhere else." Check out The Vigilantes on Friday and Kevin Poole & Joe Mama on Saturday. Kevin & Joe will continue the next couple Thursdays as the parties wind down at Coconuts (now Thursday-Sunday). Check out the Who's Where When list for more.
I had a fun time at Bourbon St. last Saturday listening to Lennon La Ricci & the Leftovers. That night Leo Carlins (of Randy Lee & The Salt Water Cowboys and the Billie Carlins Band) played bass for the duo of Lennon and his dad Ricky. Yep, 16-year-old Lennon gets top billing these days and deservedly so. He is a phenomenon on keyboards and is constantly expanding his instrument talents to include Harmonica, guitar and bass. Hats off to these talented gentlemen. Last night's Wed. Open Mic was fun, too, with Michael Smith as the host. As usual, many talented artists came out to jam with each other and I even sang a few songs. Jack Worthington was there and he will be playing his own show on Friday. I see that Chris Button is bringing drummer Dean Haemel to perform with him on Saturday. Chris continues to play on Thursdays and will soon be joined by Dave Sherman.
Let me mention here that Michael Smith will play piano and guitar for me as we perform at the Atlantic Hotel in Berlin tonight - Friday, Sept 29, 6-9 pm. I hope you will join us as I sing some favorites for you, and I guarantee you'll love the food.
The Purple Moose was tons of fun last week, too, as One Louder played from the big stage. This weekend hear Total Distraction both Friday and Saturday nights. The Purple Moose has slowed down now to weekend entertainment only. CK the DJ/VJ will continue his afternoon shows on Saturdays (after the 6th) and it looks like Saturday, October 28 will be the last band for the season. Gosh, I'm gonna miss The Purple Moose, the legendary 'home of rock 'n roll!'
For now, I'm going to try not to miss anything. Enjoy this great weather and remember to always party safe.
«Go back to the previous page.