Identity Crisis will perform Friday at BJ's.
Party with Monkee Paw Saturday at Coconuts.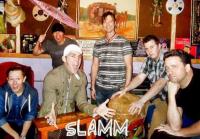 The Purple Moose presents SlammBand Friday & Saturday.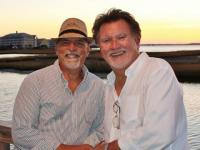 Check out Reform School Friday at Bourbon St.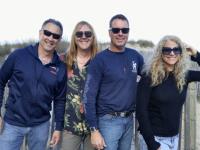 It's Sunday Funday at Coconuts w/ The Lauren Glick Band.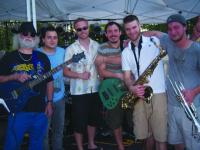 BJ's presents Over Time Saturday.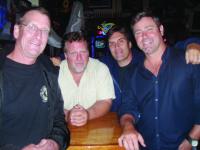 Randy Lee Ashcraft & the Salt Water Cowboys will play Saturday at Bourbon St.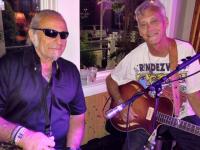 Joe Smooth & John Remy will entertain Friday at Coconuts.
Oh, boy, what a dreary Thursday; so bummed that the last date for Kevin Poole & Joe Mama at Coconuts had to be cancelled today. So, I'm having a hard time remembering the excitement of all the great music I heard this past week. What can pull me out of the doldrums? Let me reflect a little and I'll get back to you.
Okay, back from having a little snack to cheer me up and it helped; especially looking at all the pictures of Lauren Glick's birthday party. We had a wonderful dinner at Sello's in West Ocean City; then took the party to BJ's where lots more friends met us to continue the celebration. Lauren and friends took to the dance floor with Thin Ice playing and Lauren treated us to a rendition of "White Rabbit" too. It was an awesome night honoring our dear talented friend Lauren. Love you!
Feeling energized from the gaiety of the evening, I finished my Friday night at The Purple Moose where Just Push Play had the crowd in a dancing frenzy. The energy is always pumped up at the Purple Moose, as it will be again this weekend with music by the SlammBand. I really enjoyed them last time out so I'm definitely going to hear them again. Only a few more weeks of live bands at the Purple Moose, so get out and party at the "Home of Rock n' Roll."
Saturday I checked in to BJ's once more to hear the latest sensation there, The Girlfriends. As usual, their music kept everyone on the dance floor and participating in many of the songs with sing-alongs. We all love their show of memorable music from past decades; I think especially the girl band tunes. Strikes a chord, I guess. I have to give major shout-outs to Kim on guitar this time out. This diminutive little gal is a towering power house player on that guitar. Awesomely as good as any other guitarist on the scene. Wow!!
Monkee Paw was awesome, as usual, on Wednesday at BJ's. Adam Ask is amazing on guitar, able to bend and shred with the best of them. He got the attention of the crowd, that's for sure. Singing partner Mike on acoustic guitar shares the vocals and the two of them have wonderful harmonies. Add Rick on bass and the sound is full-bodied and precise. It was a further treat to have Joe Mama as their drummer/percussionist. Not only do we appreciate his sound, but he's fascinating to watch as well, right? That's what I hear from fans most often.
Coming up this week at BJ's is Identity Crisis on Friday. Jay, Charlie, Keith & Ray have proven to be a solid rock band with great vocals from this quartet. Over Time presents their show on Saturday featuring excellent keyboards and vocals from Eric and guitar from leader Mark. Coming back on Wednesday will be 2 Guyz & a Mama with Dave Sherman onboard this time (his summer obligations are over now). We always enjoy the music of this trio featuring Dave on lead guitar & vocals with Chris Button playing bass and sometimes keyboards - yes, the guitar wizard has many talents - and Joe Mama on percussion. Their song selections are a departure from other groups, and they are outstanding musicians. So come visit BJ's where off season half-price specials are now in effect. Check out their ad under 'Best Places' and view the specials for each night - what a deal!
My Wednesday night musical sojourn continued after BJ's with a visit to Johnny's Pizza Pub where Randy Lee Ashcraft & Jimmy Rowbottom preside over the weekly Open Jam. It's always a lot of fun hearing the amazing talent displayed by so many of our friends. Last night owner John Hofman announced that a TV producer wants to record some weekly sessions to showcase the talent that rolls through the pub's doors. So come see us every Wednesday and you may appear in a TV video; who knows? More on that as I hear it. Thanks to Diane Schreiber (view her facebook or mine) who recorded my songs on facebook live Wednesday and thanks for all the shout-outs from people who listened.
Then we hurried up to Bourbon St. where the Open Mic was going on with Michael Smith as host. We have certainly enjoyed the contribution of Eddie Saah on bass at both open mics; what a solid player he is. In addition to Greg and Jack, John H. came up to jam as well. This weekend at Bourbon St. begins with Reform School tonight featuring Michael Smith & Jay Stinemire. I've written about this duo many times and I want to encourage you again to go hear them. Jay plays drums and sings with an incredible voice that can span several octaves. He has a great falsetto enabling him to sing some classic oldies from Frankie Valli. Michael is a treasure playing keyboards and guitar. This guy has a never ending catalogue of music in his head and can sing and harmonize like crazy. Love these guys!
Randy Lee Ashcraft & the Salt Water Cowboys will perform on Saturday and we all love this group. Randy Lee has a wealth of original material that I often prefer over the other familiar tunes; so if you're curious, ask him to play his own songs. You can hear his music on Pandora and other platforms. His partner Jimmy Rowbottom is one of the best guitarists around with a smooth voice to boot. Leo Carlins is an excellent bass man who also plays guitar on some songs with his wife's group, the Billie Carlins Band. It's just fun watching Leo play as he is most animated and uninhibited. Come join the party. And come on back Sunday to hear our friend Jack Worthington play his own special selections of songs. I really enjoy Jack's sultry smooth vocals; or is smoky a better word? I don't know; I guess you don't hear sultry used for male vocals much, but I still like it - and I love him. So, there you have it; lots of good music at Bourbon St. where owner/chef Barry loves to get in on the act and we love it, too, as Barry is also an excellent musician.
I guess that's it for this week. How about that; once I get on a roll, music always gets me excited. Fooey on this rainy Thursday! Let's get out and party, my friends - but always party safe!


«Go back to the previous page.