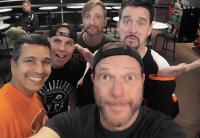 Slamm Band will play at the Purple Moose Friday & Saturday.
Randy Lee Ashcraft & the Salt Water Cowboys will perform at Bourbon St. on the Beach.
Lennon & Ricky La Ricci entertain Friday at Ky West.
Catch Jack Worthington Friday at the Reel Inn & Wednesday at the Carousel.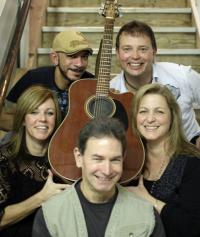 Full Circle rocks the house at BJ's on Friday.
Coconuts Beach Bar & Grill features the Lauren Glick Band Sunday.
Identity Crisis is slated to appear Saturday at High Stakes.
Have you been stung by a June Bug yet? By that I mean has one of them stepped into the road in front of you scaring the bejesus out of you. They travel in herds so they are either chatting with each other or most likely looking at their phones so definitely not paying attention to traffic. Don't get me wrong; I love that our young people come here to celebrate and enjoy Ocean City - I just want them to return home whole and healthy. So I guess it's up to us to be extremely cautious around them and recognize that it may be up to us to anticipate uncautious behavior. Ok, enough on that soap box - as a parent and grandparent, I just worry, you know.
Right now I'm worried about getting out to hear some great music - lots to choose from as usual. I'm thinking BJ's for Full Circle for sure later on. Up at Bourbon St. on the Beach, Randy Lee Ashcraft & Jimmy Rowbottom are about to begin their show (4pm). Later it will be the velvet voice of Dave Sherman. The beautiful courtyard at Bourbon St. is now open for dining and often features live entertainment there. Check the Who's Where When list for all the happenings. Wednesday nights are even stronger now with the appearance of Reform School - that's Michael Smith & Jay Stinemire - who also host the Open Mic portion of the night. All are welcome to share their talents and often many of the area's pros show up to jam a little. Lots of fun. Saturday Randy Lee returns with his full band - the Salt Water Cowboys so it's going to be another wild weekend at Bourbon St.
BJ's has been awesome as usual with some of the best entertainment around. Film At Eleven on Memorial Day weekend Sunday & Monday blew our socks off. This seven-piece band features the awesome vocals of Erin who is just as friendly as she is talented. They'll be back early July. Last week we rocked out again with Thin Ice and 33 RPM. It was fun watching Bourbon St.'s owner Barry Reichart wail a few rock numbers on guitar and vocals with them. Great job! Hope to see this band again soon. Drummer Mike (also w/ Lauren Glick Band) is a wonder as he masters his drums and percussive instruments and sings at the same time. And bassist Rock is just a hoot to watch as he gets into the music. Not to leave out Larry as he wields his guitar skills with the best of them. But what's happening this weekend? As I said, the incomparable Full Circle will perform tonight. This group features amazing musicians and singers who cover a wide range of music, all of which is guaranteed to keep you on the dance floor all night. Saturday night return for the rock sounds of Dust n' Bones. It's the last week for dinner specials, so don't miss out. Take advantage of this gorgeous weather to eat out on BJ's beautiful deck on the bay - the best sunsets in town.
Welcome back to Jack Worthington and Joe Mama who rejoin their fellow entertainers Lennon La Ricci & the Leftovers, Identity Crisis, Kevin Poole, Randy Lee Ashcraft & Michael Smith in the ranks of coconuttimes.com musicians featured in Who's Where When. I'm happy to provide their schedules for you so you can see where your favorites are playing.
I heard last night that Kevin Poole is in the hospital as a result of a spider bite that became badly infected. Scary. Get well soon; we miss you. Also, in medical news: so happy to hear that Erve Cassel, bassist for Old School, came through his surgery with flying colors; he played Wednesday at BJ's. A cancerous tumor was discovered on a kidney which was removed and reports show no cancers. Awesome news.
As you refer to our list, you'll see that Monkee Paw will play tonight at Beach Barrels and Joe Smooth & John Remy's band are set for tomorrow night. Both nights should be really good. Excellent entertainment such as upcoming Swell Fellas, Bird Dog & The Road Kings, 33 RPM, Identity Crisis, Tranzfusion and Fuzzy Bunny Slippers can always be heard there.
The same can be said of Coconuts Beach Bar & Grill where we heard Old School play for the big Ravens Roost weekend. This weekend we'll hear from Darin Engh, Swell Fellas, Rick & Regina, Shortcut Sunny and the Lauren Glick Band. The music never stops at Coconuts with two acts each day. Check the list and go enjoy music in this ultra relaxing atmosphere. I checked in for Tipsy Turtle Tuesday this past week and heard Bettenroo. Did you know, all you have to do to register for a Bahamas vacation to Green Turtle Cay (Castle in the Sand's sister resort) is purchase a Tipsy Turtle drink on a Tuesday. Drawings are held each week and the weeks' winners vie for the prize in the final drawing in September. You could be the lucky one this year.
Visit the legendary home of rock n' roll, the Purple Moose, on the boardwalk for a great time. Music this weekend will be from SlammBand - they say, #getslammed. Danny, Big Joe, Markie, Sean & Kyle will help you rock it out all night long. This party palace rocks 'til 2am! You can stop in afternoons and hear music from CK the DJ/VJ, also during band breaks, so the music & dancing keep on going. I think he sleeps in the back room; he's there all the time. People ask me when are Thursday tribute nights coming. The first one is June 21 with the return of those awesome chicks of heavy metal, Judas Priestess. You won't believe the incredible show they put on - just ask anyone who's been to one. Yep!
I'm sure there's more I could talk about but I'm anxious to get out and hear music, not talk about it. Right? So, I hope to see you out having fun; but remember to always party safe!
«Go back to the previous page.