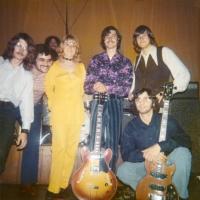 That's Brenda Golden singing with her band Noah, ca. 1972.
Full Circle will undoubtedly draw a party crew to BJ's Friday & Saturday.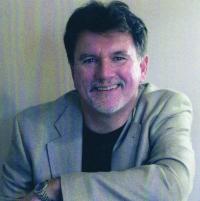 Enjoy the music of Michael Smith Friday at Key West.
Let's party with 2 Guyz & a Mama Wednesday at BJ's.
Randy Lee Ashcraft & Jimmy Rowbottom will perform Saturday at Bourbon St. on the Beach.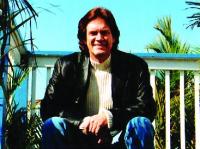 Dave Sherman will perform solo Friday at Bourbon St. on the Beach.
Hi folks. It's been more than a month since we last 'talked' and I must say I've missed you. Of course, I've seen so many of my readers out and about ('cause my quest for entertainment is constant); but to those weekend warriors, we feel for you with all the snow you've had. Ocean City seems to be under a protective bubble of sorts; we so often escape the extreme weather conditions. Anyway, it's been good to see some of you out-of-towners now that you're dug out. And, hey, right at the top, I want to share a picture with you of a band called Noah that played in the Norfolk/Virginia Beach region in 1972-73. Check it out. That gal in a canary yellow pant suit is yours truly. I found the only surviving photo (that I know of) in my mother's things and boy was it a blast from the past. I sang, of course, and didn't play an instrument but I could play a mean tambourine. I met Ronnie that year and he came to all the gigs and helped me wrap wires. Memories...
This Presidents' Weekend has started off with a bang! I've just returned from the "Gold Rush for VIP Gold Cards" at Seacrets. I enjoyed the music of Opposite Directions (as always) and the Full Circle Duo (Kathy & Michelle). Loved the Hot Veggie Roll, too - give it a try. There was also a special tribute to Watika held in the Morley Hall led by Leighton Moore. Many people shared anecdotes and memories of this gentle soul from Jamaica who passed away recently. He was a constant fixture as part of the Seacrets family and his quiet presence and beautiful smile will certainly be missed by all who visit Seacrets. He exuded peace, love and respect to all he met. Respect to you, Watika. I heard a new David Bowie song as I drove home that touched my heart. It's called "Lazarus" from the album Blackstar and it begins: "Look up here, I'm in Heaven..." and ends with "... I'll be free just like that bluebird, now ain't that just like me, oh I'll be free." Just like that bluebird, Watika, now you're free.
So many of our favorite musical artists besides Bowie have gone on before us lately; you all know who I'm talking about. Their passing serves to remind us to treasure each day, and treasure your friends and family. I certainly try to make the most of my time here. Of course, I've been doing quite a lot of resting this winter but almost every evening I'm out on the town visiting with friends and looking to be entertained. And do we have some fine, fine entertainers. You know we do.
I've you've read some of my facebook posts you'll know that most of my winter so far has been spent at Bourbon St. on the Beach, BJ's, Johnny's, Harborside and a few nights at Adolfo's to hear the incomparable Billie Carlins Group. Let me begin with them because they were also at BJ's recently which was a bit of an experiment on owner Billy Carder's part since they are not our typical rock n roll band. Kudos to Billy for giving them the opportunity. It was a huge success proving audiences appreciate great music and performers no matter the genre. Billie Carlins has a unique voice that is compelling, capturing her audience whether on a hoochy-koochy kind of blues song, a lovely ballad, maybe a standard from the past or one of her own compositions. Husband Leo on bass also adds to the mix with a few songs of his own, the whole band providing a fresh sound that kept the audience dancing. Howard is such an accomplished guitarist, slipping easily from jazz to blues to rock and Greg ably holds the beat on drums. Check them out next time you get the chance. We can hear them again on Feb. 20 at Adolfo's.
Another group that impressed me was Mike Beaven's 33 RPM when they played at Bourbon St. on the Beach. Mike is a triple threat singing from behind the drums or up front on guitar. Great variety of tunes and so upbeat. Loved them. Thursday nights have been very special at Bourbon St. with David Sherman and Chris Button playing an early gig there (6 pm). We have been astounded at the incredible guitar playing from these two. On one of these nights they played Pink Floyd's "Comfortably Numb" with amazing blazing guitars which prompted me to wish out loud to hear "Hotel California" and "While My Guitar Gently Weeps," both of which feature superb guitar duets. To my surprise and pleasure, they jumped right in playing both; then finishing the night with "Painted Black." Incredible dueling guitars on all. What a night! I sure wish someone had captured that on a recording. We have a few more weeks of this incredible duo before they both begin their summer schedules; so better get there next week, my friends. Wednesday jams have been fun at Bourbon St., too, and there's entertainment every weekend. Dave Sherman is back solo on Fri., and Randy Lee Ashcraft & Jimmy Rowbottom will be there this Sat. at 7 pm. Find Bourbon St.'s complete musical listing at
coconuttimes.com/oc-md-whos-where-when
for their listing.
Back to BJ's - I have thoroughly enjoyed every bit of music I've heard there. Who says there's nothing to do in the winter? Among the wonderful bands who play there: Aaron Howell Band, Monkee Paw, Old School, Dust n Bones, Over Time, Full Circle, It's About Time (welcome to new bassist Rick Nelson and thank you to guitarist Mike Smith for inviting me to sing), Tranzfusion and 2 Guyz & a Mama, who play this coming Wed. I asked Chris to bring his guitar to the gig so he and Dave can play a few of those songs that just blew me away, with the added bonus of having Joe Mama on the drums. Chris usually plays bass & keyboard so I may have to text him to remind him that he said he would bring his guitar, too. I know you all would love to hear what I've been talking about. C'mon, Chris, don't let us down (he never could, no matter).
There are two I did not mention in the list: Bird Dog & The Road Kings and Teenage Rust & the Fabulous Rustettes. It was the best pre-Super Bowl ever as Billy & Maddy led the fun with Crystal, Paul, Howard & TLutz sharing the stage. What a great group - our favorite songs and lots of dancing and laughter. Thank you, Teenage Rust. It was also such a pleasure to hear Bird Dog & The Road Kings on the BJ's stage. I love their brand of down-home folk rock with some Eastern Shore twang. They are legendary. Sorry, guys, if that makes you feel old.
We continue to have a blast at Johnny's on Wed. nights, too. You never know who will show up to join Randy Lee & Jimmy. Often it's the amazing Lennon LaRicci on keyboard. Sorry, Ricki that your 15-year-old son was given top billing here. But I know you don't mind. After playing his own numbers, Lennon gets a key cue from Jimmy and plays right along with the elder statesmen. There I go again but you know, these youngsters are nipping at our heels. So fun to see. Rick & Lennon LaRicci can be heard doing their own show at Bourbon St. on Sat., Feb 27. Another regular has become Darren Francis McDowell on guitar and mandolin who is now joining Jimmy Rowbottom for some duo gigs as Rusty Nails. We heard them for the Fat Tuesday party at Bourbon St. and really enjoyed their show. Darren adds musical selections both traditional folk, a little country and a little rock.
Well, I guess I've been running on enough. Sure hope you have read to the end so I'm not just talking to myself. LOL!! Love you all. Party safe!