Friday will be another great night of music at BJ's with Full Circle.
Enjoy the music of Michael Smith Friday at Key West.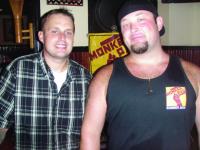 Party with Monkee Paw Wednesday at BJ's.
Randy Lee Ashcraft & Jimmy Rowbottom play every Sunday at Smitty McGee's.
Rock the night away with Dust N Bones Saturday at BJ's.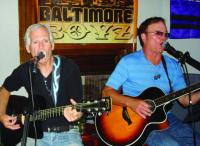 The Baltimore Boyz will play Friday at Bourbon St. on the Beach.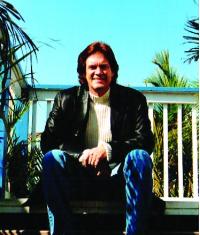 Enjoy the music of Dave Sherman Friday at Bourbon St. on the Beach.
Hi, friends. You know it never ceases to amaze me how beautiful our green Earth is at the beginning of Spring. Yes, happy Spring!! It's finally here. And it never ceases to amaze me the amount of incredible talent we have in our little town. I know I rave about this often but it bears repeating; especially as so many people often comment the same to me when we're out enjoying these players. And, as I've said before, it is most apparent on Wednesday nights with a slew of Open Mic venues to catch the well-known and not so well-known musicians in our area.
Of course, I always begin the night at my favorite BJ's; always good music there. Take 2 Guyz & a Mama, for instance. You'll not find any better than Dave Sherman, Chris Button and Joe Mama. This trio plays a barage of tunes that just blow us away. I'm happy to say they will return on Wed., April 20. That may be the last time until Fall. All three players are busy with other groups or solo during the summer. Then there was Reform School this past Wed. Well-known performer Michael Smith plays guitar and keyboards while singing along with partner Jay Stinemire on drums and also on vocals. I have to say, Jay has one of the best voices I've heard. He sings a modern love song from Ed Sheeran, "Thinking Out Loud," and classic ballads from the likes of Frank Sinatra such as "Fly Me to the Moon." But what I find so amazing is his seamless transition into falsetto on such timeless tunes as "Sherry Baby," "Rag Doll" and more from The Four Seasons. I've never heard anyone do Frankie Valli so well; all while playing drums. And I love all the Beatles tunes they play and so much more. I am so impressed with this duo. Of course, as my former duo partner, Michael continues to please and astound me with his musicality; for instance as he played a jazz version on guitar of "Over The Rainbow" for me to sing last week at Bourbon St. His playing brought out the best in me. Or his quick learning of "Rainbow Connection" that I sang in tribute to our beloved Tim Landers. I hope we can resume our duo some time - such a pleasure to work with him. Oh, and you can hear him solo every Friday at Ky West, a really excellent restaurant, 54th & Coastal Hwy., and with his band It's About Time Saturday, April 2nd.
This weekend at BJ's is a double header winner with Full Circle on Friday and Dust N Bones on Saturday. The dance floor will be vibrating I guarantee you. And remember half-price entrées - I love the Stuffed Flounder on Wednesdays - are still on. Enjoy!!
Back to the incredible jams we've been hearing. This Wednesday at Bourbon St. on the Beach we had Adam (Monkee Paw), Jay (Thin Ice), Dave & Joe Mama (2 Guyz & a Mama), Kenny (Saltwater Cowboys), Randy Jamz (Baltimore Boyz) and such visiting performers as Vincent, Brooke and even our lovely bartender Mickey. I heard Chris Button had been there before I arrived. And all this was after hearing so many good performers with Randy Lee at Johnny's. My cup runneth over. I understand the new Alibi Room, downtown Ocean City, will be starting a Wednesday Open Mic as well. Oh, my. How will I ever make it to all of them.
One of the regulars at Johnny's Wednesday night is Lennon LaRicci and his dad Ricky. I had the pleasure of hearing their whole show at Bourbon St. recently and I was thoroughly entertained; and so impressed that they have actually settled on a band name that puts 15-year-old Lennon as the leader: Lennon & the Leftovers. Isn't that cool? He has dad on guitar and sharing the vocals, Uncle Joey on bass and Chuck on drums. I loved their song choices. If you've seen Lennon already, you know how amazing he is on keyboards. Now he's starting to play guitar as well. He played, and sang, Justin Bieber's "Love Yourself" and did a good job. So much more in this kid's future. I can't wait to see and hear him evolve; and we can all say we 'knew him when.'
I heard another good band at Bourbon St. last Saturday - Tor & Coastal Storm. They set up in the main dining room, providing a cool dance floor for happy dancers. Welcome to new songstress Dawn Jones who certainly adds a lot of pizazz to the group. She and Tor make a wonderful duo of vocals with Harry on guitar and Phil on drums. I hope they do this again so more of you can catch the show. Stay tuned.
Randy Lee Ashcraft & the Salt Water Cowboys will be playing at Bordeleau Winery this Saturday in the afternoon. I've never been there but hear it's quite lovely. You can hear the group every Friday at Smitty McGee's and he and Jimmy Rowbottom (usually and friends) play every Thursday night and at 4 pm for Sunday Funday. It is so good to have him back after he had two wonderful vacation cruises. The band will be back at Johnny's on Saturday April 2nd and, of course, you must come join the fun on Wednesdays at Johnny's for Jam Night. You might even get to hear Batman sing "Route 66!"
Hey, remember that the Purple Moose has started their weekend bands. It was a pleasure to hear Fuzzbox Piranha over St. Patrick's Day weekend. They had the crowd dancing and rockin' as usual. This weekend The Moose presents Dyin Breed. Come out and get your rock on!
Speaking of St. Patrick's Day, I hope you enjoy all the pictures in Fun Fotos - some from my friend Ed Chambers and some from me and my sister Amy. She took over after I got clocked in the eye with candy. All good - lots of ice, no black eye. I thoroughly enjoyed hearing the Chesapeake Caledonian Pipes & Drums at BJ's and the OC Pipes & Drums at several locations; including Shenanigans where I was surprised to see James Gallagher. Why a surprise you may ask as he's been there for years? He had announced his retirement but I guess owner Greg convinced him to return for the big day. It wouldn't be the same without you, James. I had an especially lovely time meeting new friends from Pennsylvania and having lunch with my daughter Colleen and her beautiful daughter Haley - three generations of Golden girls. Check out the picture.
Well, I should quit rambling now and get this over to my other daughter Melissa who patiently puts this all together for you, my wonderful, loyal readers. Love you all. Remember to always party safe!
«Go back to the previous page.