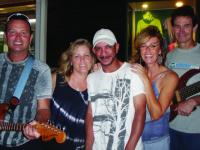 Full Circle will perform Friday & Saturday nights at BJ's.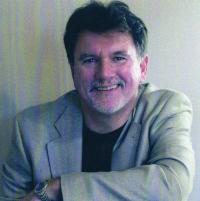 Enjoy the music of Michael Smith Friday at Ky West.
Party with It's About Time Wednesday at BJ's.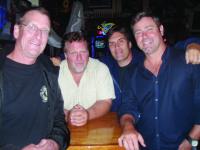 Randy Lee Ashcraft & The Salt Water Cowboys will play Saturday at Bourbon St.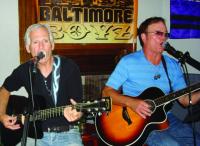 The Baltimore Boyz will play Saturday afternoon at Bourbon St. on the Beach.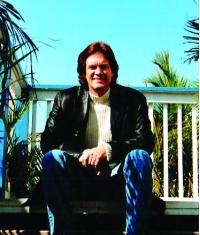 Hear the smooth voice of Dave Sherman Friday at Bourbon St. on the Beach.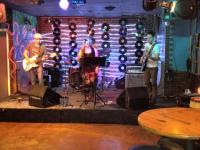 Funk Shue performing at the new Alibi Room (formerly the Pour House) in downtown OC.
Hi, y'all. I don't know about you, but this crazy wind is gettin' to me - whistling around my window as I sit at my computer 'talking' to you. You see, I really want to go to the Alibi Room (formerly the Pour House) tonight to hear Funk Shue but I don't want to get blown away. Well, getting blown away by the music would be cool. Yeah, so maybe I'll venture out again.
Okay, I'm back! I did go to the Alibi Room downtown and I'm so glad I did. Caitleen, Dan, Jordan & Sam were groovin' and boy are they tight. I love Caitlin's rich voice hovering in the low range then soaring into space. What a range! Not only does Funk Shue have a collection of worthy originals, but they also make all their covers sound like their own. Bowie's "Let's Dance," Stones, Winehouse and the Beatles' "Don't Let Me Down" were all played with such originality. Most impressive. I'm sure they will return to The Alibi Room and Caitlin told me they are booked at Coconuts Beach Bar twice a month.
There's a three-band event happening at The Alibi Room tonight (Friday). Opening the show at 9 pm will be Hoopla followed by Transposed at 10. Then at the witching hour, Remains will take the stage. By the way, the stage is pretty cool now with proper stage lights and a backdrop of 33 rpm records and lights. In fact, the whole place has been given a face lift; you've gotta come out and see. The menu is terrific, too; keen on Tex-Mex but also featuring all your favorites like Crab Cakes - and all made to order fresh. Anyway, back to the Remains. If you're a Ramones fan, you're gonna love this tribute to punk rock featuring some surprise players. Can't wait to solve the mystery. Special guests, the Messengers, will also play; so it's going to be a big night of music. Check out the Who's Where When list for upcoming entertainment.
What else is happening this weekend? The incomparable Full Circle will play a double header at BJ's, both Friday and Saturday nights. This group does the best job at combining the best in classic rock while keeping up with the latest hits being played on the radio now. In addition to being great musicians, their vocals are unsurpassed with Kathy, Michelle & David sharing vocal duties; and the harmonies are magnificent. Wednesday's Deckless Deck Party will feature It's About Time with guitarist Mike Smith also singing, along with Rita Conestabile. We have so much wonderful talent in our little town.
Heard quite a few of them jamming together at Bourbon St. for the weekly Wed. Jam: Adam Ask (Monkee Paw), Jay Vizzini (Thin Ice), Jack Worthington, Vince Daddio (Tear The Roof Off), Randy Jamz, Randy Lee Ashcraft, Susan Witchey, John Hofman, Linda Sears (Old School) and, of course, Barry Reichart, owner/chef.
Speaking of Linda, her band, Old School did a fabulous job Wed. at BJ's. She even persuaded owner Billy Carder to come up and sing a Johnny Cash number. Of course that's nothing new for Billy who sings it with his band, Teenage Rust, who will be playing on Sunday, April 17th, for the annual Relay For Life benefit. I believe it starts at 3 pm. Be sure to come and support a great cause and have fun dancing to the band - always a great time.
The weekend lineup for Bourbon St. is Dave Sherman on Friday night and two bands on Saturday: Baltimore Boyz at 3 pm and Randy Lee Ashcraft & The Salt Water Cowboys at 8 pm. Oh, yeah, it's gonna be a party.
I really enjoyed my visit to Ky West last Friday to hear Michael Smith joined by his Reform School partner Jay Stinemire. It was nice to spend time with friends Patricia, Chris, Regina, Janet, Patrick, Larry & Martha who also had a good time. Chris played a song with the duo and I even sang a few, too. Imagine that! You can hear Mike again tonight at Ky West and April 22 he begins his Wednesday nights at Bourbon St. There's a rumour that Mike and I may be playing at Adolfo's on Tuesdays this summer. I'll keep you posted. Time for me to sign off. Hope you have a fun weekend and we'll talk again in a few weeks. I can't believe it will be May soon and coconuttimes.com will publish all new each and every Friday.
Remember to always party safe!
«Go back to the previous page.