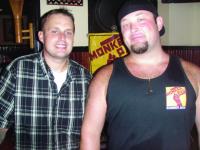 Rock out with Monkee Paw Friday at BJ's.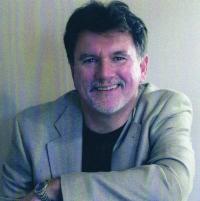 Enjoy the music of Michael Smith Friday at Ky West.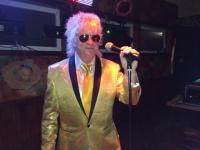 It's the music of Rod Stewart from the incomparable Sir Rod Wednesday at BJ's.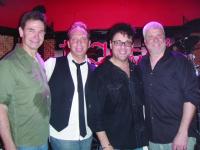 The Chest Pains bring '80s alternative and more to the stage at BJ's Saturday.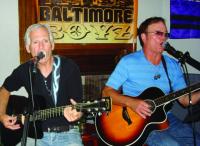 The Baltimore Boyz will play Saturday at Bourbon St. on the Beach.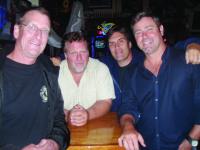 Randy Lee Ashcraft & the Salt Water Cowboys will perform Saturday at Barn 34.
Hear the smooth voice of Dave Sherman Friday at Bourbon St. on the Beach.
Hey, guys. Sounds like different date, same stuff. The wind is howllng at my window just as it was the last time I was writing; but it's ok as long as there's sunshine. We sure had a great night of music last night (Wed.) at Bourbon St. on the Beach. Michael Smith was there for his gig at 6 pm - new time now; then Open Mic begins about 9 pm. I have to say more about Michael here. I am constantly amazed at how many songs he knows, remembering all the lyrics from hundreds of songs as if he'd just sung it yesterday. I suppose his many years entertaining on cruise ships honed this skill as audience requests would be challenging. Most of us have a hard time remembering what we had for lunch yesterday. Of course, that talent is just the icing on the cake for what is the true substance of Michael Smith: he is an accomplished musician. His fingers move nimbly across the ivories of his keyboard as well as they do on the frets of his guitar - and in any genre. He can play something acoustic and beautiful or ramp up into overdrive and shred on electric guitar. The choices of music are just endless with him as he sings along to any tune you can request. When his Reform School partner, Jay Stinemire, joins him on drums or congas, there's the added bonus of another great voice. In fact, I would venture to say that Jay has the best voice around as he travels up the scale sliding seamlessly into a strong falsetto voice. I love his ballads and superb harmonies with Mike. It is certainly a pleasure to hear them and to occasionally join in, as we did last night. You can hear Mike at Ky West tonight and there's a good chance that Jay will stop in too. Hope to see you there; and Mike will be back at Bourbon St. on Wed., May 4.
Did I just say MAY?! Here we go; time is flying by now that Spring is here. I just received the May lineup from BJ's and it's packed with great acts. We heard 2 Guyz & a Mama last night (Wed.); they'll be back Wed., May 18. This trio, Dave Sherman, Chris Button & Joe Mama, are among our finest musicians in Ocean City - and that's saying something as there are so many good players. Joe & Dave showed up at Bourbon St. after their gig and played some more with their fellow musician friends. It's what we love about our town, right? The musicians love nothing better than to get together and jam - so friendly and all so talented.
Hey, were you at BJ's for the annual Relay for Life Cancer Benefit? A great time was had by all with Teenage Rust & the Fabulous Rustettes on stage delivering their repertoire of solid dance tunes that kept us all dancing and smiling. Lovely keyboardist Crystal with the lovely voice just keeps getting better and better. Like fine wine, some things do get better with age. (No offense meant, Crystal, but we are getting older.) There's a strength and power that just resonates. Of course she is getting lots of practice with her group Thin Ice and the praise team at her church. Praise God for your voice and spirit. Again, no offense meant to the other wonderful players in the group, I just had to single out Crystal this time - one talented gal (she plays guitar with Thin Ice).
BJ's has an excellent lineup for us these next two weeks. You can check for yourself at Who's Where When. Monkee Paw leads off on Friday with Adam, Mike & Rick playing great classic rock. Adam can certainly shred and has an excellent voice, too. He sang some Elvis tunes for us last night at Bourbon St. - baby.
The Chest Pains are on tap for Saturday night, always a huge turnout for the great alternative rock of the '80s with extra surprises thrown in. Another great voice fronts this group - Byron Anthony. Byron has a rock voice that just has to be heard. Prayers and best wishes go out to bassist Jeff Davis who is fighting pneumonia but expects to be well soon. Hang in there, Jeff.
A rock voice of a different color will be on stage Wednesday - that of Rod Stewart. You might even think it's the real Rod as Tommy Edward impersonates him perfectly - voice, look, dance. But he even excels Sir Rod in that he plays sax and mandolin live along with the tracks he recorded on which he plays every instrument himself. Incredible!
Next week you'll hear Dust N Bones on Friday, a bunch of bona fide rockers, Tear The Roof Off on Saturday for you blues lovers, and Old School on Wednesday bringing the fun along with your favorite classic tunes. Another great voice, Linda Sears, soars on "Into The Mystic" or rocks powerful on "Superstition." Perfect pitch and a bundle of energy and love; that's Linda. I know you'll join me at BJ's for all this spectacular music and while you're there, enjoy the delicious food. Wednesday's stuffed flounder is awesome. Check out the 1/2 price dinners while the specials are still on.
Back to Bourbon St. where the weekend opener will be Dave Sherman on Friday. Since I've been focusing on great voices, let me say that Dave is right up there with the finest. I call his voice mellifluous and satiny - beautiful. He'll laugh at this, I'm sure, but he has worked hard at training his voice and stretching his range just as he has with his guitar playing. Certainly he's able to keep up with sometime partner Chris Button and that's saying something. You can hear them together on Thursdays. Saturday come party with the Baltimore Boyz: Jay Vizzini and Randy Jamz. Always a party with these guys. Next Wednesday we'll party again with Walt Farozic on tap for 6 pm and sliding into Open Mic after. Next Friday, April 29, Jack Worthington will entertain us. I love Jack's voice, too. There's a husky, sultry quality to his singing as he accompanies himself on guitar. If you haven't heard him yet, this is your chance to catch his whole show and not just a few numbers at Open Mic.
Have you checked out the music scene upstairs at Barn 34 yet? This Saturday would be a good time as Randy Lee Ashcraft & The Salt Water Cowboys stop in to perform. Talk about good voices - Randy's rich baritone is so expressive, heartfelt and beautiful particularly on beautiful ballads. But he can get raucous on rockin' tunes such as one of our new favorites: "Boogie Woogie Choo Choo Train." Such fun. Have you put Pandora on your computer yet with Randy Lee Ashcraft. It's so cool - just plug in his name and then every four or five songs, one of his originals will come up. I promise you, it's a great listening experience. I bet most of you don't know how many great songs he's written and recorded. Now you can have him singing to you all the time at the click of a button. Too cool!
Before I go I have to say that I am stunned and saddened at the death of Prince. He had such vitality it's hard to imagine that he's gone. "Purple Rain," both the song and movie, are perennial favorites of mine and so many others, I know. He has had an incredible impact on the music scene in so many ways. Look for Stone to write about him in next up Sonic Notes. Farewell, Prince.
Well, time to go. Hope you all have a wonderful two weeks; starting Friday, May 6, I'll be 'talking' to you every week.
Have fun and party safe!
«Go back to the previous page.