Beach Barrels present Monkee Paw duo Saturday.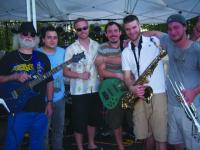 Dance to the music of Over Time Friday at BJ's.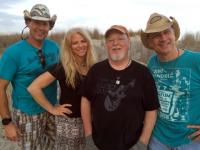 Coconuts Beach Bar & Grill will feature Lauren Glick & the Mood Swingers Sunday.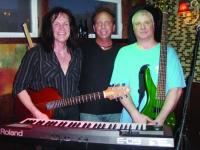 2 Guyz & a Mama will perform Wednesday at BJ's.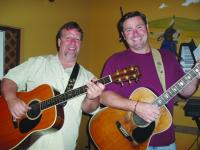 Randy Lee Ashcraft & Jimmy Rowbottom will perform at Bourbon St. Saturday.
Jack Worthington will play Friday at Bourbon St. on the Beach.
Coconuts Beach Bar & Grill presents Funk Shué Saturday.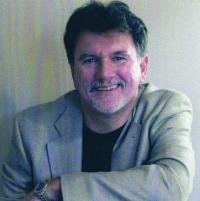 Michael Smith plays Wednesday at Bourbon St.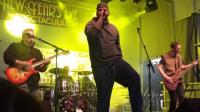 Heads Up will rock the house Friday-Saturday at the Purple Moose.
Dave Sherman will perform Saturday at Harpoon Hanna's.
Hey, folks. Hope you're all staying dry with all this rain we've been having. Is there any end in sight? One of my favorite places on the planet is open now with lively entertainment every day and I want to get out to enjoy it. I'm speaking of Coconuts Beach Bar & Grill, of course. I did see two acts last week: Monkee Paw on opening day and Old School for the first Sunday party. It takes a lot to keep us from partying, right? The lineup this week is awesome as well and I sure hope to see everyone: starting with the Aaron Howell Trio today and Funk Shué on Saturday. I heard Funk Shué Tuesday at Harborside and was impressed anew at the superb musicality and song selection; heck, even the tambourine is expertly played by vocalist Caileen Ryan. A description as taken from their website: "We have a diverse show and never limit ourselves to one genre of music. From soul to rock n roll to blues to instrumental jazz, we have a large bag of music with something in it for everyone." Sam (Goodman, drums) lays down the beat while Dan (Reed, bass) and Jordan (Kellagher, guitar) play with a skill and symbiosis that is remarkable. It is as if they feel and play the music as one - perhaps this is the meaning of Funk-Shué. In any case, it's a pleasure to hear them. You'll love Caileen's warm vocal tones, being so rich in the lower register yet able to soar to higher realms. Come on out to Coconuts Saturday and you'll hear what I'm talking about - and you'll love them too.
Sunday's party will feature the first performance of the season from Lauren Glick & the Mood Swingers. It's been a long winter and I'm really looking forward to hearing the whole group again. Mike Armstrong is going strong on guitar/vocals with Ted Galinas on bass and Mike Beavan on drums (we've heard him recently with his own band 33 RPM). Add the incomparable vocals of Lauren Glick and you have one of the best bands ever - anywhere. I have had the pleasure of hearing Lauren several times over the winter, partnering with Mike or with Melissa Alesi and I can tell you, she just keeps getting better and better, if that's even possible. There's a certain timbre to her voice that has become warmer and richer. Is it life experience, maturity or just singing often? Who can say. I know that I was touched by her originals heard recently when partnering with Melissa, who also has a great collection of originals. Cudos to Lauren as well for instructing and mentoring so many young people in her classes. Ocean City's talent will increase ten-fold because of her.
Check the Who's Where When list for a complete run-down and get out there and party. Remember to sign up for Tipsy Turtle Tuesday and maybe you will be the one to win the vacation to Green Turtle Cay in the Bahamas at the end of the season. Yep, I'm trying again.
My good buddies Randy Lee Ashcraft & Jimmy Rowbottom will perform at Bourbon St. on the Beach this Saturday. I imagine a few friends will join them along the way as they usually do. Did you know that you can access Randy Lee's original music on Pandora? Just plug in his name in the search and it will play his tunes for you. Check this out: under Similar Artists that will pop up for you are Garth Brooks, George Strait, Jimmy Buffett, Pure Prairie League and Alan Jackson. Now that's pretty cool. Love his music. And let's talk about what Jimmy Rowbottom has been up to. He has just finished a CD of classical instrumentals that is just awesome. Man, can this guy play guitar. Some pieces that seem so intricate he says, "oh, that one was easy." Yeah, right. Anyway, with a play on words, he has called the CD Rowmantic Guitar II I've Got Your Bach (and Other Greats). I've heard it and it's great. He'll have copies for sale at Saturday's gig at Bourbon St. Saturday afternoon will be a party with the Baltimore Boyz and Wednesday's Open Mic is still a blast; this week preceeded by Mike Smith at 6pm.
What else is happening for Michael Smith this week? Tomorrow, Saturday, he will be at the VFW in Ocean View with It's About Time. I hear this is a very cool venue located on the water. I've got to check it out some time. Mike and Jay Stinemire (drums) did a fabulous job Wednesday at BJ's as Reform School. Thank you to Mike for always asking me to come up and sing a few. I think he's trying to get me into shape for our Tuesday gigs at Adolfo's starting June 14. Yes, I'm excited. Michale and I are going to team up again. So many of you have asked when I'm going to begin singing again; so here we go. I hope you'll all come out to hear us. More at a later date.
Let's see what else is happening at BJ's. Thin Ice was absolutely, positively awesome last week - definitely a hard act to follow for Over Time on Friday and Dust n Bones on Saturday; but I know both bands are up to the challenge. I keep saying that 2 Guyz & a Mama will not be playing together much longer, but apparently they have worked out a schedule to keep it up, for now anyway. Joe Mama, Dave Sherman & Chris Button, the two guys and the mama, will play Wednesday. This is always a rockin' happy hour of music. Week-day dinner specials are still on. Hurry in for dinner before the season changes. Love that Stuffed Flounder on Wednesdays.
I want to welcome Beach Barrels, 133rd St. & Coastal Hwy., also home of Primo Hoagies. With the addition of a large bar last year, management decided to add entertainment and it has grown by leaps and bounds to now include some of the finest players on the shore. Phil & Barry play today and I must confess I don't know this duo. Tomorow they feature the Monkee Paw duo - that's Adam & Mike. Again check the Who's Where When for your complete listing, and remember you can check the arrow, top right, to view upcoming weeks.
Want to really rock out? Then the Purple Moose is the place to be. Last week's band, Phoenix Rising, is one of the best in the region and I was happy to get their picture which you can find in Fun Fotos. This week let's rock out with Heads Up, another excellent band that has played at the region's top venues; including playing for the Ravens games, including Superbowl year. George, Billy, Devin & Dave promise to play the music you want to hear with lots of energy and crowd interaction. Heads Up will rock it.
I think I've said enough for this week. Maybe I can get to Coconuts to hear Kevin Poole & Joe Mama now that I have my 'work' done. Hope to see you all out having a good time somewhere around town and remember to always party safe!


«Go back to the previous page.