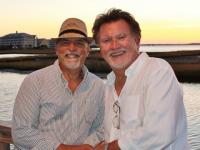 Michael Smith & Jay, Reform School, will play at the Hilton Pool Bar Sunday.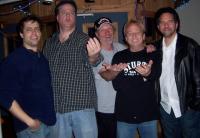 Beach Barrels presents Troy Hanna & Company Saturday.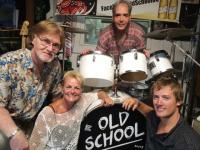 Old School returns to rock BJ's Wednesday.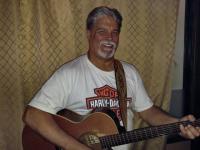 Jack Worthington performs Friday at Bourbon St. and Saturday w/ T. Lutz at The Reel Inn.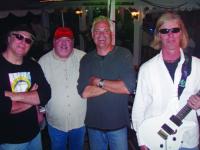 Legendary Tranzfusion will perform Friday at BJ's.
Check out Tear The Roof Off Sunday at BJ's.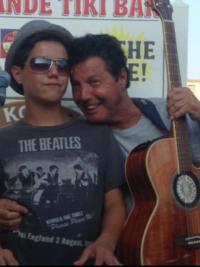 Rick & Lennon LaRicci perform Sunday at the Rio Grande Tiki Bar.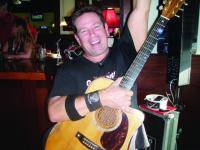 Coconuts Beach Bar & Grill welcomes back John LaMere Friday.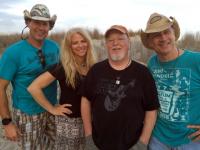 Lauren Glick & The Mood Swingers will perform Sunday at Coconuts.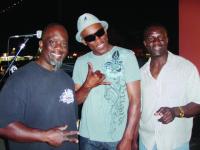 The Zion Reggae Band will perform Saturday at Coconuts Beach Bar & Grill.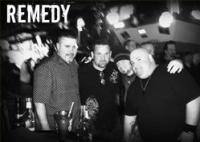 Remedy will rock the house Friday-Saturday at the Purple Moose.
Stop in Bourbon St. Friday afternoon for Randy Lee Ashcraft & Jimmy Rowbottom.
Hello, out there. Are you happy now? Warmer weather has come on with a vengeance. I tried to deal with just open windows but the A/C came on today, folks. Yes, I'm going to be one of those strange beach citizens who whines about the heat. Give me a nice breeze and I'm good to go. That's what it was like at Coconuts last time there - so pleasant. I'm looking forward to more of that this weekend and also the return of John LaMere. He was ours (by way of Long Island) before Key West got him but now I think he prefers it down there. Let's see if he's added anything new to his show after months of playing to the party people of America's southernmost island (yes, that's a challenge, John).
Kevin Poole (the rain has kept me from seeing ) has also been back from Key West for a few weeks now and will be playing with Joe Mama on Saturday for the early set, noon, at Coconuts followed by our local reggae kings Zion Reggae Band. I had the pleasure of hearing/seeing Chino sit in with Kaleb Brown & Tuff Lion at a gig Tuesday at Coconuts (cool Sailor Jerry promotion). They did an awesome job. Anyway, I know you will groove to the mellow sounds of Zion. Sunday brings the Aaron Howell trio to the Coconuts stage followed by the incomparable Lauren Glick and The Mood Swingers. Reports say that guitarist Mike Armstrong is fine now and will be onboard for the show. I could go on to fill the whole column with who's at Coconuts; suffice it to say there are two shows each day, all fantastic artists. Please check your Who's Where When list for all the details. Did you know they're offering a breakfast buffet that is open to the public. That's right - the downstairs Castle in the Sand restaurant has a fabulous buffet of everything you can imagine. Check their ad to see more.
Hey, you know how BJ's promotions always say "still the same"? Well, something has changed, my friends. Check out the new colorful digital sign out front. Yep, keeping up with the times and all the other glitzy signs along Coastal Hwy. What's still the same? The incredible talent that performs from the BJ's stage every Wednesday, Friday and Saturday. By the way, I'm campaigning to add another night to the lineup. What do you think? As the two best examples of my statement I give you Full Circle last weekend and Tranzfusion playing tonight, Friday. Yep, only the finest for BJ's. Saturday brings a band I heard awhile back elsewhere, Film At Eleven. As I recall, they are very good so let's give them a BJ's welcome and party on the dance floor. A special night for the holiday weekend has been added with Tear The Roof Off on Sunday. Word has it that Vince McCool on trumpet will be joining Vince Daddio (guitar) & the guys for a night of rockin' blues sounds. Check it out. Lastly for BJ's, I'm hoping it will not be the last Wednesday Deckless Deck Party 'til Fall but it may be. Come out and party with Linda, Taylor, Erve & Ernie of Old School on Wednesday.
Now that the rain has cleared (and my cold), I can't wait to get to the Purple Moose to hear some rock n' roll. This weekend we'll dance to the music of Remedy. Covering music by artists from AC/DC to ZZ Top and tons in between, Remedy will play all your favorites. Say hi to Joel (lead vocals), Glenn (guitar/vocals), John (drums) and Steve (bass/vocals) and party with the great bartenders, Bobby, John, Bryan, etc., at the Purple Moose. For this holiday weekend, the Moose will bring on local favorites Fuzzbox Piranha on Sunday and Monday nights. And you can party all afternoon, Friday-Sunday with CK the DJ/VJ. It won't be long 'til the first of the Thursday night tribute bands begin at the Purple Moose: first one is Thur., June 16, the Idol Kings paying tribute to both Journey & John Mellencamp - and they are both excellent. That weekend, June 17-18, Surreal will return - a must see. The best around in classic rock.
Bourbon St. at the Beach kicks off the holiday weekend with the oh-so pleasing music of Randy Lee Ashcraft & Jimmy Rowbottom on Friday at 4pm followed by Jack Worthington at 7. (By the way, Jack's show with Mickey on harp and Donny on lead guitar last week at Beach Barrels was really good.) Be sure to visit on Saturday to hear Sandra Dean. I missed her last time but heard good reports so let's check her out. Wednesday's Open Mic night was visited by Troy Hanna this week with his friend Django Porter from Texas. He impressed us with his rapid fire ripple of notes, sounding somewhat like classical Spanish guitar as his fingers flew over the frets. A most distinctive sound.
We can hear Django play with Troy Hanna & Company tonight at Johnny's Pizza, Saturday afternoon at Beach Barrels and Saturday night at Whiskers in the Pines. I'm heading up to Beach Barrels to hear them tonight. I understand several of the players were bandmates with Troy as they toured with Willie Nelson. Should be some fine playing.
Rick & Lennon LaRicci are in action this weekend playing Saturday at the Bethany Boathouse and Sunday at the Rio Grande Tiki Bar. This is where I first heard this father/son team when Lennon was very young - he's 15 now; and he has become quite the accomplished keyboardist while also singing; some harp playing too. I've witnessed him sitting in with various artists in the area and he always knows just how to complement any song whether on a country honky tonk style piano or styishly on Billy Joel tunes. He's absolutely incredible as a musician of any age. Go, Lennon!
Longboard Cafe is back in the groove with live music and Joe Mama's first Sunday was great with Joe Smooth on sax & John Remy on guitar. By the way, these two gentlemen will now inhabit the Wednesday slot for the summer while Chris Button comes back to play on Tuesdays. This Sunday Joe Mama welcomes Dave Sherman has his partner. You can also hear Dave play at Harpoon Hannas on Saturday and the Carousel Patio Bar every Sunday afternoon. It was a pleasure to hear him last week with Joe & Chris as 2 Guyz & a Mama for their last performance til Fall at BJ's. He's a great player and singer with a wealth of musical knowledge.
Someone else who is incredibly talented is my friend Mike Smith who will be busy this weekend playing with Rita as Pearl at the Carousel on Saturday and at the Hilton Pool Bar with Jay as Reform School. Then he will play at Bourbon St. on Wednesday before the Open Mic. And .... drum roll ... I want to officially announce our revived partnership as a musical duo. That's right Mike and I will be playing every Tuesday at Adolfo's beginning June 14, 7-10pm. We're very excited to be playing in Adolfo's lovely piano lounge and we've been rehearsing and adding some new music for you. I hope you'll join us.
That's it for now; the sun's going down and I want to get out and hear some music. Y'all have fun, now, and remember to always party safe!
«Go back to the previous page.