Beach Barrels presents Taylor Knox Friday.
The Tommy Edward Band will perform Saturday at BJ's.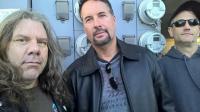 Rock out with 33 RPM Saturday at Bourbon St. on the Beach.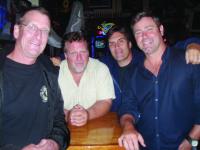 Randy Lee Ashcraft & The Salt Water Cowboys will play Saturday at Johnny's.
Check out Rick & Lennon La Ricci Wednesday at BJ's.
Michael Smith will play Wednesday at Bourbon St. on the Beach.
Coconuts Beach Bar & Grill presents Copper Sky Sunday.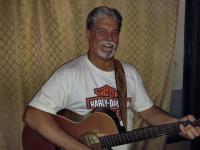 Jack Worthington will perform w/ T. Lutz Saturday at The Angler.
Hi, all. Ok, so this is when the summer begins to fly by; yep, 'cause it's June already. Maybe it seems to go faster to me because I print the whole month's entertainment list (use the right arrow at top of list) so I see it going by quickly. Anyway, that's just a reminder to make the most of every day, right? But can't 'making the most of it' just be relaxing and reading a good book? I think so. But mostly I equate it with hearing some good music. Now we can make that music ourselves as Linda points out in her Just Sayin' feature - read it; very uplifting. I've done some singing today. Michael Smith and I rehearsed for our upcoming gig at Adolfo's. That's right, friends and neighbors, and hopefully fans - Mike and I are teaming up to bring you some music every Tuesday beginning June 14th. My repertoire is quite varied but I tend to focus on some of our finest female talents such as Carole King, Joni Mitchell, Linda Ronstadt, Adele, Carly Simon, Tina Turner, Stevie Nicks, etc. I hope you will join us at Adolfo's in the Phillips Beach Plaza Hotel, 13th on the Boards, Tuesday, June 14. Come sing with me!
Yes, I'm a singin' fool, just like Linda. My very dear old friend from junior high school days, a different Linda, ironically, just sent me a newspaper clipping of she and I and a group of girls rehearsing for "Madame Butterfly." Maybe I'll post it next week. Anyway, like both of my Linda friends, I've been singing since before I could talk. Sure wish I could memorize lyrics as well as I could when it was "Mary Had a Little Lamb." Oh well, lots of sludge in the ol' grey matter, I guess. The point is, sing, my friends, whether or not you think you can - and don't let anybody put you down. You just sing it out loud - so good for your spirit. Boy, am I rambling along here. Just thinking of life's cycles ever turning, I guess - seeing that picture of high school Brenda and watching my granddaughter Haley graduating from high school last night. So many beautiful and bright young souls on that stage last night - it just gave me a feeling of hope for the future as I wish all the best for them.
Ok, I'm still rambling you say? So, I'll get down to it - a little review and preview. BJ's was off the hook all weekend with Tranzfusion on Friday - amazing, as always - and Film at Eleven on Saturday. I predict we'll be hearing this band again. Randy Feldman played guitar and did most of the singing but Alan on sax also sang his share with three different women contributing their vocals during the night. Randy told me that their regular gal, Erin, was out sick, so they brought along several talented ladies to fill out the sound. While they played covers like most of the bands we hear, they did a lot of different songs I hadn't heard which made it quite interesting. Bottom line - big full sound with keyboard, lead & rhythm guitars, bass, drums & horns - they sounded great and I look forward to hearing them again.
Tear The Roof Off came in on Sunday night and blessed the dancing folks with some groovy blues tunes with the added bonus this time of having Vince McCool on trumpet. Terry Pinnix sat in on harp, too. Josh Kahn provided the heartbeat on drums while Vince Stoudmire laid down the bass line and Myles McCool tickled the ivories. Vince Daddio does the singing while playing lead guitar on wonderful blues classics. Thanks for keepin' it alive, Vince.
This weekend BJ's will feature Monkee Paw on Friday and Tommy Edward Band on Saturday. That's right, folks, the highly anticipated full band with Tommy (Sir Rod) Edward and featuring Melissa Rose on keyboard, sax and vocals with her husband Harry on drums. Be prepared to be blown away. And, yay!, Wednesdays are not suspended yet - Rick & Lennon La Ricci will perform on Wed., June 8. Rick La Ricci has been on the music scene for many years, his specialty being all things Beatles. Enter his son Lennon (yes, named after John Lennon) who began playing in public at age 8 (I think). He's 15 now and an absolute sensation. His fingers fly over the keyboard with amazing precision ... and, he sings and has begun to play guitar. The sky's the limit for this young man.
Let's check out Bourbon St. on the Beach. Dave Sherman returns to his Friday night slot. His summer schedule prevents him from joining Chris Button on Thursdays, now, but we can hear him solo Friday. Saturday, get ready to rock with 33 RPM. Yep, come see Mike Beavan playing drums and singing, playing guitar and singing, playing keyboards and singing ... yes, he's amazing. Rock (real name Andrew Frank) is a crazy man on the bass and while Larry Biegel seems to be the only sane one, he's crazy on lead guitar. Together they put on a staggering rock show you don't want to miss.
Come back to Bourbon St. on Sunday where you can hear Just Jay. Read all about Jay Graboski in this coconuttimes.com feature Meet The Artist by Barbara Borys. Wednesday will bring Walt Farozic playing guitar and singing many of your favorite tunes before he leads us into Open Mic and jams with other area musicians. It's always a great time at Bourbon St. on the Beach.
Have you been taking advantage of these last sunny days for music at Coconuts? Hope so. And let's hope this latest band of rain clouds passes us by quickly 'cause I want to hear Rick & Regina Saturday; and Sunday music from Homemade Hooch (that's Eric Bomhardt) at noon and Copper Sky at 4. Copper Sky is Heather & Dave, both singing and playing guitars, oh so well. Heather has one of the best voice I've heard - such a sweet sound but she can get rockin' raunchy too. Come on out and hear them. Great show. Check out the Coconuts lineup in Who's Where When 'cause there are two acts each and every day. Hey, if you haven't heard Lauren Glick teamed up with Melissa Alesi yet, now's your chance. They will play the Coconuts stage Thursday in the noon slot.
How many of my readers like to visit the Casino at Ocean Downs? Did you know that there's more to do than play the slots? Well, there's more, of course, but I'm referring to the music ... imagine that. Yes, the Casino has a stage at the bar area and they present such acts as Everett Spells on sax, Tear The Roof Off, Aaron Howell, Monkee Paw and Sol Knoph. Check the Casino ad in this coconuttimes.com to learn about the special event they have planned for Saturday, June 18. It's called a "Salute to Our Armed Forces" and will feature a live concert with The Stickers who will perform their hit song, "Countrified." Also thrill to the Thunderbirds, Sky-Divers, fireworks and so much more. Like I said, just click on the Casino button on the home page and check out their ad.
I really enjoyed the music of Remedy last week at the Purple Moose. That place (on the Boardwalk) just has such an ambience/atmosphere that screams rock n' roll. Well, I guess 'cause it's the 'home of rock n' roll.' Ok, that explains it. Seriously, come see what I'm talking about when Slamm hits the stage Friday and Saturday nights. Slamm - you've been rocked! Almost time for Thursday tribute nights - coming up the 16th with Idol Kings. This group impersonates both Journey and Mellencamp for two great shows. Looking forward to that.
What's happening at OC's newest music hotspot Beach Barrels? First on Friday, the awesome guitar licks of Taylor Knox; then the inimitable Nate Clendenen on Saturday. I could listen to him for hours, as I did last week at his Bob Dylan birthday tribute show at Fager's. Well, I would have listened for hours but he had other people singing, too; all good, of course. Anyway, Nate has such a low, rich voice; like rubbing a piece of satin cloth or feeling some good whiskey goin' down smooth. I don't know how to describe it and I know he will be mighty embarassed when someone reads this to him. For all his talent, he is most humble.
Music is back at Longboard Cafe and it's been great so far. Owner Rick has lined up Chris Button for Tuesdays and Joe Smoth & John Remy for Wednesdays - three of the best musicians in town. Percussionist to the stars, Joe Mama welcomes Anthony Carmen as his guest performer this Sunday. You're gonna love Anthony - and check out the food, too.
I want to say how good it is to hear Mickey Michaeljohn playing harp again and that you can hear him with Jack Worthington & T. Lutz on Friday at the Pit n' Pub. Maybe with them on Saturday at The Angler, too. Mickey, you're the best!
I really need to close out now and get this to my web gal so you can read it tomorrow. See you all around town on the music scene. Party safe!
«Go back to the previous page.