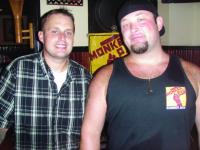 Beach Barrels presents Monkee Paw Friday.
Thin Ice will perform Saturday at BJ's.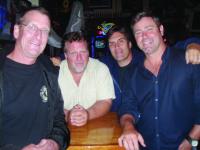 Randy Lee Ashcraft & The Salt Water Cowboys will play Saturday at Bourbon St.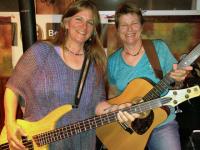 BJ's presents a special performance of BettenRoo Thursday.
Michael Smith will play Wednesday at Bourbon St. on the Beach.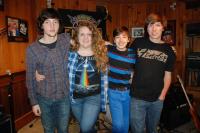 Coconuts Beach Bar & Grill presents Parental Guidance Saturday.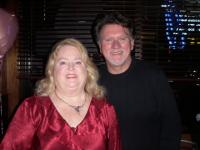 Michael Smith will appear w/ Brenda Golden Tuesday at Adolfo's.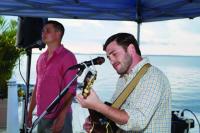 The Time Police will play Friday at Longboard Cafe.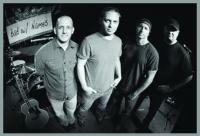 Bad w/ Names will rock the house Friday-Saturday at the Purple Moose.
Rick & Lennon La Ricci will play Saturday at Johnny's Pizza Pub.
Hi, gang. What a glorious day and yet here I am sitting at my computer to 'talk' to you. As much as I love my 'chats,' I'm going to try and keep it short so I can get out to hear some music while the sun shines. Maybe I'll go to Coconuts where Lauren & Melissa are playing; or maybe I won't get there until Chris Diller is onstage. Or I could head up to Bourbon St. to hear Chris Button. But I know I'm going to visit BJ's. There's a special performance tonight of Bettenroo. They will return next Thursday so I'm going to tell you a bit about this talented duo. They played at BJ's a few weeks ago and we all loved them so; thank you to Billy Carder for bringing them back. Bettenroo is a duo from Rehoboth who are Anne on bass and Lori on guitar - yes, a female duo. We have a few of them around here so I know you all appreciate our fine female vocalists - cue Lauren Glick & Melissa Alesi and Kathy Denk & Michelle Schachter. So some details: Anne has a beautiful and versatile voice singing anything and everything, possessing a great vocal range. And Lori does far more than play guitar and sing: she also plays harmonica and if you see her seated, it's because she is playing electronic snare and bass drums with her feet. Amazing! That kind of coordination reminds me of Joe Mama. The girls have some originals out and a CD due out this summer. They also play in a band called Tangled Web with two guys from Pa. A sample of the songs we heard from them: "Help Me," "Last Dance," "Jumpin' Jack Flash," "Suddenly I See," "White Rabbit," "Keep on Rockin' in the Free World," "Rollin' in the Deep," "Hurt So Good," "Xs and Os," "Talk To Me Baby/Cake by the Ocean," "Isn't It Ironic;" songs by Prince, The Indigo Girls and many more. Let's give them a big BJ's welcome.
Got to get in a little plug for myself and my talented partner Michael Smith; yes, he has taken on another musical project with me. We will be playing Tuesdays at Adolfo's from 7-10pm. I hope you will come out to join us. Some familiar faces would be good to calm my first night jitters. I'll be singing songs done by artists such as Joni Mitchell, Carole King, Stevie Nicks, Bonnie Raitt, Patsy Cline and Carly Simon with a few newer ones from Adele and our favorites: "Angel From Montgomery," "Desperado" and "Love Me Like A Man" plus the timeless "Over The Rainbow." Michael has his plate full now for sure. He plays with Jay Stinemire as Reform School - an awesome duo. He has another duo with Rita Conastabile called Pearl - they play every Saturday at The Carousel. And ... he plays lead guitar with the band It's About Time; plus a few solo gigs. Like I said, busy man. I'm really excited about getting back into singing. Please pray for me that I don't get any respiratory problems. Hope to see you all there Tuesday.
Longboard Café has a featured Friday duo tonight: it's Time Police. I haven't heard them in awhile but I can tell you that this duo's vocal performance is outstanding. Myles Pennington plays guitar while Aaron Chamberlain provides vocal percussion. What?! Yes, he makes percussion sounds with his voice. And yes, he sings as well. Certainly worth a visit to hear them. Who's with Joe Mama for his summer series on Sunday night? It's Mike & Adam of Monkee Paw. We heard the whole band last weekend at BJ's and they were awesome. In fact, Joe Mama has been sitting in on drums with the band, so this is a natural fit for "Sundays w/ Joe." And remember that Tuesdays are Chris Button and Wednesdays are Smooth & Remy. Great music and great food at Longboard Cafe.
By the way, Monkee Paw will be playing tonight (Friday) at OC's newest music hot spot, Beach Barrels. Check out Chris Button on Saturday, too. This is a great spot to get away from the tourist crowds, have a great hoagie (Primo Hoagies is right there) and hear some great music, too.
I could get started earlier at Bourbon St. and have fun with the Randy Lee & Jimmy family of fans at 4pm. And maybe even stay on to hear Jack Worthington. He was great last night at Bourbon St.'s Open Mic with the incomparable Mickey Meiklejohn on harmonica. His playing is so beautiful; from the soul. He'll be sitting in with Jack often and also with Randy Lee Ashcraft. Speaking of Randy Lee, he and the Salt Water Cowboys will be back at Bourbon St. on Saturday night.
Where will I go next? If you know me, then you'll know that I try to never miss a performance by the incomparable and amazing Tranzfusion who will play at BJ's tonight. I've said it often and I'll say it once more: hearing them is like going to a couple dozen mini concerts - all your favorite groups' songs done exactly like the originals ... I mean exactly! So you could call it a tribute concert to the greats!
Which reminds me that the Purple Moose begins their Thursday Tribute this coming Thursday with the Idol Kings. Now these guys cover two of our favorite groups: Journey & Mellencamp, and they do it well. The Purple Moose is where I often end my nights because it is near to home and the bands play later there. This weekend it's Bad W/Names, a rollicking rock band for sure. You can always count on the Purple Moose to present only the best in rock bands in our region.
I digressed a bit there, because I want to mention that Thin Ice will be at BJ's on Saturday. This band has garnered my praises as the most - what? Well, I hesitate to say improved because that implies that they weren't good before, and that's not true. Maybe I could say they have climbed the ladder to join my Top 5 bands - and don't ask me who they are. I just want to get it across that the players are loaded with talent, the song selections are varied with many including trumpet or sax, and they have become one of the most popular with the audiences at BJ's. That's true, right? We love them!
Hey, gotta mention that Rick & Lennon La Ricci, with Chuck on drums, did a great job at BJ's Wednesday. I've written about keyboardist Lennon many times but let me repeat that at 15, Lennon is a remarkable artist who sings, plays harmonica and also guitar. Dad Rick plays guitar with the group (or duo) and always has a big smile on his face as he's so proud and in awe of his talented son; as well he should be.
Okay, so I managed to ramble on as usual but I've got to go, friends. Have a great weekend and remember to party safe!
«Go back to the previous page.