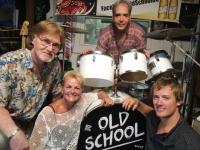 Old School will play Sunday at Coconuts Beach Bar & Grill.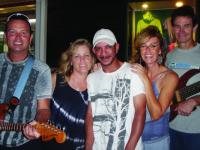 Full Circle will perform Friday at BJ's.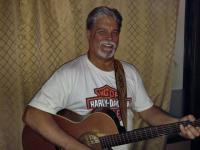 Bourbon St. on the Beach presents Jack Worthington Friday.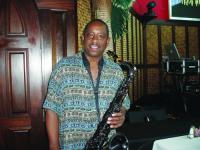 The Casino at Ocean Downs presents Everett Spells Saturday.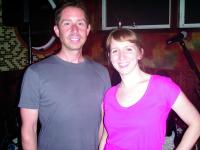 Ginger duo will perform with Joe Mama Sunday at Longboard Cafe.
Poole & The Gang will play Saturday at Coconuts.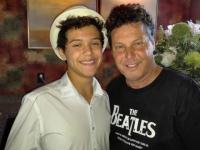 Rick & Lennon La Ricci will perform Saturday at the Rio Grande Tiki Bar.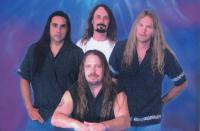 Surreal rocks the Purple Moose Friday-Saturday.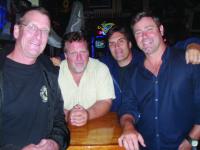 Randy Lee Ashcraft & the Salt Water Cowboys will play Saturday at Bourbon St.
Michael Smith performs Sunday at Dunes Manor deck.
Hi, guys. Boy, am I stoked. Just got home from the Purple Moose (2am), my ears are ringing and I don't mind; it was a fabulous concert by those bad-ass chicks of Judas Priestess. Even if you don't like heavy metal (of which I am not a huge fan), you can't help but get into the metal groove with the show these gals put on. Two lead guitars, Lena & JoSette, Gyda on bass and one of the most amazing drummers anywhere, bar none, Hillary Blaze. With these superb women musicians to back her, the group has to have a dynamo lead singer and they most certainly do in the person of  Militia. This woman has a voice that is ferociously powerful and an attitude and stage presence to match. I will have several pictures for next week's edition and you'll see that these bad girls are all in black leather and chains and they can't help themselves from doing some headbanging as they get into the music just as much as we do. I could write so much more; such as the fact that Judas Priest front man Rob Halford has given his stamp of approval for this amazing tribute band, the only all female tribute to the Metal Gods in the world. You can learn a lot more about these talented women at judaspriestessband.com.
Check out who's coming back to the Purple Moose this weekend - another must-see group - Surreal. Both nights were great shows a few weeks ago and I'm looking forward to hearing them again. Nobody does long-hair rock any better than these guys; and I swear sometimes I think they're better than the originals. Certainly Walt has a voice that's second to none. Be sure you put the Purple Moose on your calendar for Friday and Saturday nights. More live music from the legendary home of rock n' roll: The Lava Game on Sunday and Monday; and Thursday's tribute band will be Shooting Star playing and paying tribute to Bad Company. Tuesdays and Wednesdays are a hot ticket, too, with music played by VJ Mazi. Best Bloody Marys on the shore and great music - you can't beat the Purple Moose.
I ventured out in the heat earlier today, too, to hear Lauren Glick & Melissa Alesi play at Coconuts at noon. Fortunately, there was a cool breeze coming off the ocean that kept us comfortable; but the music? These girls are hot. Great song selections, terrific originals, outstanding voices, and a beautiful blend. Really great duo. Melissa Alesi was scheduled to open for The Band Perry at the Freeman Stage last week, but the show was postponed til some time in August due to a security concern. I've heard no other news explaining this, but I know Melissa was so disappointed. I hope it goes off without a hitch next time.
I got a chance to hear Poole & The Gang last week and I want to remind you that they will be playing again this Saturday at 5pm. You won't find a more talented bunch of musicians than these guys. Headed up by Kevin Poole on guitar/harp, he is joined by the incomparable Joe Smooth on sax, John Remy on guitar, Ryan Mete on bass, and everyone's favorite drummer/percussionist Joe Mama. How many groups do you play with, Joe? Suffice it to say, he is a very busy man. Come out and hear them, folks .. they're great. Then come on back Sunday for the end-of-the weekend party with Old School. Everyone always has a blast when these guys crank it up. That's Linda on vocals, Erve on bass/vocals, Taylor Knox on guitar/vocals and Ernie Chaves on drums. High energy and lots of smiles when these guys put on their show. As always, be sure to check the complete listing in "Who's Where When" or go to Coconuts Beach Bar & Grill's ad.
Bourbon St. continues to be one of the hot spots for cool music. Yes, it's out of the way, but once you've found it, you'll come back again and again. It's a bit hidden behind the Fountainhead condos at 116th ocean side. Come hear the smooth sounds of Jack Worthington on Friday night. Maybe Mickey Meicklejohn will join him on harmonica. That would be an added bonus. They make a wonderful duo. In addition to playing every Friday at 4pm, Randy Lee Ashcraft & the Salt Water Cowboys will perform on Saturday night at Bourbon St. So much more; such as Taylor Knox on Sunday night, Charlie Zellers on Tuesday, Walt Farozic on Wednesday at 6pm and also hosting the Open Mic at 9pm. Thursday brings guitar wizard Chris Button. Yep, great music every day. Again, check the listing and Bourbon St. on the Beach's ad.
The 37th Annual Canoe Races went off without a hitch Wednesday. It rained everywhere else around the island, but happily not at BJ's. Check out their ad for this year's winners. BJ's staff is so proud that their team, "Captain Danger", took 2nd Place. The name going on the in-house trophy for 1st Place will be "Hold The Oars" Seacrets team. Congratulations! You guys rocked! Good job to the "Blu Crew", from Blu Restaurant, who won a close race for 3rd Place.
You'll see several photos of 33 RPM from Saturday night at BJ's in this week's Fun Fotos. This dynamic trio, Mike, Rock & Larry, just inspired me to try to capture their energy; but I know the pictures do not do them justice. I believe they'll be back next month, so make it a point to hear them. This weekend it's Full Circle on Friday. Did you see the video of Kathy & Michelle singing the National Anthem on the pier at Seacrets for 4th of July? Really cool! Kathy & Dave were Joe Mama's guests at Longboard last Sunday and they were great there as well. (Ginger, Mike & Nancy, return as Joe's guests this Sunday.) I'm hearing that bass man Jeff Davis is progressing rapidly in his recovery from heart valve repair and he's itching to play again. Meanwhile, Ted Galinas is doing a great job subbing for him as Jeff plays with the Chest Pains, too. They were awesome at Coconuts last week, by the way. Boy, I love my job!! Saturday will be that great dance band Over Time. Always great music at BJ's on the Water and never a cover.
You know what, my friends ... I told you it was 2am when I started my little 'chat' with you and it's now almost 4am; so I'm going to sign off and get a snack. Yeah, I'm a nightowl. Hope you all had a terrific 4th of July week and that you make it a point to get out and enjoy all the fabulous music around town, day and night. Remember, though, to always party safe and look out for each other. Ciao!
«Go back to the previous page.