Lauren Glick & The Mood Swingers will play Sunday at Coconuts Beach Bar & Grill.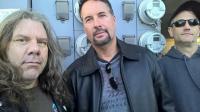 33 RPM will rock the house Saturday at BJ's.
Bourbon St. on the Beach presents Dave Sherman Friday.
The Casino at Ocean Downs presents Tear The Roof Off Sunday.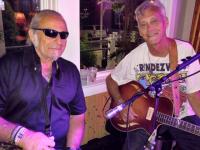 The Longboard Cafe features Smooth & Remy every Wednesday.
John LaMere performs every Friday at Coconuts; every Saturday at Dead Freddies.
BJ's presents Bettenroo Thursday.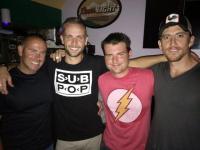 Whitehouse Effect rocks the Purple Moose Friday-Saturday.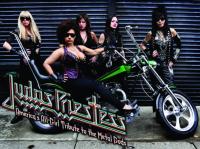 Judas Priestess returns to The Purple Moose Thursday.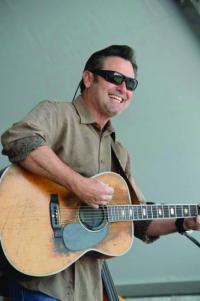 Listen to the sounds of Randy Lee Ashcraft at Castaways Jackspot Tiki Bar Saturday.
Monkee Paw will play Sunday at Bourbon St.
Hi, guys. Well, here we go ... July 4th weekend is really here and we're in full swing for the summer now. I hope you all have fun at the various celebrations featuring fireworks and music; visiting families will be flocking to the downtown show and Northside Park. Always a thrill.
I played hooky today and went to Coconuts Beach Bar & Grill instead of writing this column for you but here I am now, 1:50 am, the time of day I'm really awake. So what drew me away from work? Poole & The Gang! That's right, one of the best bands on the shore was playing at Coconuts and I just had to go hear them. What a great bunch of musicians and what a fabulous repertoire of music they play. Kevin Poole (guitar/harmonica/vocals) and Joe Mama (drums/percussion) often play as a duo here at Coconuts. Holding the bass line is Ryan Mete. Then we have the duo who play Wednesdays at Longboard Cafe, John Remy (guitar/vocals) and Joe Smooth Jacinto (sax/vocals). Put them all together for Poole & The Gang and you have one of our greatest. Every song is a hit with these guys; the crowd just loves them. They will be back at Coconuts on Saturday, July 9.
Then I came back south to hear the Billie Carlins Group play at Adolfo's on 13th St. at the Beach Plaza. Billie presents a program of music that you won't hear anywhere else and in her own distinctive soulfully bluesy style. Accompanied by hubby Leo Carlins on bass, Howard Wimbrow on guitar and Greg Schneider on drums, Billie takes you on a musical journey and I bet you won't see this anywhere else - castanets! Too cool. I had a wonderful dinner with friends and enjoyed the music and ambiance of this fabulous room. Come out to hear Michael Smith and I on Tuesdays at Adolfo's lounge. Michael loves playing the grand piano and I love singing for you all. He's so very versatile playing guitar as well while I sing some of your favorites, both old and new. Hope to see you there.
Back to Coconuts, my favorite outdoor venue, I want to tell you that Eric Bomhardt with Homemade Hooch will be singing this Saturday, following Rick & Regina at noon. Eric has been in several groups over the years. I've always told him with a voice like his, he must sing. Check 'em out. The incomparable Lauren Glick will be performing on Sunday with The Mood Swingers, another of our best of the best bands in OC. Mike Armstrong on guitar is one of the best in the business joined by Ted Galinas on bass and Mike Beaven on drums. As an aside here, Ted did a great job filling in for recovering Jeff Davis with The Chest Pains last week at BJ's. And Mike is very excited to have his own band, 33 RPM, performing Saturday at BJ's. More on that in a bit.
There are some new names on the list at Coconuts this year; several of whom I have not heard yet. I'm looking at Paige Stevenson on Tuesday at noon and Big Love on Wednesday at noon. If you know me, you know that I rarely go out at noon as I'm just waking, but I sure am curious to hear these two acts. Manager Jeff Hicks tells me that Big Love is a duo of steel drums and guitar featuring Chris Sacks and Steve Tove playing music described as Trop (tropical) Rock. Sounds perfect for this tropical dune-side patio at Coconuts. Oh, I see The Chest Pains will be at Coconuts on Wednesday at 5. Wow, so hard to see everything I want to but since there's no band at BJ's Wednesday, I can make it to Coconuts. Yay!!
Speaking of BJ's, yes, there have been a few changes. It's summer and in deference to its diners, BJ's has temporarily discontinued Wednesday parties. But ... they have added Thursday night at 8pm. This week will be the duo of Bettenroo, Anne Davey on bass and Lori Jacobs on guitar, harp and foot drums. These gals are super talented and definitely a new favorite at BJ's. Something new to do on Thursdays, friends. Come out and hear them.
On tap for the weekend at BJ's is one of my favorites, Thin Ice. As I've reported before, the crowd loves their song selections and instrumental and vocal performances and you will too. So come on out. As I mentioned previously, the first-time appearance of 33 RPM will be Saturday night. Leader Mike Beaven is a dynamo behind the drums doing all the lead singing while Rock, on bass, and Larry, on guitar, provide backup vocals. Mike also plays acoustic guitar on a few numbers and maybe even keyboard. Yep, what does that make him? A quadruple threat: drums, guitar, keyboards & vocals. They put on a terrific show. You've got to come out and hear them.
Bourbon St. on the Beach will feature the Pepper Street Band on Saturday. I'm afraid I don't have much to report here as I've never heard them, so I'm most curious. Remember, every weekend begins with Randy Lee Ashcraft & Jimmy Rowbottom playing at 4pm; this week followed by Dave Sherman. Please check the listing for all the fine music being offered at this 116th St. establishment. And, be sure to read Best Bites for a review of the fabulous food offered at this little bit of New Orleans on the beach. Lots of Cajun classics as well as Eastern Shore staples.
Longboard Cafe has a very busy schedule this week with Time Police on Friday and Dave Hawkins on Saturday. We heard Dave play with Joe Mama for last Sunday's show and we were blown away. How many guitarists/singers do you see sling his guitar back and raise a violin to play such amazing stuff as a selection from the Dave Matthews band, for instance. He's a one-man show, folks, and well worth a visit to hear him. Of course, you want to make sure you're hungry, too, 'cause Longboat has some of the best food around. I had stuffed avocados last week: each half stuffed with crab salad and tuna salad. Delicious! And the desserts are homemade by Martha! Yummy! Speaking of Joe Mama, his guest this Sunday is none other than that incredible, versatile musician from Full Circle, Dave Wimbrow. I'm sure you all know Dave as the triple threat that he is: keyboard, guitar & vocals. I'm looking forward to this one.
In fact, I'm looking forward to all the amazing music that we have to enjoy here in Ocean City. Notice that many of our musicians are now placing their ads in this emag to make it easier for you to find out where they will be playing. Michael Smith, Randy Lee Ashcraft, Jack Worthington, Monkee Paw, John LaMere, Rick & Lennon La Ricci and the Billie Carlins Group all are on the home page. Just click their box and it will take you to their ad listing all their performance dates.
Been 'chatting' for an hour now, so I guess it's time for my post-midnight snack and a little late-night TV - yeah, I'm a nightowl. Happy 240th birthday America! Have a great week and always party safe!
«Go back to the previous page.