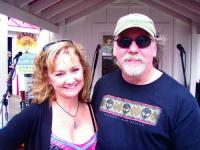 Copper Sky returns to play Sunday at Coconuts Beach Bar & Grill.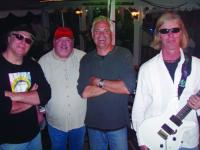 Tranzfusion will perform Friday at BJ's.
Bourbon St. on the Beach presents Rusty Foulke Friday & Saturday.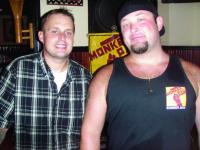 The Casino at Ocean Downs presents the Monkee Paw trio Saturday.
Kathy & Michelle (of Full Circle) will perform with Joe Mama Sunday.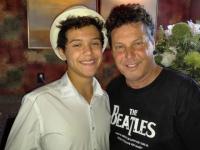 Rick & Lennon La Ricci will perform Saturday at the Rio Grande Tiki Bar.
Vinyl Rhino rocks the Purple Moose Friday-Saturday.
Jack Worthington w/ T. Lutz will play Saturday at the Reel Inn Dock Bar.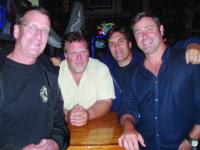 Randy Lee Ashcraft & the Salt Water Cowboys will play Saturday at Johnny's Pizza Pub.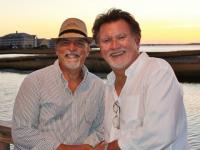 Reform School, featuring Michael Smith & Jay Stinemire, will perform Friday at Southgate Grill.
Ok, guys, it's mid July and I'm still holed up in my house like a vampire. First I was missing great day-time entertainment because of rain; now it's because of the heat. I really wanted to hear the Poole Brothers at Coconuts today, but I wimped out. The air is just so heavy. Hopefully I will catch them next time. I am planning on going to hear Shooting Star tonight (Thursday) at the Purple Moose. They are a tribute band for Bad Company. I remember when I first heard them, I fell in love immediately because they sounded a lot like the Beatles; and we were all torn up about the Beatles breaking up at that point, right? Anyway, looking forward to it; and next Thursday will be that really cool AC/DC tribute band High Voltage. Since I'm talking about the Purple Moose, let me say that last week was a real blast for me with Judas Priestess on Thursday and Surreal on Friday & Saturday. The hot women of heavy metal were absolutely fantastic, as always. Check out all the pictures in Fun Fotos. In fact, they have their own foto gallery this week. Just click on July 15 and you'll see that the fotos are split into categories. Surreal is always epic. The music they play and the level of their expertise both vocally and instrumentally is second to none. You can always count on the Purple Moose to provide the best entertainment and with a big dance floor, it's no wonder it's called the "home of rock n' roll." This weekend come in for Vinyl Rhino on Friday & Saturday. More live music from Slamm on Sunday & Monday.
I was very happy to have the opportunity to hear Jimmy Charles play at Bourbon St. on Wednesday. I know a lot of you heard him with his band at M.R. Ducks last Sunday but it was cool to have him up close and personal as a solo performer. I could really focus on his lyrics and I have this to say: the man is an excellent song writer with a sensitive, romantic soul reflected in his music. As I write I'm listening to songs on a Special Edition CMA Week Compilation of 13 songs that includes these (and more) that he sang for us: "Whatever It Takes," "Cowboy Soul," "What If I Never Asked," "Grow Up Too Fast," "Back To Baltimore" and "Superman" that he wrote (also with Goose Gossett) for Zero Cancer to help bring awareness to the importance of early diagnostic testing for prostate cancer. Check out the video - so inspiring. Jimmy is now so proud of the song and the impact it is having on so many people facing and battling this dreaded disease. Statistics now show that early detection and treatment have a survivor rate of 100 percent. zerocancer.org We all really enjoyed the song "Back To Baltimore," too, that I think we should all campaign to be played at all Orioles games; and more. It's a great song. And Jimmy Charles is a great singer/songwriter and performer. We can hear him again soon as he has just announced that he will be performing at the White Marlin Open Aug. 7, 8 & 9th. Lots of great pictures next week. Stay tuned.
BJ's is still the happening place for great music with Tranzfusion playing Friday and Thin Ice on Saturday. Both bands are excellent and you'll find me enjoying their music.
Heather & Dave return as Copper Sky to play for us on Sunday at Coconuts Beach Bar & Grill. This is another on my must-see list for this weekend. Coconuts has some really cool acts that are new this summer such as Lauren Glick & Melissa Alesi and Kathy & Michele (Full Circle) duo. Both these acts begin at noon. I told you about Dave Hawkins when he played with Joe Mama at Longboard Cafe. Well, get this: he will play with Joe at Coconuts on Tuesday at 3pm. Not only does Dave have an excellent voice, but he's the only singer/guitarist I know who swings back the guitar to produce a fiddle on which he just wails. You must make an effort to go hear them. So much more at Coconuts with two acts daily.
Speaking of Joe Mama ... who's playing with him this Sunday at Longboard? It's Kathy & Michelle of Full Circle. Wow! This is gonna be a good one; well, they all have been as we really enjoyed Mike & Nancy of Ginger playing with Joe last week. Come out and have a great dinner or just snack while listening to some of the best entertainer around. And be sure to read the Best Bites review of Longboard Cafe in this edition.
Well, folks, I'm gonna get ready to rock n' roll now, so I'll talk to you next week. Til then remember to always party safe!
«Go back to the previous page.