The Mood Swingers w/ Lauren Glick will perform Sunday at Coconuts Beach Bar & Grill.
BJ's presents Dust N' Bones Friday & Saturday.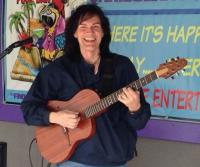 Dave Sherman will play Friday at Bourbon St. on the Beach.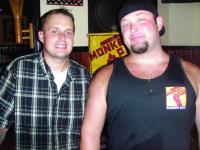 The Casino at Ocean Downs presents Monkee Paw Saturday.
Matt Tichon will perform w/ Joe Mama Sunday at Longboard Cafe.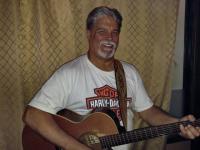 Jack Worthington will play Saturday w/ T. Lutz at the Reel Inn.
The Purple Moose presents Whitehouse Effect Friday-Saturday.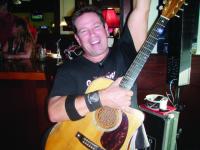 John LaMere is featured every Saturday at Dead Freddies.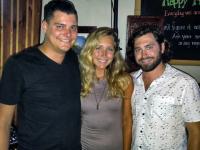 Longboard Cafe presents Time Police Friday.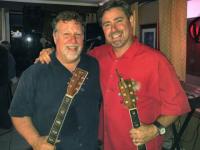 Randy Lee Ashcraft & Jimmy Rowbottom will perform Friday at Bourbon St.; and Saturday at Barn 34.
Hi, everyone. What's with these daily thunder and lightning storms. Those continuous pulsating flashes are so ominous - I keep expecting to see UFO's hovering like in War of the Worlds. We have had some breathtaking light shows from it; some have called it heat lightning. And has it been hot! As I'm writing, it's still booming and light splintering across the sky and I'm a little worried to keep my computer on; but hopefully it's moved away from West OC now. I really want to go hear the Bon Jovi & Journey tribute band called Bon Journey at the Purple Moose tonight; but I may have to ground myself instead. Next week will feature some Journey music, too, with the return of the Idol Kings who play a set of Journey, a set of Mellencamp and maybe some Led Zeppelin thrown in. Really talented bunch of musicians and I know you'll enjoy them. This weekend the Purple Moose presents one of their favorite (and ours too) bands, Whitehouse Effect. These guys play a great selection of music with an explosive amount of energy, keeping everyone on the dance floor all night long. Have to tell you about a new band to the Moose - Honey Extractor. There is a picture of them in Fun Fotos. Front gal Lex makes the band with her smooth and sultry tones but don't let that lull you because she can hit those high notes, too, with incredible power. The whole band was so friendly and very talented, relating well to their audience in playing requests. I sure hope to see them back at the Purple Moose.
I'm happy to report that the Time Police will be back at Longboard Cafe on Friday night. This trio usually plays gigs across the bridge so we're lucky to hear them a few times during the summer. I've always raved about the harmonies between Myles Pennington (guitar) & Aaron Chamberlain and the cool percussion Aaron can do with his voice. I was pleasantly surprised to see third part harmony has been added in the person of the lovely Melissa. When I saw them last at Longboard Cafe they opened with "I'm Yours" that really showcased their wonderful rhythm and harmonies. I was so excited by their performance that I took lots of notes, mostly of song selections, that now seem too many to mention. They have a very mellow sound but still strong with that superb blend of voices. It's remarkable that Myles' guitar is the only instrument and he plays beautifully bringing it all together. I can't wait to hear them again. I'm also looking forward to hearing a new player with Joe Mama on Sunday night. His name is Matt Tichon from Pittsburgh, Pa., who plays guitar and keyboards. Joe tells me his music covers all genres and decades. That's a tall order. He will also be playing at Coconuts on Wed., Aug. 3. Sundays with Joe Mama have been supremely entertaining every week and last week was no exception with the wonderful vocals & guitar from Anthony Carmen. And you can't go wrong with Chris Button on Tuesdays and Joe Smooth & John Remy on Wednesdays. Just heard them again last night and they are awesome. John is a master at looping his guitar parts so it sounds like there are two or three other players. Incredible! And of course there is no one like Joe on sax. Love him!
It was another big time at BJ's last weekend movin' and groovin' with the band of the same name. They came back with some added treats for us this time. Phil was behind the keyboards and Keith on drums with Dar on guitar, Jim on trumpet and Elwood on bass. Excellent musicians and excellent song choices. Sat. was the Chest Pains rockin' the house. We were all a bit disappointed that Jeff Davis was not back in the bass slot but I know he needs to get back in to it slowly; don't want him hurt. Meanwhile Ted Galinas (Mood Swingers) has done a wonderful job filling in for him. This weekend is a double billing for Dust N' Bones both Friday and Saturday nights. These guys will rock the socks off you so don't bother putting them on. LOL! Truly, one solid rock song after another; and you'll get a kick out of watching Tim on the drums - hair flying and colored lights swirling - a show all on his own. I guess I'm missing Bettenroo tonight (Thur) but hopefully I will get to hear them next Thursday. That's the wonderful duo of Anne & Lori who I've told you about. Anne plays bass and has a beautiful, yet powerful voice, and Lori sings as well while playing guitar, harmonica and foot pedal percussion. An awesome duo. I know you're not use to BJ's having music on Thursday, but this has been a great time to showcase some new music and I hope you will all visit and support live music as does owner Billy Carder. Be sure to check out this week's Best Bites article to read more about BJ's, its music and fine food.
What's hot at Coconuts this week? Well, besides the courageous and gorgeous gals who serve on the beach in this heat; and those servers on the patio as well, the music is always hot. Wednesday I made it out after the sun had dipped low to hear Girlz Rule. What a treat! I told you about them in last week's column. We know Heather Vidal from playing at Coconuts with Dave as Copper Sky. She told us that she and Kristie Bobal and Lynley Tolls only get together a few times a year so this was a real treat. Talk about harmonies - wow! These ladies are all three accomplished entertainers in their own right. Lynley brought along her steel drum and played and sang a few tunes on her own for us that got folks dancing. They played several tunes that were originals and many covers as well that were all just so very special - sounds that just tug at your heartstrings. I hope they find time in their busy schedules to visit us again.
Meanwhile at Coconuts this weekend we have the youthful sounds of Parental Guidance on Saturday after Cool Change. I am so pleased that Parental Guidance has stayed together and are still making great music. Zoe is a wonderful singer and Garret on guitar with Justin on drums are dynamite. Sunday's party will feature the awesome sounds of Lauren Glick with The Mood Swingers. You know that's always a great time so let's pray Mother Nature has had enough of all this rain and thunder stuff by then.
As always, be sure to check the Who's Where When list for all the fabulous music available to you from some of the best musicians you will find anywhere. Have fun and always party safe!
«Go back to the previous page.