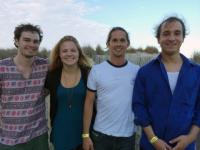 Funk Shue will play Saturday at Coconuts Beach Bar & Grill.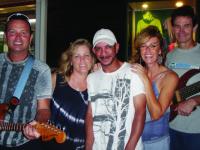 BJ's on the Water presents Full Circle Friday.
Bourbon St. on the Beach presents Tommy Edward Friday.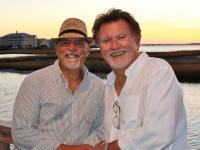 You'll love the sounds of Reform School (Mike Smith & Jay Stinemire) Friday at the Southgate Grill.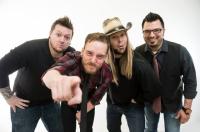 The Lava Game rocks The Purple Moose Friday & Saturday.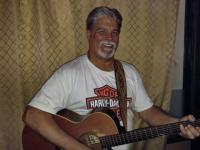 Jack Worthington will play w/ T. Lutz Sunday at The Angler.
The Lauren Glick Band will play Sunday at Coconuts.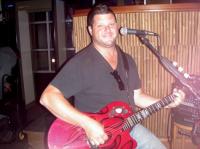 Enjoy the music of Kevin Poole Friday at Micky Fins.
Catch Lennon La Ricci & The Leftovers Saturday at Rio Grande Tiki Bar.
Joe Mama will play w/ special guest Dave Wimbrow (Full Circle) Sunday at the Lobster Shanty.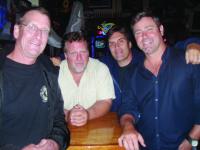 Randy Lee Ashcraft & the Salt Water Cowboys will play Saturday at Barn 34.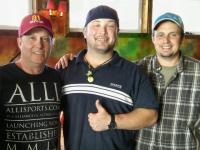 Monkee Paw will play Saturday at the Caribbean Pool Bar.
Wow, what a week, huh? Fly boys and firefighters back-to-back! Both events were a huge success - thanks in part to Mother Nature. What's up with this, though ... it's another grey Thursday; and tropically humid. Ugh! No worries; the music is always the greatest.
I made it to Coconuts Beach Bar & Grill last Saturday to hear The Swell Fellas who are Conner Poole (guitar), Chris Poole (drums) & Mark Rohrer (bass). If the names sounds familiar it's because the brothers, Conner & Chris, played together several years as the Poole Brothers; and they still occasionally play as a duo by that name. However, with the addition of Mark on bass, the band is able to really sink their teeth into a funky groove. As their website says, "their sonic journeys into the unknown ensure every show is as unique as their sound; energized and refreshingly unexpected." I heartily concur; and thoroughly enjoyed their show. In fact, I was so wrapped up in their performance that I felt the need to take notes so I wouldn't forget a thing. First let me say that their new EP, Couchlock, recorded in Austin where they spent some time this past year, has three really cool original tunes: "Weightless," "Couchlock" and "Shake You Off," which is getting air play on Ocean 98.1. They recorded their first single "Sailin," last fall. Couldn't help but notice that these retro hippies all played barefoot and were just so comfortable and happy playing music with each other. That kind of joy translates to an audience big time. They covered a wide spectrum of music, old and new; but unlike the bands that I rave about who play the music in tribute mode, these guys are interpreters; and I like what they did with the music. It is gratifying to this old hippie that these young musicians recognize the worth of the classic tunes that have stood the test of time; but that they also thrive on delivering them with their own spin. When they launched into their original, "Weightless," I was so impressed with the intro that I just couldn't wait to hear the entire song, which turned out to be totally instrumental. Chris was amazing as he brought the song to life through various percussion change-ups. When the song hit its stride, it was just so exciting. There were several time signature changes as well as tempo changes and Conner's guitar playing took it to soaring heights with Mark keeping a funky bass line throughout. I'm excited to hear more from these talented young men; so good at such a young age. Proud dad Mike Poole tells me they are planning a college tour in the fall. I know that will be a huge success. I'm glad they discovered that our little town is a great place to practice their craft and we're all glad to have them home for the summer. Rock on!
I'm ready to report on OC's newest band, Identity Crisis. They played at BJ's this past Wednesday and the dancing crowd gave them a vote of approval. All four of the members sing but I have to single out guitarist Charlie Rappa who impressed us with a Journey tune, hitting those high notes with ease. Very cool. Playing alongside him also on guitar was Jay Rus who added his vocals to the mix as well as did Keith Radke on bass and Ray Perrone on drums. This was only their third gig, but they were musically tight and their song selections were crowd pleasers. I think we have a winner here, folks, and I'm sure we'll be hearing more from them.
Open Mic night at Bourbon St. on Wednesday continues to be a blast, this week hosted by keyboard/guitarist Mike Smith, my sometime partner. By the way, friends, thanks for coming out to hear us at The Atlantic Hotel in Berlin last Friday. We really appreciated your support. Anyway, Mike got me up to sing a few including "I Can't Make You Love Me," a Bonnie Raitt tear jerker, as requested by uber percussionist Joe Mama. Thanks, Joe. Did you know that Joe has continued his Sunday Guest Performer show this year at the Lobster Shanty? Joining him this week will be Full Circle's multi-talented Dave Wimbrow. He's nearly a one-man show, playing keyboard and guitar. If you think he's good singing harmonies with Michelle & Kathy and doing his own songs as well with the group, wait til you hear him carry the whole show. Awesome!
You can hear Joe almost any day of the week so check his schedule in the "Who's Where When" listing; i.e., at Coconuts w/ Kevin Poole on Saturday and later w/ Chris at Beach Barrels. Then he's w/ Chris Button again on Wednesday. Friday you can hear him w/ Chris at the Crabcake Factory and Thursday at Bourbon St. w/ Chris - who plays there every Thursday. Whew! What a dynamo!
Speaking of Kevin Poole (uncle to the Poole Brothers/Swell Fellas, btw), he's doing a solo gig at Micky Fins tonight (Friday). Then he's at Harpoon Hannas on Sunday and Tuesday and at the Bethany Boathouse on Wednesday; and, of course, the Coconuts dates mentioned above. Have you heard Kevin's act since the addition of his new toy? I wrote about this at the beginning of the season when I first heard it but it's certainly worth mentioning again. He can create the sounds of other instruments on his guitar pedal, such as the cello which is his favorite to date. Kevin is a most creative arranger and guitar player - one of the best, my friends.
We've got Full Circle playing at BJ's on Friday. It seems like ages since I've heard them - can't wait. Then, I must confess that the Saturday band is one I need to hear - ironically called Fess Up. Isn't that quirky? Wednesday and Thursday is a female fest of music with The Girlfriends on Wednesday and Bettenroo on Thursday. Hey, Billy, get that cot set up in the back room for me; looks like I'm gonna be campin' out at your place.
Bourbon St. is gonna be a hoppin' happenin' place as usual this weekend with Tommy Edward on Friday and Wes Davis on Saturday. Both of these musicians are multi talented artists playing keyboard and guitar and both are excellent singers, too. Sunday the Billie Carlins Band returns to entertain us with some sultry blues, classic rock and soul with a few originals thrown into the mix. If you haven't heard Billie sing, you must come to hear this uniquely talented lady.
Sunday Funday at Coconuts will be just that with the return of the Lauren Glick Band. I missed them last time out so I'm really excited to hear them this weekend. Please cooperate Mother Nature. Joe Smooth and John Remy will kick off the week Friday, following the impressively talented Darin Engh. After Kevin Poole & Joe Mama on Saturday, stick around for some funky groovy kinda music from the musicians of Funk Shue. All kinds of great music all week long at Coconuts on the beach.
Thursday Tribute Nights at The Purple Moose are starting with the first one being Bon Journey on the 29th. No need to tell you who they're paying tribute to, is there. The following week, July 6, will be a Red Hot Chili Peppers tribute band called Carolinacation. And the following Thursday, July 13, will be ... drum roll please ... Judas Priestess! This group of leather-clad bad-ass rockin' gals slays the crowd every time they appear at The Purple Moose. Damn, I see from the list as I'm writing this that I'm missing the first tribute show, High Voltage playing AC/DC. I hope you checked the list and are having a great time right now. I was so bummed to miss Surreal last weekend - my car decided to die on me and spoil my plans. But I got there on Sunday to hear Heads Up and they really rocked the house - lots of happy dancers. This weekend it's The Lava Game who had everyone on rock melt down the last time I heard them. The party continues all night long with cool song vibes from CK the DJ/VJ during band breaks. You can't go wrong for rockin' good fun on the Boardwalk at The Purple Moose.
It's time close this and wish you all a happy last week of June (already?!). Have fun but always party safe!


«Go back to the previous page.