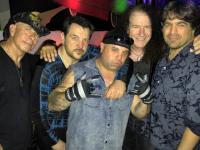 Bon Journey, Rennie, Joey, Matt, Sean & Nick, did a superb job paying tribute to Bon Jovi and Journey at the Purple Moose.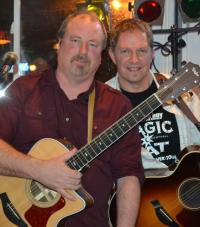 Catch This Your Monkey? at Barn 34 on Saturday.
BJ's on the Water presents Thin Ice Friday.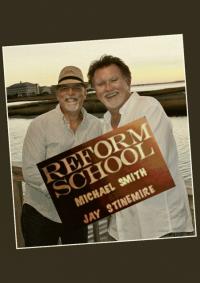 Bourbon St. on the Beach presents Reform School Friday.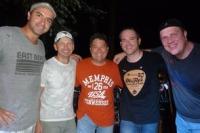 Dead Eye Stare rocks The Purple Moose Friday & Saturday.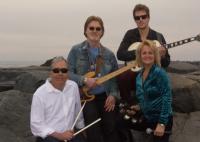 Celebrate the 4th of July w/ Old School at Coconuts on Tuesday.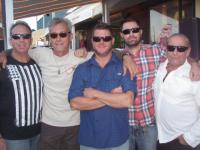 Poole & The Gang will perform Friday at M.R. Ducks.
Film At 11 will perform Saturday at BJ's.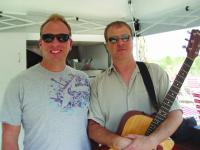 Joe Mama & Chris Button will play Saturday at High Stakes.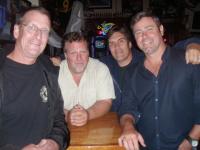 Randy Lee Ashcraft & the Salt Water Cowboys will play Saturday at Johnny's.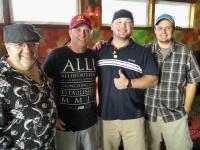 Monkee Paw will play Friday at Coconuts Beach Bar & Grill.
Can it really be 4th of July week - already?!! Falling on a Tuesday makes it kinda weird, too; like it should be on the weekend but hey, we'll take a holiday during the week, right?
Wow! Just looked at my clock and it's 4 a.m. I don't know why but I had the blahs yesterday and just couldn't get in the mood to write. So I went out for some musical inspiration and boy did I get it. I started out hearing Bettenroo at BJ's. Lori & Anne (their band name is a combination of their mothers' names) have such mellow voices that blend as if they were siblings; such a rich quality. We all love their song selections, too, both classic tunes and some new ones as well, such as Ed Sheeran's "Shape of You." I asked them to learn Sheeran's "Castle on the Hill" and I bet they do. Come hear them every Thursday at BJ's and look for them at Coconuts Beach Bar & Grill too.
So, I cut out of there to head to The Purple Moose for my first Tribute Thursday. The band was Bon Journey and I'm guessing you know exactly what music they performed. But if you weren't there, you don't know just how good these guys were. Coming to us from Manhattan, Queens and the Bronx, these five artists who, they told me have been together a long time, performed Bon Jovi and Journey tunes to a packed house who wouldn't let them quit ... not kidding. After playing hit after hit and finishing with "Faithfully" and "Don't Stop Believing," lead singer Joey Ragz played on with his acoustic guitar, taking requests from the audience. It was amazing! No matter what they called for, he played. He called it a 'mash up' of the tunes as he wouldn't necessarily play the whole song; but I'm tellin' you, I haven't often seen that kind of dedication to an audience and his sheer love of performing. With a voice like his, I guess he knows that we just want more. Anyway, they were totally awesome. Lead guitarist Sean Tarr sang fabulous harmonies as did bassist Rennie Xosa. Playing keyboards, Nick Troiani made all those beautiful ballads come to life and Matt Ricci on the drums gave them a thunderous heartbeat. It would really be cool to have them come back again, even if it's not a tribute night. I'm sure these guys have a lot more musical magic up their sleeves.
Let's see what's happening at the Purple Moose this week. Dead Eye Stare is the weekend band (Friday & Saturday). If you go to their website - it's easy - deadeyestare.com, you'll see a video recorded at the Purple Moose on one of their last visits here. Lead singer Mike Haley not only has an excellent voice, but he performs with a lot of energy as well. Based out of Annapolis, Dead Eye Stare also includes Chris Boron on bass, Ed Reyes and Shahrokh Molavi on guitars and Duane Ferguson on the drums. These guys play a wide variety of music genres guaranteed to keep you dancing all night long.
Vertigo Red comes to the Moose on Sunday and Monday nights featuring Briana on lead vocals with Ken sharing vocal duties and lead guitar. Meet Glen on bass, Deno on guitar/vocals and Meyer on drums. Checking out their song list, I see everything from Fitz and the Tantrums' "Make Your Hands Clap" to Bruno Mars' "Uptown Funk" and so much more. Ooh, there's "Band Romance" from Lady Gaga - love that one. And "Rolling in the Deep" from Adele. Sounds like another fun night at the Purple Moose. And who's next Thursday's tribute band? It's Carolinacation playing Red Hot Chili Peppers music. Check out their facebook page. They look like some red hot rock will be comin' our way. Yep, you've got the picture ... it's always a rockin' good time at the World Famous Purple Moose.
BJ's is starting off this holiday week with Thin Ice on Friday ... love these guys - and gals. Yep, this is the band with girl power on the drums - that's Wildcat Kelly. Then you have Crystal playing some guitar, some keyboards and some mightly pretty singing. Dave plays keyboards, too, and adds some awesome brass: sax & trumpet. Then we have Paul on bass singing those rock tunes, and Jay on lead guitar, also with some super fine vocals. Like to dance - come on and join in the fun.
Another cool dance band is scheduled for Saturday. We loved them, we raved about them the last time they came; so we're all anxiously anticipating Film At Eleven. According to their online info, they are based in the D.C. area, and feature vocals by Erin, vocals, rhythm & slide guitars from Randy, Alec on keyboards, Zach on lead guitar, sax & vocals from Alan, bass by Mark and Jimmy on the drums. Yes, it's a big group. According to their writeup, they play everything "from Springsteen to Sheryl Crow, The Stones to The Gin Blossoms, Little Feat to Bruno Mars, No Doubt to Pink and Fleetwood Mac to Grace Potter." You get the picture .. lots of great music.
More happenin' music at BJ's: Old School returns on Wednesday and at the new time of 6pm. They'll be hot off their performance on Tuesday at Coconuts for the 4th of July festivities. So come join Linda, Taylor, Ernie & Erve as they party with us the Old School way.
Let's talk Coconuts - two great musical acts every day on the beautiful patio behind Castle in the Sand called Coconuts Beach Bar & Grill. Just check out their lineup: an excellent performer every day at noon to listen to while you have a scrumptious lunch; then another act to usher in their famous two-for-one happy hour. So, Friday we have Monkee Paw, Saturday Over Time, Sunday Lauren Glick Band, Monday Bob Wilkinson, Joe Smooth & Pete, Tuesday Old School, Wednesday Chris Button & Joe Mama and Thursday Monkee Paw again. I'm hoping to catch more of the early acts as I did on last Wednesday for Lauren Glick & Dave Tarlecki. They are really excellent playing together - great vocal blend/harmonies and a very pleasing song selection.
Anyway, noon gigs are hard for me as I stay up all night - you know me. Yep, I see the sky lightening up which made me check the clock: 5:20 a.m. Time for me to get a little 'shut eye'. I hope you appreciate the music news I've shared with you. I certainly had a good time sending it out. Have a great 4th of July and always remember to party safe!
«Go back to the previous page.