The Swell Fellas will play Saturday at Coconuts Beach Bar & Grill.
BJ's on the Water presents Tor & Coastal Storm Friday.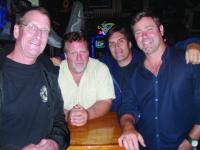 Randy Lee Ashcraft & the Salt Water Cowboys will play Saturday at Bourbon on the St.
Coconuts Beach Bar & Grill presents The Lauren Glick Band Sunday.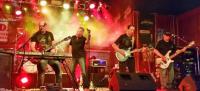 Til September rocks The Purple Moose Friday & Saturday.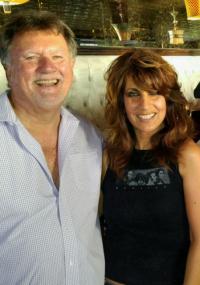 Pearl (Michael Smith & Rita Conestibile) will perform Saturday at The Carousel.
Monkee Paw will play Saturday at the Plim Caribbean Pool Bar.
Kevin Poole plays Sunday and Tuesday at Harpoon Hannas.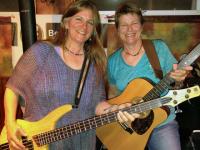 Bettenroo (Lori & Anne) perform every Thursday at BJ's.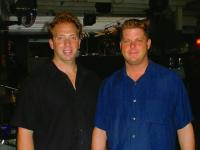 Joe Mama will be at Coconuts Saturday w/ Kevin Poole; at Beach Barrels w/ Chris Button.
Hear Jack Worthington w/ T. Lutz Friday at Pit n' Pub.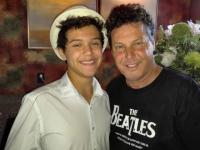 Lennon La Ricci & The Leftovers will perform Friday at Johnny's Pizza Pub.
Ok, what's with Thursdays. Have you noticed that when I write to you on Thursday I almost always mention that it's gray and gloomy? Yep, check back on the articles. Well, this Thursday it's raining too. Sheesh! And I was thinking of hitting some outdoor music venues. Not now. In fact, I was out in the rain a week ago Tuesday and now I have a darned summer cold; so no getting wet for me. It's been a rough week: not feeling well, my John Deere riding mower broke down, I ran out of gas in my car two days in a row (gas gauge doesn't work), and my phone died. Now that last one really got me down because I lost all my photos, including several that I was going to run this week. So if I took your picture last Wednesday, Thursday or Friday, please accept my apologies that your photo will not be running in coconuttimes.com Fun Fotos. Let's hope my string of bad luck is over now.
I made it out to hear some of my favorite musicians last night and even managed to sing a few songs; first with Randy Lee & Jimmy at Johnny's. Then I went to BJ's to hear Old School who were really rockin' the house. Remember the new time for Wednesdays is 6-9 pm. Then I trekked up to Bourbon St. where my erstwhile partner Michael Smith was hosting Open Mic night. Michael and I will be playing at the Atlantic Hotel on Friday, July 28th. You can hear Mike playing alongside his other partners this weekend: with Jay Stinemire as Reform School on Friday at Bourbon St.; and with Rita Conestabile as Pearl on Saturday at The Carousel. And again with Reform School on Sunday at The Angler. Michael is one of the most talented guys I know, playing guitar and keyboard. After years of playing on cruise ships, he has amassed an incredible song list; it's really hard to stump him. How does he remember all those lyrics? Last night he struck a theme, "dead guys," and had everyone joining in with requests. That may sound morbid, but when you consider the wealth of material from departed artists, it became a musical program in which their music was immortalized. Think about it. I joined in with one by Patsy Cline and one by Janice Joplin. It was a fun night as it always is at Bourbon St. Besides Reform School, Randy Lee Ashcraft & the Salt Water Cowboys will play on Saturday there. And Aaron Howell will play for us on Sunday. Bourbon St. features live music every single night. Check the Who's Where When list for all the fun happenings.
BJ's partiers had a blast last Saturday with music by Film At Eleven. Lead vocalist Erin Schaal has an incredible voice that is both powerful and vibrant. She sang one hit after another with effortless ease and she was quick to share a smile and a quick dance or two with her audience. Her fellow singer Alan Tilles also plays sax which always adds a lot to a band - I know you agree. Randy Feldman played lead and a terrific slide guitar along with additional vocals. Behind him was Alec Kinessy on keyboards. The rhythm guys were Jimmy Gold on drums and Mark Baratz on bass. Last, but certainly not least, was young Zach Wilson on lead guitar. Man, could he play! Yes, this band packed the stage at BJ's - seven pieces. All the musicians were most accomplished and the song selections kept the crowd dancing all night long. In fact, they played longer than they were supposed to as we just wouldn't let them quit. They will be back at BJ's on Memorial Day weekend.
This weekend will be jumpin' again with two more happenin' dance bands: Tor & Coastal Storm on Friday and Dust n' Bones on Saturday. I love the variety presented here at BJ's. You'll hear everything from rock to soul to disco and contemporary pop songs from Coastal Storm as sung by the incomparable Dawn and her vocal partner Tor. With Dust n' Bones, you'll get a night of hard-drivin' rock from Dean on vocals and Tim blastin' away on the drums. Identity Crisis will return on Wednesday. Everyone was impressed with their debut two weeks ago so let's see what they come up with this time. Then Bettenroo will weave their musical magic with songs from every decade in wonderful harmonies from Lori & Anne. Love, love BJ's.
I really thought I was going to hit The Purple Moose tonight to hear the Red Hot Chili Peppers tribute band called Carolinacation but with the rain and my nasty cold, I'm going to stay in. If you remember, I wrote late last Thursday and told you all about Bon Journey. I sure hope we get them back again. And I know you'll all want to be there when Judas Priestess returns next Thursday. Yes, those leather-clad, hard rockin' gals will take the stage and have you rockin' out right along with them. Even though I'm not a huge fan of heavy metal rock, I've been enthralled by the performance from these talented women every time I've heard them - and I don't intend to miss them this time out either. This weekend let's enjoy the music of Til September and let me remind you that there is music every night at the World Famous Purple Moose.
I'm gonna close out now and take some Nyquil. Gotta get rid of this cold NOW!! Hope you all have a wonderful week and remember to always party safe.
«Go back to the previous page.