Pary with Old School Wednesday at BJ's.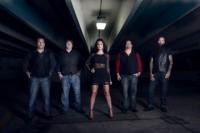 The Purple Moose will rock Friday & Saturday with Vertigo Red.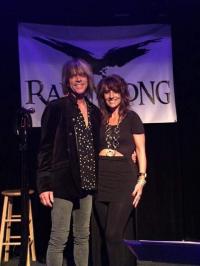 Bourbon St. on the Beach presents Raven Song Friday.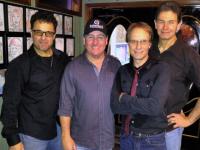 Rock with the Chest Pains Saturday at BJ's.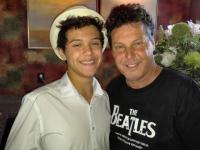 Lennon La Ricci & The Leftovers will play Friday at Johnny's Pizza Pub.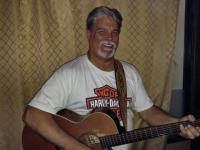 Jack Worthington & T Lutz will play Saturday at Bourbon St.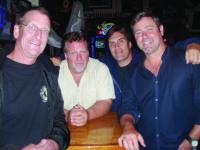 Randy Lee Ashcraft & the Salt Water Cowboys will perform Saturday at Johnny's Pizza Pub.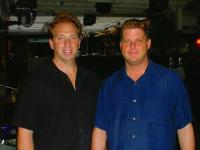 Kevin Poole & Joe Mama will perform Saturday at the Rio Grande Tiki Bar.
Enjoy the music of Michael Smith Sunday at Southgate Grill.
Can it really be the official end of summer? It is Labor Day weekend so I guess that's the accepted rule; but I refuse to let go. Let's keep the parties going just as long as we can. There's certainly no scarcity of music as you'll see if you check the "Who's Where When" list in this issue. Coconuts Beach Bar & Grill still features two live acts each day, BJ's still has live bands three or four times a week, the Purple Moose is still rockin' the best bands in the region plus the hippest DJ's around ... well, you get the idea.
A big 'THANK YOU!' goes out to everyone who came out for the Koncert 4 KELLY benefit at Bourbon St. on Tuesday. The lineup of entertainment was a real 'who's who' of Ocean City musicians. The day started at 3pm with music from Dave Sherman followed by the Baltimore Boyz (Randy Jamz & Jay Vizzini). Next was Randy Lee Ashcraft & Jimmy Rowbottom who also welcomed Lauren Glick to sing a few songs with them. Then we had our keyboard sensation teen wonder Lennon La Ricci w/ dad Ricky, drummer Dean & bass man Jeff. Kevin Poole added a cool harmonica part, too. Reform School was next up - that's Michael Smith & Jay Stinemire. Then Michael's duo Pearl partner, Rita Conestabile performed followed by Tommy Edward. To digress here a moment ... what a talented artist this man is. The audience at Fager's Island Sunday for his Sir Rod show was astounded by his dead-ringer performance of Rod Stewart hits. Also impressive was his keyboardist Melissa Rose who sang backup and did a few songs of her own playing a mean tambourine. Her husband Harry Marion is a madman on drums - so powerful and precise. Side note: he toured with the Chubby Checker band last year. Incredible energy and ferocious performances made this tribute show a standout for the summer. So, back to the benefit. Most of you know that Tommy and the lady of the hour Kelly Coughlin have been dating; so Tommy tailored his set of music especially for his lady love and it was splendid. We can see his solo Sir Rod act on Wednesday, September 13 at BJ's. Next up was Rob Fahey, longtime friend of Kelly's, who drove all the way from Baltimore (and went right back) to play for her. He, of course, ended his set with his big hit "Raised On The Radio" (which is on the sound track for the movie "Fast Times At Ridgemont High.") Rusty Foulke played an explosive set on 12-string and Stratocaster next. He was joined by Barry Reichart (owner/chef of Bourbon St.) for a few songs including "Simple Man." Come out and hear Rusty's solo show on September 15 & 16. Capping off the night of amazing music was Walt Farozic with his powerful voice and eclectic repertoire. Walt is a regular performer at Bourbon St.; as is Chris Button who engineered sound for the entire day/night. Lots of money was raised to help Kelly as she begins her battle with cancer and we all wish her the best of luck. She's a fighter, that's for sure. Kudos to Gretchen & Barry, their staff, all the dedicated volunteers and supporters. I love how this town comes together to help one another.
Everyone's excited for the return of Film At Eleven to BJ's this Saturday; and they're adding an encore performance on Sunday night as well. Thin Ice is the versatile and entertaining act on Friday night. And Old School will return on Wednesday for another fun-time deckless deck party. It's always a good time at BJ's. And now it's time for Redskins victories - here's hoping. BJ's is your Redskins headquarters.
I see that Raven Song is on the calendar for Bourbon St. this Friday. This duo is Rita Conestabile & Michael Fath. In case you've never heard Fath, let me direct you to his website, MichaelFath.com There you'll learn that, "he has established himself as a truly international phenomenon with a staggering range of instrumental recordings that have featured unparalleled versatility with both acoustic and electric guitar." We're fortunate to have him play a performance with Rita right here in our little town.
It's going to be a huge weekend of great music at Coconuts, too, with Funk Shue on Friday, Zion Reggae on Saturday and the Lauren Glick Band on Sunday. Of course that's just the tip of the iceberg at this venue that offers up live music all day and into the evening. That's right: two live acts per day. So you can come any time, any day, and be entertained by some of the best musicians on the planet. And that's most appropriate as the venue's motto is, "the best beach bar on the planet ... and everywhere else!"
Have you been to the Purple Moose lately? They feature top regional bands playing on their big stage with the big dance floor; plus CK the DJ/VJ keeping the party going during band breaks. He's also there at 2pm on weekends to get the party started early. Vertigo Red is the band on tap this Friday & Saturday. I'm hearing good reports from friends who have heard them so let's get there and have some fun. Sunday and Monday is live music, too, with Face Down performing.
There's so much more I could rave about; such as Lennon La Ricci & The Leftover's performance at BJ's, or Full Circle and Chest Pains there, too. Or the Zion Reggae Band at Coconuts or Old School at Johnny's, and so much more. But I'm anxious to get out to hear some more. I love this town - so many great people and lots and lots of fantastic music. Party safe, my friends and have a great Labor Day weekend.
«Go back to the previous page.