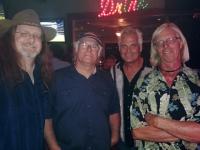 BJ's presents Tranzfusion Friday.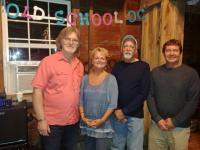 Coconuts features the music of Old School OC Friday.
The Purple Moose presents Alter Ego Friday & Saturday.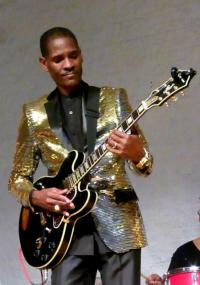 Check out Rodney Kelly Saturday at Bourbon St.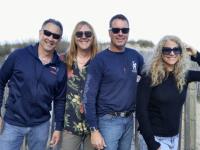 Coconuts closing party Sunday w/ The Lauren Glick Band.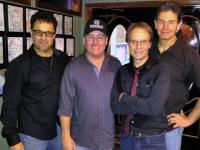 Rock out Saturday with Chest Pains at BJ's.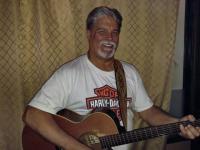 Enjoy the music of Jack Worthington Friday at Johnny's Pizza Pub.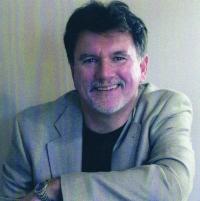 Michael Smith plays Wednesday at Bourbon St. and hosts the Open Mic.
Hi, all. I'm drawing inspiration for my 'talk' with you today from, what else, music. As I write I'm listening to the new CD released by Lauren Glick titled Martinis In Heaven. It's a bittersweet experience remembering Mike Armstrong and hearing his voice. Lauren told me that she and Mike began this recording journey in May of 2016 with producer/engineer Suzanne Mallow (remember her from Red Letter Day). As the summer progressed and so did Mike's illness (he passed in September, 2016), only two tracks of Mike's originals were finished: "Do What You Say" and "Read Between the Lines." All of his guitar greatness, including his signature bluesy slide guitar, is evident even though his voice is weaker than in healthier days ... but let me add that it in no way diminishes his performance. Lauren was determined, in his honor, to finish the project; so in addition to newer compositions, she has included a few from her recording session in Nashville: "Hit Hard," "Back Seat Romance," "Fine Wine" and "Pedestal" at Combustion Music by record producer Chris Farren. Lauren gives much credit and thanks to producer/engineer John Abello for stepping in to help her finish the CD, adding expert instrumentation on most of the tunes. You need to purchase Martinis in Heaven this Sunday at her performance at the closing party at Coconuts and read the liner notes for yourselves. This CD is a triumph of music and of the spirit of this truly gifted musician we are so fortunate to have in our midst. I could go on and on about what I'm hearing and I probably will in future columns; but for now, just let me say, buy it! I predict she will use the money to buy a second batch because it's going to sell out fast.
We are praying for good weather for the closing weekend at Coconuts which will feature Old School on Friday and Human Connection on Saturday. I heard Old School play last Monday for a benefit at Burley Oak. The project, spearheaded by Zack Klina, is called New Beginnings, a house for substance abuse recovery to be located somewhere in West Ocean City. As we all know, opioid and heroin abuse is on the rise in our community and there is no place in our county for recovering addicts to receive the care and supervision they need to beat this terrible addiction. Go to www.newbeginnings.site to learn more about this endeavor. It is certainly a worthy cause.
Back to music news, Old School's guitarist Taylor Knox has also been playing with another group called Human Connection who we'll get to hear on Saturday at Coconuts. We've been following Taylor since he was attending Berklee School of Music and it's been fun to watch him grow into the formidable talent that he is today. This band has a collection of original tunes to add to the covers of classic rock that they perform. I'm looking forward to hearing them.
Taylor continues to play with Old School sometimes (such as first Wednesdays at BJ's) but he has been replaced in the usual lineup by Jay Rus, who also plays guitar with Identity Crisis. I know, it's enough to make your head spin. I'm just glad that we get to hear all this amazing talent.
So ... back to Old School. Songstress Linda Sears and guitarist Taylor Knox are launching their duo act this Sunday at Bourbon St. on the Beach. We already know they sound great together so it will be interesting and entertaining to hear what song choices they bring to this new game.
Speaking of Bourbon St., a musician we heard during the summer who first turned up on a Wednesday Open Mic night will be playing for us on Saturday night. Rodney Kelley has a long and storied history playing with top musicians in and around the Baltimore area. According to his web site, rodneykelleymusic.com, he is originally from Brooklyn, New York. After years of playing everything from soul, to rock, to disco and everything in between, he has developed into an amazing jazz guitarist as well with a new passion for music. He can play a familiar tune such as "Misty" that is featured on the home page (I think that's what it is) of his site and turn it into a work of art. The notes pour forth from his guitar in a heart-warming stream of emotion that leaves me feeling elated, nostalgic and dreamy. I can't wait to hear his show on Saturday. Looking at the many pictures on his site, what stands out the most is that he is an incredibly snazzy dresser. My oh my, but pizazz and bling; he looks fantastic. Come hear Rodney play for us; again, that's Saturday at Bourbon St.
On tap this weekend at BJ's will be two of our favorites: Tranzfusion on Friday and Chest Pains on Saturday. We always have a great time when these groups play for us. Something new is coming on Wednesday, a band called Luna Sea. Holy cow, Batman, here's a twist. I just looked it up and I see pictures of Lori and Anne of Bettenroo who played every Thursday this summer. I also see a picture that looks like Kim Butler, guitarist with The Girlfriends. I have so many questions and no ready answers but I think it's gonna be a rockin' great time next Wednesday. Here's an early heads up for Halloween. BJ's will be celebrating on Wednesday, November 1, with music, as always, by Teenage Rust & the Fabulous Rustettes. Billy (BJ's owner and guitarist with the band) said he didn't want to have it on the 25th, so far from the 31st. Also, regular bands were already booked for the weekend. Something tells me we're going to see a lot of costumes all weekend plus the following Wednesday.
Here's another piece of music news for you: Michael Smith and Rita Conestabile have put together a band with Ted Galinas on bass and Jay Stinemire on drums - a natural evolution as Michael has played as duos with both Rita (Pearl) and Jay (Reform School). Is your head spinning again? They have their first date coming up on November 3, that's a Friday, at Johnny's Pizza Pub .... drum roll ... and their name is 4Play! This is gonna be great!
Gee, for somebody who couldn't think of what to say when I first started, I'm really getting carried away and I haven't mentioned the Purple Moose yet. As I've said before, there are only two more weekends of live music and this weekend's band, Alter Ego, is particularly good.
Okay, I've really gotta wrap this up. We're counting on great weather for the weekend and I'm counting on all of you to always party safe!
«Go back to the previous page.