BJ's presents Full Circle Friday.
It's a Halloween party at BJ's Wednesday with Teenage Rust & the Fabulous Rustettes.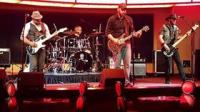 Rock with Total Distraction Friday & Saturday at The Purple Moose.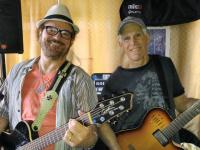 The Baltimore Boyz will play Saturday at Bourbon St.
Randy Lee Ashcraft & the Salt Water Cowboys will perform Saturday at Johnny's Pizza Pub.
Rock out Saturday with Dust n' Bones at BJ's.
Boo!! It's the annual Halloween celebration in Ocean City and parties abound all over town. Of course the one at Seacrets is perhaps the most popular as the first-place prize for best costume is a trip to Jamaica; but there are many others around town offering cash prizes of as much as $500. I know some of you have been working hard on your costumes while others of us will just dust off our hats, as I will. I love my authentic Professor McGonagall (Hogwarts teacher of transfiguration) hat and that will do fine for me again this year. I still love all things Harry Potter. In fact, I own five of "Dumbledore's Army" wands: Harry, Hermione, Ron, Neville and Luna; and I have Minerva McGonagall's as well, but I'm afraid to bring it with me. Anyway, my how I digress, but I've been reading about McGonagall's early life on the web in Pottermore. Pretty cool.
One of my favorite places to go for Halloween fun is to BJ's which this year will be held on Wednesday, November 1. So pull out those costumes again and come party with all our locals friends. The main reason it's my favorite is that the music is provided by none other than Teenage Rust & the Fabulous Rustettes, on the second leg of their fall/winter tour (the first was Sunfest). Led by BJ's owners Billy & Maddy Carder, the band also features keyboards by Crystal, bass by Paul, drums by T. Lutz, guitar by Howard and saxophone by Joe Smooth. You can count on them to deliver the best in dance music and a few Halloween classics as well; such as, "Monster Mash" with Billy donning his Frankenstein hat (it's tradition). So you see, there are many options from Friday, Saturday and again on Wednesday to party for Halloween at BJ's. Friday we'll hear the amazing sounds of Full Circle. They have always appeared in very creative costumes, usually following a theme. I asked Michelle what the theme is for this year. "Full Circle never backs down from a challenge! We have a Halloween tradition to uphold! It's a surprise!" she texted. Can't wait to see them. It's always enough just to enjoy the incredible talent of all members of this band: from songbirds Michelle (guitar) & Kathy (guitar), to more vocals from Dave (keyboards/guitar), sassy bass from Jeff and powerful drums from Barry. Audiences are always astounded with their performances.
Saturday night Dust n' Bones will take the stage and I've no doubt these guys will 'dress to kill' as well. Also excellent and creative musicians, Dean would make a ghoulish Slender Man with his height; flamboyant drummer Tim would be a cool mad scientist; bass man Aaron might make a good werewolf; and guitarist Mark could be Dracula. It will be fun to see if they accept the challenge to come in costume and play their awesome classic rock in the Halloween spirit.
Have you been in Bourbon St. on the Beach lately? The Halloween decorations are over the top with a huge tarantula dominating from the lounge ceiling plus ghoulish jack-o-lantern and skeleton figures to put you in the mood. This music mecca continues to draw some of the best musicians in the area, including the ones who come out just to jam with each other on Wednesday's Open Mic such as Dave Sherman, Chris Button (who perform together on alternating Thursdays), Michael Smith, Jay Stinemire, Walt Farozic, Jack Worthington, Eddie Saah, Taylor Knox, Randy  Lee Ashcraft, Jimmy Rowbottom, Jay Vicinni, Randy Jamz and, gosh, so many others I'm so sorry to not mention.
This past weekend we added a new talent to this group with jazz guitarist Rodney Kelley. We thoroughly enjoyed listening to his oh-so-smooth jazz renderings of popular and familiar tunes from across the decades and musical genres. He enjoyed it so much that he came back on Sunday to hear the Taylor Knox & Linda Sears show and jam with Taylor on guitar. I sure hope we get to have him back again. And I'm pretty sure Linda & Taylor will return to play for us again. Meanwhile, this weekend will get started at Bourbon St. with Dave Tarlecki (Lauren Glick Band) and his daughter Mandy performing for us. Will they wear costumes? We'll just have to see. Then Saturday perennial favorites the Baltimore Boyz will make an appearance at Bourbon St., where it all started for them as a duo (I think). During the summer months Jay is often busy with Thin Ice and Randy Jamz plays quite often at Sea Level in Bethany and on the Boardwalk. So now they have time to get together again and we're all glad to have them back.
Last week I wrote about a band coming up on Wednesday that I had not heard of. After looking at the unfinished website of Luna Sea, I concluded that it was the girls of Bettenroo, Lori & Anne, with two more to form a band and it turns out I was right. Lori on guitar and Anne on bass were joined by Kathy on lead guitar and Patty on drums. What is this trend with all-girl bands? I'm likin' it. We also hear The Girlfriends at BJ's, who will return on Saturday, November 25. Anyhow, we celebrated Tesa's birthday with Luna Sea last night (Wednesday) and I just want to say that Tesa is always selflessly throwing parties for everyone else with balloons, cupcakes and such, and that it was great that it was for her this time. Happy birthday, Tesa!
It's the last weekend for live music at the Purple Moose so be sure to make that one of your stops for your Halloween bar hoppings. Total Distraction will provide the tunes. Thanks to excellent bartenders Bobby, John, Bryan, Tyler and Jude for always handling the huge crowds with a smile (all handsome dudes, I might add); plus barbacks Morgan and Moe who kept all the cold ones stocked. What a great bunch of guys. Hats off to you all. Thanks to Rich for being a most excellent sound man all summer making sure the bands' equipment was working and sound levels were perfect, and for helping me get band photos and info, too. And kudos to their great leader, owner Gary Walker, for continuing to operate one of the best rock clubs on the planet, the world famous Purple Moose. Every year there are rumors that it is to be the last; I have it from himself that he will be around for a few more years at least and that makes me happy. I'm really going to miss the Purple Moose this winter. Many thanks to all of you!
Gotta go catch the next music train. Have a great Halloween weekend and always party safe!

«Go back to the previous page.