BJ's presents Thin Ice Friday.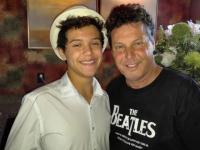 Lennon & Ricky La Ricci perform Saturday at Bourbon St.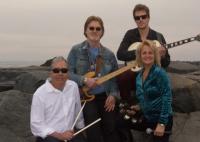 Old School will play Wednesday at BJ's.
Randy Lee Ashcraft & the Salt Water Cowboys will perform Saturday at Johnny's Pizza Pub.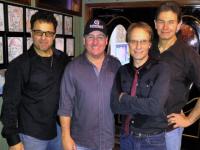 Rock out Saturday with the Chest Pains at BJ's.
I don't know about you all, but I'm partied out. That's right, you heard me. I'm actually staying in this Thursday night to talk to you a little and rest up a lot. I had a great time at all the Halloween parties I attended but now the costume is retired until next year. Speaking of costumes, there were some very creative ones and a few that really had me fooled; such as Frank's pirate. I did not recognize him until he spoke. Good job, Frank. There was a gal named Maria whose Pennywise makeup for the IT clown was really spooky. Stephen cracked us up in his rainbow wet suit and scuba gear, and Gretchen was a spot-on Barry at Bourbon St.. These are just a few that come to mind. You can see all the cool pictures in Fun Fotos of this issue.
The dance floor was packed on Friday night at BJ's with Full Circle on stage. I was disappointed that they did not wear their costumes but saved them for the Seacrets party. Darn! They always do such a good job. Anyway, the music was awesome, as usual, from this ultra talented group. We had a blast last night for the official BJ's Halloween party with Teenage Rust & the Fabulous Rustettes playing for us. As I commented to the audience, we wish they would play more often; a sentiment shared by many. But I guess then it wouldn't be as special. It was good to see Senator Jim Mathias join in the fun singing "Mustang Sally" for us. And thanks to Billy for allowing me to ham it up singing a song as well. We'll hear them again on Wednesday, December 13th, for the Christmas party when donations will be taken for the Humane Society.
This weekend will rock on with Thin Ice playing Friday night at BJ's. This group has performed its way into my top ten with the incredible talent of each of its players: Crystal (keyboard), Paul (bass), Jay (guitar), Kelly (drums) & Dave (horns & keyboard). Then Saturday will see the return of the Chest Pains playing '80s alternative with a smattering of classic rock as well, complements of rocker guitarist Aubrey. Did you know he played all summer with the Jim Long Band at Seacrets? Some have said to me that they don't like the departure from pure '80s but I think the additions to the repertoire have increased the band's popularity, appealing to a broader group of listeners. Come see/hear for yourselves. Byron is the epitome of a rock singer - what a voice - Jeff is always amazing on bass, and Dean is one powerful and precise drummer. Let's party some more.
And don't forget that Wednesday the party band Old School returns to the BJ's stage for more music fun. It was great to hear Linda & guitarist Taylor play as a duo at Bourbon St. and it's confirmed that they'll have another date there in December. For now Linda, Erve, Ernie, Taylor, Jay & Jerry are planning an Old School reunion party to be held at BJ's on Sunday, November 19. This should be a blast. Anyone who has ever played in the band or sat in for a guest appearance is welcome to come and play with them for an afternoon of musical fun. Hey, that includes me; I've sung with the band before. Cool! Looking forward to this one.
With the fabulous weather this week, I've been wishing for more music at Coconuts, but of course, that's not to be. The closing party with the incomparable Lauren Glick was a huge party. She has introduced us to her new CD of originals called Martinis in Heaven. Her longtime partner Mike Armstrong has two originals on the CD which were recorded before his passing last year. It's been a very emotional project for Lauren to complete and my admiration for her is immense that she saw it through to fruition. I know you're going to love this collection of songs from Lauren and Mike. Be sure to buy a copy next time you see her. Anyway, I digressed from moaning about the closing of Coconuts but that's ok. I'll be looking forward to the Spring when we can all get together there again.
The same can be said for the Purple Moose where I heard the last live band for the season last week. You can always count on the Purple Moose for the best rock bands in the region to perform for us. Thanks to bar manager Bobby Taylor for finding the talent for us. And thanks to owner Gary Walker for remaining true to the original concept of the legendary Purple Moose, the home of rock n' roll.
Check out the Who's Where When list for all upcoming music at Bourbon St. This Friday Dave Tarlecki (Lauren Glick's guitarist partner) and Saturday Lennon & Ricky La Ricci will be on hand to play for us. If you've never heard them, be prepared to be impressed with the keyboard playing of 16-year-old Lennon. His talent is astounding. Wednesday's Open Mic will continue beginning at 8pm; come share your talent with us.
I'm going to sign off now and go back to resting up so I'll be ready to hit the music scene again Friday night. See you all at Ocean City's best places. Party safe!
«Go back to the previous page.