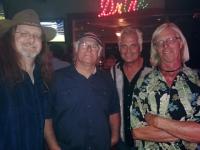 BJ's presents Tranzfusion Friday.
Join the Reunion of Old School party Sunday at BJ's.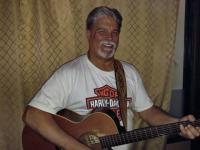 Jack Worthington performs Friday at Bourbon St.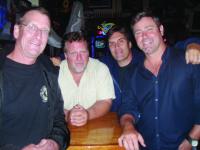 Randy Lee Ashcraft & the Salt Water Cowboys will perform Saturday at Johnny's Pizza Pub.
Enjoy the music of 2 Guyz & a Mama Wednesday at BJ's.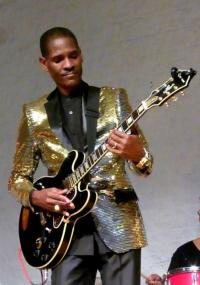 Rodney Kelley plays jazz/blues guitar Saturday at Bourbon St.
Hi, all. It's been two weeks since I said I'm all partied out (all those Halloween parties) and I've certainly had some rest but still I've been out to hear my favorite bands and that's going to continue as we enter the holiday season. Let's start with BJ's on the Water that is staging a huge weekend of music and fun.
First I want to say a few words about Bird Dog & the Road Kings who appeared at BJ's last Saturday. I've known and enjoyed the music of Byrd Dog Wheeler for more than 40 years and I can tell you he's not slowing down any time soon. In fact, Byrd tells me that he and the Road Kings are working on their 8th album to follow last year's Somerset County and before that, Bona-fide, Certified, Basic Eastern Shore Redneck USA. This CD title leads one to wonder what kind of music they play. To me it's the epitome of Americana covering many genres but focusing on originals that speak to us from where we all live. I'm listening now to Somerset County on which the second song talks about "Waterman," a subject close to my heart, of course, since Ronnie owned and worked a commercial fishing boat, the Scooch Too. The third song on this CD is the title track, "Somerset County," written by bassist and songwriter Charlie Bridell. It's all about his neck of the woods done in story-telling style of his various friends and relatives growing up, where else, in Somerset County. What a triumph! If you read their facebook page you'll see that they describe their music as some Honky-Tonk, Truck-n-Country (Charlie's a truck driver), Blues and Blue Grass with some old rock tunes thrown in. In addition to Bird Dog on guitar and Charlie, both on vocals, the band features Billy West on lead guitar, widely considered one of the finest guitarists in the region. The 'baby' of the group is drummer Roger Lewis, who is also a sound engineer with his own studio in Easton. These guys have been playing music together since 1973, and they're still having a blast playing and it shows. We all had a great time partying with them and I hope BJ's has them back again in the coming year.
One of my favorite bands returns to BJ's this Friday - Tranzfusion. If you've read any of my columns you know that I rave about them all the time. I like to call them an album rock band or the ultimate tribute band. They play all our favorite musical artists to perfection, just like it sounds on the albums, thanks to the talents of Bob Davis on keyboards, Hank Koenig on guitar, Bobby Malaby on drums, and newest member Al Cook on bass. (Bobby's brother Tom retired from playing bass as his day job requires a lot of traveling but we hope to see him from time to time as second guitar, on which he's most proficient as well.) I hear we're going to have a visit from our friend ShaSha who moved to Florida this year. Looking forward to seeing her.
To continue on, this weekend's music extravaganza at BJ's: Saturday will bring out all the rock n' roll fans of Dust n' Bones. If you like to dance and rock out all night, this is the band for you. Dean on vocals, Mark on guitar, Aaron on bass and Tim on drums will make sure you have a good time.
BJ's continues the music with a special Sunday party. The band Old School is hosting a reunion party featuring all past players in the group as well as those of us who have performed with them on occasion; hey, so that includes me and Billy Carder and Frank DelPiano. Old School founder Linda Sears was well known in the Baltimore area as a singer for several bands. After years away from the music scene, she and husband John purchased a summer home in Bishopville and began enjoying the music of this area. I remember her singing a few songs with Randy Lee Ashcraft who is always so generous in allowing others to share his spotlight. Randy Lee encouraged Linda to start her own band and that's just what she did about 10 years ago. The original members were Ray on drums, Anton on bass and Paul on guitar. Over the years the lineup has changed as Jerry Harvey took over on drums and now Ernie Chavis is the regular, with Jerry still sitting in occasionally. Perhaps the longest-running partner is Erve Cassel on bass (after Anton). The guitar position has changed the most due to various reasons to include: John Remy (Smooth & Remy), Mark Rierson (One Night Stand), Dave Tarlecki (w/ Lauren Glick), Michael Smith (Reform School, 4Play), and Taylor Knox (also Human Connection) and Jay Rus (also Identity Crisis) who are both current players. I need to also mention Chris Button and Vincent Paez who both played during interims in the guitar lineup. So there's a little history of the band for you and some of the players you'll likely hear on Sunday. Old School has gained a reputation as the 'fun band' because of their willingness to allow other players to join them onstage. Linda keeps a bucket filled with percussion instruments such as little lighted tambourines that fans young and old enjoy as they become part of the show. Perhaps you've seen some of the pictures I've posted over the years of folks having fun. The youngest ones are the most adorable, of course; little toddlers' sense of rhythm and obvious joy in the music is so infectious. So ... Old School invite you to join them as they celebrate music and the camaraderie of playing in a band. It's gonna be a blast - Sunday at 4pm. Be there!
My, my I hope you're still reading 'cause I have a few more things to say. That explosively talented jazz/blues/rock guitarist Rodney Kelley will return to Bourbon St. on Saturday and a little birdie told me there's going to be a birthday celebration for the head chef man Barry. So put that on your calendar. And remember, too, that Open Mic continues on Wednesday beginning at 8pm. Please check the Who's Where When for all acts.
Also, please note on the home page that there is a flyer advertising Brian's Christmas Songbook (click the button and it will take you to the flyer). It will take place on Sunday, December 3, in the Performing Arts Center. I'm proud to be a part of this production which will feature the Mid-Atlantic Symphony Orchestra and Lauren Glick, Melissa Alesi, Dennis Crawford, Rita Conestabile and me, Brenda Golden, singing. The story will be narrated by concert producer Tony Christ. Tickets are free as Tony wants everyone to hear the message being presented in music and storytelling that we are all special and we must never, ever slip into the life-ending nightmare of drug abuse. Please read the flyer and get tickets for you and your family for this fabulous and meaningful holiday program.
There will be no new pictures of column next Friday so I remind you again to check the Who's Where When listing for all your entertainment choices. I wish you all a happy and safe Thanksgiving. May you enjoy the love of family and friends and give thanks to God for our many blessings. I love you all and remind you to always party safe.

«Go back to the previous page.