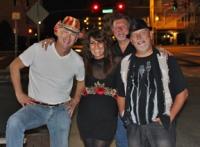 Check out new band 4-PLAY Friday, Dec 22 at BJ's.
The Girlfriends will play Saturday, Dec. 16 at BJ's.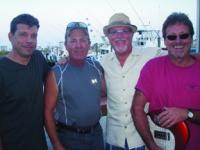 Bird Dog & The Road Kings will play Friday, Dec. 15 at BJ's.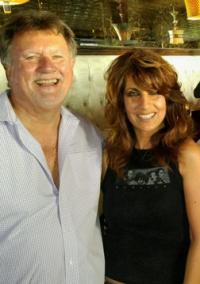 Bourbon St. presents Pearl Friday, Dec. 15.
Randy Lee Ashcraft & the Salt Water Cowboys will perform Saturday at Johnny's Pizza Pub.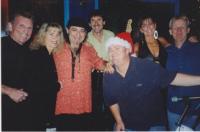 Join Teenage Rust & The Fabulous Rustettes at BJ's Christmas Party Wednesday, Dec. 20.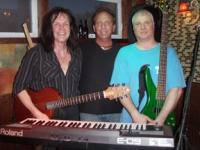 2 Guyz & a Mama will perform Wednesday at BJ's.
What's happening out there, my friends? A lot since we last talked. Well, two major events for me. First, that Old School band reunion I advertised and promoted for Sunday, Nov. 19 at BJ's was a total ruse, unbeknownst to me. I still cannot believe that so many people kept such a top secret from me for so long. When I walked through the door at BJ's that day, I was completely blind-sided by the crowd of well-wishers there to celebrate my birthday early (it's really Feb. 5). I don't think it sunk in until I saw my two daughters and grandkids among my many friends. It was really more of a recognition of the many years I have promoted entertainment and tourism in Ocean City. I started in this business around 1991 or '92 working in the art department of the Maryland Coast Dispatch. Journalism is serious business there but I campaigned to write a column about our incredible musical community. I finally got the green light and my first article was written about Opposite Directions, Darin Engh & Bob Wilkinson. It was initially through them and the Fager's Island Claim to Fame Contest that I met so many wonderfully talented folks such as Lauren Glick (just home from Berklee School of Music), Mike Armstrong, Vince Daddio and so many more over the years. Remember when Jim Long played solo at the Princess Royale? Gosh, so much history is running through my head and this is not the way I intended this column to go; but I'm on a bit of a roll now, I guess. A couple years later I was offered the opportunity to take over as editor of Coconut Times. At that time the paper revolved around such editorial features as Delmarva Treasures, Murder Mystery, Remembering World War II, Best Bites restaurant reviews and Barhopping. I began taking pictures, as I had at the Dispatch, and worked toward getting that music column back. After a year or so, I began writing again and have been doing so nearly every week since then (except for winter hiatus). In 1999, I bought Coconut Times from Tammy Trattner Knowles and have gradually turned the paper to entertainment reporting, dropping some old and adding some new features such as Meet The Artist and Sonic Notes. These editorial features have fallen by the wayside since taking the paper exclusively digital. I have confidence that our community will catch up with the digital age and coconuttimes.com will again provide more readable content. Of course, the most popular items to remain are the photos and the convenience of clicking on Who's Where When to plan your outings. Since going digital, I have provided those features year 'round.
Boy, did I digress but as I said, reflecting on that night has brought up other memories of how I got here. It was more than gratifying that my dedication to our wonderful music community and the promotion of our great town was recognized by a Town of Ocean City Proclamation and a Resolution from the State of Maryland presented by Senator Jim Mathias. What an honor! Thanks to Linda Sears (Old School) for initiating and miraculously pulling off this huge surprise. Also, thanks to all those who helped her such as Karen, Tish, Joyce, Tommy, Mary Jane and, I know, others working behind the scenes. And the music! Wow! So many incredibly talented people played music for us. I am so blessed to call you all friends and I will never forget that wonderful night. THANK YOU ALL from the bottom of my heart.
The next amazing thing to happen to me lately was being asked by Lauren Glick to help sing in the live presentation of last year's CD, Brian's Christmas Songbook. Producer Tony Christ envisaged this project as an attempt to increase awareness among our young people of the dangers of heroin and opioid usage. His message of hope included narration of the Nativity story and our spiritual journey between meaningful and uplifting Christmas music. I joined Rita Conestabile in singing backup harmonies with Dennis Crawford, Lauren Glick and Melissa Alesi as the principal singers. What was really spectacular was having the Mid Atlantic Symphony Orchestra play the music for us. Simply beautiful! We had an almost full house and the positive responses have been coming in. It was an honor to be included in this show, an experience I will never forget, singing from the stage of our beautiful Performing Arts Center. Lord willing, we all look forward to doing it again next year.
What else is goin' on? We have another band on the scene called 4-PLAY. Michael Smith has called on both of his duo partners, Rita of Pearl, and Jay Stinemire of Reform School, to form this band with the addition of Ted Galinas on bass. This is a natural progression, I think, of where these artists were headed. We can hear them on Friday, Dec. 22 at BJ's.
Other news making the rounds that will effect our musical offerings is that Adolfo's will be ending their run in the Beach Plaza Hotel, thus cutting off the wonderful music of Apple & Britt, and more recently, the Billie Carlins Band. I sure hope that Kim & Kanook will find another venue to continue offering fine food and music to the public.
Venues are beginning to post their New Year's Eve party info. Can you believe it? Where does the time go? Be sure to check the Who's Where When for upcoming music. I'll probably talk to you again before the new year; so, 'til then, enjoy the holiday season and always party safe.