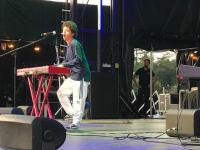 Lennon La Ricci astounds audiences playing keyboard.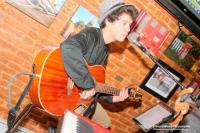 Lennon La Ricci performs an original song on guitar.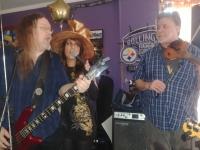 Rita singing w/ bassist Al Cook & John Heinz on the fiddle.
Lauren Glick & Rita Conestabile on the red carpet at Bourbon St. celebrating the release of her song "When It's Over" on daytime drama "The Bay."
Hi, everyone. I know it's been a good while since I had a 'talk' with you all. I apologize for slacking; guess I was just a little burned out after 25-plus years. I'm never burned out on music, though, and the talent in this town continues to entertain and amaze me. In fact, one such artist has inspired me to return to writing and share Ocean City's music news here.
Yes, there's a star on the rise in Ocean City. I'm referring to keyboardist sensation Lennon La Ricci who has come into his own at the ripe old age of 18. Lennon has been performing alongside his dad, Ricky La Ricci, since he was only 9 years old. Rick first brought his son onstage at the Horse You Came In On in Baltimore and then at several locations around Ocean City after they relocated here, to include The Carousel, The Rio Grande (where I first heard him), Plim Plaza and The Jungle Bar, to name a few. It all began when Lennon took lessons from Berklee School of Music graduate Jim Jones in Baltimore who told him to practice, practice. He soon showed a gifted aptitude for music (it's in the genes) that he perfected with hours and hours of dedicated practice. Just a mere six months later, he joined dad onstage and has played alongside him ever since.
Dad Ricky entered the entertainment arena at the late age of 45 but quickly made a name for himself, most notably with his extensive repertoire of Beatles music. It was his love of The Beatles that inspired him to learn guitar - and inspired his son's name, of course, after John Lennon. Since bringing his son onstage with him, his life's goal has been to support and nurture Lennon to become the best he can be and now Lennon is stepping into the limelight on his own. In fact, Ricky tells me that in June the Almost Famous Ricky La Ricci will appear without his son for the first time in nearly 10 year at Bourbon St. on the Beach (June 22) and The Skye Bar (June 21). Lennon will continue to perform with Ricky in the future, though.
Lennon has soared beyond having mastered the keyboard to playing guitar, bass and harmonica; and of course, singing, most notably on his collection of original compositions. We've heard him play several of these songs which are quite good and I'm happy to report, have been recorded in the studio of Drew Mazurek (a teacher at Peabody Institute Conservatory in Baltimore). On this four-song EP (which is going through the final mixing now) will be "Routine," "Birds On A Wire," "Hurricane" and "Feed Me." Playing w/ him in the studio are Tony Sciuto (Lennon played with him on the Freeman Stage last season) on guitar and Dave DeMarco (of Crack The Sky) on bass. I can't wait to hear this. The listening audience of WOCM Ocean 98.1 can hear Lennon on Tuesday, March 26, during the Live Lix at Six show. Be sure to tune in and get a preview of his music. And if you haven't heard this young man play, you're missing out on hearing this star on the rise. You can see their upcoming schedule both in the Who's Where When listing and in their ad under View Our Advertisers.
In other music news, congratulations to Rita Conestabile whose song, "When It's Over," has been used in a scene of Amazon Prime's award-winning daytime drama "The Bay." Rita held a fabulous Hollywood-style premier party at Bourbon St. on the Beach recently at which we all heard this song, and several other originals, as performed by Rita backed up by Lauren Glick, Michael Smith, Jay Stinemire and Al Cook. So many supporters turned out for the event and many other local performers entertained us. Best of luck to Rita as she plans to attend the Daytime Emmys in May in Hollywood.
That's it for now. My plan is to write a little more often and keep the posts shorter. Words of encouragement and the knowledge that you are reading this would be much appreciated, inspiring me to keep on truckin'. See you on the music scene - rock on!
«Go back to the previous page.