Coconuts Beach Bar & Grill presents the Dunehounds Friday, September 15.
The fabulous Lauren Glick and her band will play Sunday at Coconuts Beach Bar & Grill.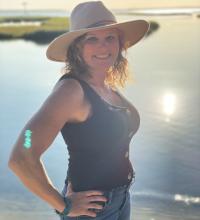 Sarah Robins of Endless Ember will team up with Lauren Glick's recording band to play at Oak Ridge Church on Saturday at 3p for the "Rock For Recovery" benefit.
Hi, y'all.  Hope all is well with all of you out there.  I'm beginning to run into some of my favorite people (there are so man) whom I've not seen in so long and that makes me happy.  Last week was a Coconuts kinda week because I went there four times.  Yep, four days to one of my favorite places on the planet: Coconuts Beach Bar & Grill.

So let me remember just how all this came to happen.  Friday after 'chatting' with you, it was time to see one of my favorite bands: The Mercury Agenda.  If you've read my columns before, you'll know that I've been enamored of this group since the first time I heard them.  The first impression was how can these young players be so accomplished and how is it that they know so many of my favorite songs from the '60s right on up to today.  Yes, I was impressed.  So, of course, I have seen them many times since and it must be said that they are even better now.  Chris on guitar and fiddle is simply superb.  Nalen is also an accomplished guitarist, and you know how I love to hear two lead/harmony guitars in a band.   Love it!  Austin on bass and David on drums were holding down the bottom end while the guitarists played so many great hits, did some medley mash-ups (I call them), and produced awesome vocal harmonies.  Yes, they have a front man, too.  Doug can sing anything and he just continues to get stronger and stronger.  Is that because he's also a professional wrestler?  Doesn't hurt.  Doug has a Jim Morrison quality to his voice, so that's why I'm partial to songs by The Doors.  You can catch them Saturday at Coins.

Sunday I returned to Coconuts to hear the excellent duo, Rick & Regina.  They were great, as always, and it was so good to be with excellent friends: Nancy & Bill and Lauren & Steve.  Again, I saw so many friends that day; so uplifting.  About Rick & Regina:  Rick plays guitar, runs the sound and sings.  Regina has one of the best voices around town, and we have many.  Our music community is certainly blessed with a lot of talented people.  Regina has an incredible range and can even do those whistle tones (or whatever that's called) on songs of Minnie Ripperton (remember her?)  and Mariah Carey.  Brings me to tears to hear her sing "I'll Always Love You" that is always requested.  She's amazing, my friends.  They have one more performance at Coconuts on Sunday, October 15th.  Don't miss it.

I just remembered I should probably look at the notes I made; might help.  Tuesday: back to Coconuts to hear Full Circle.  I can never say enough about this incredible band.  Each and every one of them (Jeff on bass, Joe Mama on drums, Michelle & Kathy on vocals are just extraordinary.  I was disappointed to not see Sean Loomis up there on the stage.  The newest member of Full Circle,
Sean couldn't make it.  Oh well, while I love him, there's no shortage of talent up there.  Okay, let's see what I jotted down about them.  Zeppelin's "Valhalla" and "Seven Bridges Road."  I remember so well; those harmonies from Kathy & Michelle just melt my heart.  How wonderfully special it must be to them to share this musical bond of harmony.  What else?  Oh yeah, "Magic Man" and "Sweet Child" - rockin' out big time.  Some of my favorite songs are from Fleetwood Mac and they cover them beautifully.  I liked it that two were Christine McVey songs who I really admired (RIP).  And then, of course, she did some Adele for us.  This is just a small sampling from this group.  Michelle and Kathy are also among my list of super talents.

So, all was well until Thursday when I pulled up to Coconuts again and the heavens opened up and poured rain.  I wanted to hear the Bilenki Duo and visit with friends Tish and Mary Ann but I sure didn't want to get drenched.  So I waited it out and hooray - it stopped!  I heard a few songs from this talented husband/wife team (George & Pat) and darned if it didn't start raining again.  I stuck it out for a while, friends, but I capitulated to the rain gods and went home.  I'm sure I'll see them somewhere soon as they play at various venues in Berlin and OC.

That's enough for today.  Time to kick back, rest, and decide what to get into tonight.  It might be Hot Sauce at Windmill Creek Winery, or it might be Tranzfusion at Harpoon Hanna's, or it might be Lennon & The Leftovers at Fast Eddie's.  Yeah, I need to rest.  Oh, before I go, I want you to know about a benefit for Terry Williams being held at Fast Eddie's on Sunday, September 24.  The guitarist for Lime Green suffered a health crisis; but he's healing now and hopes to be back to playing very soon.

Oh, and we can't forget the Tipsy Turtle Contest at Coconuts, also on September 24.  All the weekly winners, from all over, will return to see who will win the Bahamas Vacation at Green Turtle Club Resort, a sister resort to Castle in the Sand.  I got my entry in on Tuesday!  Good luck to all.  Party safe, my friends and be kind.
«Go back to the previous page.