DJ Batman - Mike Beatty - was presented with the Key to the City by Mayor Rick Meehan to acknowledge and celebrate his 40 years of musical service to Ocean City.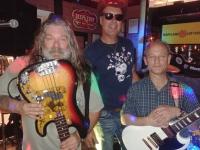 33 RPM will play Saturday at Bourbon Street on the Beach.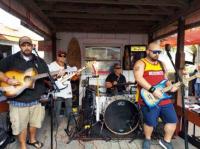 Monkee Paw played the closing party at Coconuts Beach Bar & Grill.
COCO NIGHTS 102221

So how ya doin'? For me, mind and body have been, and are still, overwhelmed with the ongoing home repairs project; but I did manage to have some fun time last week. I was thrilled to be on hand when Mike Beatty, aka Batman, received the honor of a lifetime for his incredible 40 years of service to the Town of Ocean City as our "Nighttime Mayor". He was given that moniker many years ago, and was again afforded that respect from current Mayor Rick Meehan who referred to him as such before reading an official Proclamation from the Town of Ocean City and presenting him with the Key to the City.  Over the years, many of you have been to a Batman party where we have danced to all our favorite music as played by this intuitive DJ who has always seemed to have his finger on the pulse of what we want to hear. It all started at Bayside Pub, now Buxy's Salty Dog Saloon, where the 40th Anniversary Celebration was held. Young Mike Beatty was allowed to set up in a corner and spin records for the crowd. It might have been his first DJ job, but  being behind the microphone came as second nature to him as he had been on Armed Services Radio while in the Air Force in the city of Taichung in Taiwan. (Reminds me of Robin Williams in "Good Morning Viet Nam!") He put that experience to good use with his easy-going jovial nature, connecting with partiers who were looking to have a good time - after all, music is the great common denominator. Mike has been the common denominator for so many good times over the years, for me and so many more, with regular gigs in such places as Hammerjacks (where he was the first DJ to play there), The Big Kahuna (Party Block), Fager's Island, M.R. Ducks, Seacrets (to name a few), and more recently, hosting the Beach Parties at Caroline Street for the Town of OC. And let's not forget those infamous Booze Cruises out of the Baltimore Harbor, and all the crazy road trips to college towns near and far where so many fans wanted a little taste of their beach memories from summer. I know there are many other memorable nights in his career such as introducing the Beach Boys when they performed here on the beach, and DJing the after-concert party for the Rolling Stones! It will be remembered by all who were at the party Saturday night that he said, "I've got to say that this might top the Rolling Stones night." In case you're wondering why or how he came to be called Batman, I have this little tid-bit to end with, in his words: "The first few weekends when I started (at the Bayside Pub), I drank a lot of Bacardi and Coke. Every time I walked up to the bartender to order he would say, "more bat juice?" I asked him why he called it that and he showed me the bat logo on the bottle [Bacardi]. He said, "You're the Batman!" The next weekend the marquee at the Bayside Pub, without me knowing it, had 'Tonight DJ Batman.' It stuck." We're glad it did, and we're all so thankful that we have had the privilege of sharing our memorable fun times with a wonderful guy who shared his love of music with us. I can almost hear everyone from so many of those parties saying, "We love you, Batman!"

It was a great party at Coconuts Beach Bar & Grill on Sunday; but bittersweet as it was the closing party. All the local party people were there to soak up the last bit of fun from this popular ocean-side venue. It was great seeing so many wonderful friends. I hope you enjoy all the photos from the day. I know you've probably all seen some posted on facebook, but hopefully these are some you haven't seen - mostly taken by my assistant and great friend Terry Sullivan. Thank you, Terry. Adam, Mike, Rick & Joe Mama of Monkee Paw played a string of favorite tunes that kept partiers on the dance floor 'til after dark. It was fun singing "Country Roads" with Mike on guitar as all my peeps gathered close around to sing with me. I'm already looking forward to next spring when we can do it all again. Maybe I'll even have a new hip and I can get out and dance with you all.

Until then, we can still enjoy live music at several places around town such as High Stakes, Beach Barrels, Crawl Street Tavern, Coins, Fager's Island, Fast Eddie's, Clarion, The Loft and Bourbon St. on the Beach where one of my favorites, 33 RPM, will play Saturday. Come early and hear the beautiful vocals from a beautiful lady, Marcella, at 4pm. Open Mic Wednesdays hosted by Reform School will continue all year 'round. I'm also hoping to hear Sugar Jack at the Purple Moose. Only one more weekend of live music there to end on Halloween. So, don't despair, there's still plenty to do.

That's it for now. I may pop in from time to time and will continue to run pictures when I get some good ones; but it's definitely time for me to slow down. Love you all. Party safe!
«Go back to the previous page.